skin care concerns
The Summer Skin Care Factor Drying Out Your Skin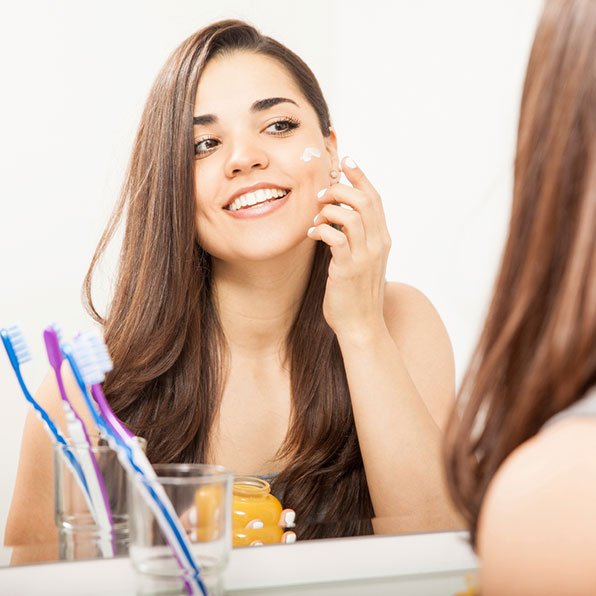 Sometimes, it doesn't matter how much moisturizer you apply – and reapply – your skin may still feel dry and tight. Even if the winter season has passed and spring is behind you, dryness may persist into the summer season. Thanks to high temperatures and humidity, some will experience oily skin, so you may find yourself wondering why are you experiencing the opposite. Sure, jumping in and out of the pool may have something to do with it, when skin is wet for prolonged periods of time it can experience dryness once you leave the water. Still, there could be a much more obvious and persistent culprit behind summer skin dryness; that being the sun.
You most likely already had your summer skin radars up, when it comes to the sun and the possible negative effects it can have on your skin. You know that UV rays can hurt your skin and cause damage making it more likely to wrinkle and sag prematurely. But, the sun can also dehydrate skin by causing any existing and added moisture on your skin's surface to evaporate, leaving behind dryness. If you love spending as much time as possible in the sun during the summer months, but don't want to sport dry skin all season long, keep these summer skin care tips in mind to help hydrate and lock in moisture.
Try cleansing with micellar water in the morning.
If you have dry skin, you may want to consider switching out your traditional cleanser for micellar water in the morning. Your skin will likely build up a little sweat and oil on its surface while you sleep, so it is important to cleanse that all away in the morning. Traditional cleansing, though, may contribute to dry skin. Micellar water requires no wetting or rinsing and helps cleanse and hydrate skin at the same time.
Look for SPF broad spectrum protection formulas that hydrate skin.
Applying SPF thirty minutes before sun exposure will help shield your dry skin from the damaging effects of the sun. Formulas with broad spectrum protection will protect your skin from UVA and UVB rays. Hit the beach with your tan already in place by applying Sublime Bronze™ Summer Express Wash-Off Face Bronzer Cream SPF 20 to your face. It will not only provide an instant glow and protect your skin from UVA and UVB rays, but is also formulated with vitamin E and provides 24-hour hydration to your skin.
Layer your moisturizing efforts.
If you have dry skin in the summer, simply applying moisturizer may not offer your skin enough hydration. Try ramping up your summer skin hydration by first applying a serum while your skin is still damp, then follow up with a moisturizer – you'll get summer skin bonus points if that moisturizer also offers SPF broad spectrum protection, look for something like Age Perfect® Hydra-Nutrition – Day Lotion SPF 30.
Seal in added moisture.
After applying your moisturizer, lock in those hydrating formulas by applying facial oil. Facial oil will act as a barrier to keep moisture in and protect your skin from the sun's rays. Try a facial oil that also offers broad spectrum protection, like Age Perfect® Hydra-Nutrition – Facial Oil SPF 30.
Bring water with you.
Hydrate your dry skin from the inside, out by getting in the habit of drinking plenty of water throughout your day. Pack a refillable bottle in your beach bag or tote to stay hydrated while outdoors.
Reapply SPF and moisturize after swimming.
If you take a dip, try to remember to reapply your SPF once you've dried off. Reapplying can be just as important as applying SPF in the first place. Even if you don't take a plunge, sweat and the sun can still cause formulas to evaporate, so be sure to reapply SPF about every 2 hours for maximum UV protection. Consider packing along your moisturizer too so that you can replenish your dry skin after it has become wet – some or all of your moisturizer from your morning application could have washed away while you were in the water.
Find and create shade when you can.
Another great line of defense against summer skin dryness is the shade. If you feel cool, your skin may be less likely to lose some of its moisture, given the sun's rays are not beating down on it. Pack hats and umbrellas and sit in shaded areas whenever possible.
Summer skin dryness can be difficult to beat if you spend your days in the sun sans any protection – that means SPF protection, but also other skin care products that can hydrate dry skin and help it retain moisture. Follow these summer skin tips and look for more than one way to hydrate your dry skin this season.
Discover more tips & tricks
Keep your skin happy
See all articles
Shop Featured Skin Care products
Discover More