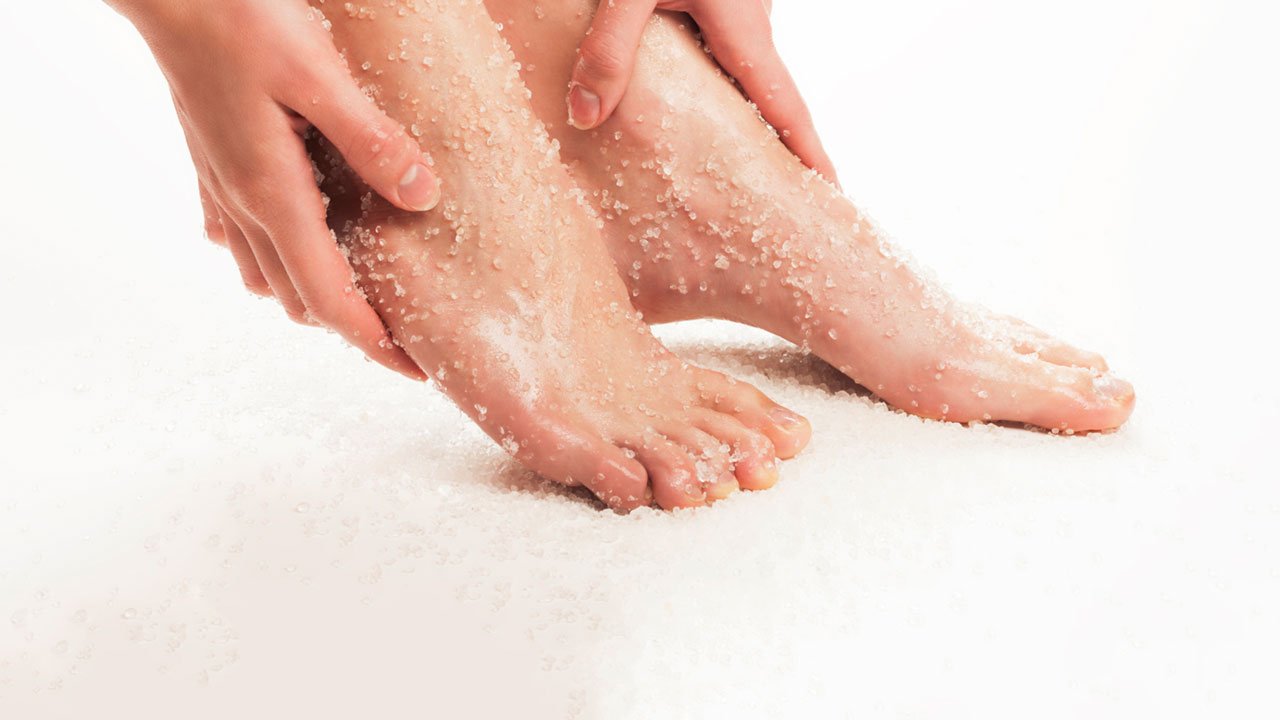 skin care concerns
How to Get Rid of Dead Skin on Your Feet
Like it or not, we've all had to deal with dead skin on our feet. Whether you take care of your feet yourself or schedule regular pedicures, if you go a little too long without looking after them, dead skin can build-up. If you've been slacking on your foot care routine, dry skin can lead to peeling feet and, even worse, cracked heels. While the thought alone is embarrassing, the good news is, there are a variety of ways to upgrade your skin care routine to keep your feet in tip-top shape.
Ready to say sayonara to dry skin on feet—from your heels to your soles to your toes? Keep reading to learn the major causes of dry skin well as seven skin care tips—including ones on how to remove dead skin from feet—to keep your feet in mint condition.
WHAT CAUSES DEAD SKIN ON YOUR FEET?
Dead skin on your feet is the result of unmanaged dry feet. Ever ask yourself, "Why are my feet so dry?" Well, per the Mayo Clinic, there is a multitude of potential reasons for dry skin on the feet, including regularly exposing your feet to hot water during baths and showers and skin conditions like eczema and psoriasis. They also share that the weather could be to blame for your dry feet. The wintertime combination of low humidity and frigid temperature levels can cause your feet to become dry.
HOW TO MANAGE DEAD SKIN ON YOUR FEET
Ready to remove dead skin from your feet? Below, we're sharing seven tips to help manage and get rid of that pesky dry, peeling skin on your feet.
TIP #1: SOAK YOUR FEET
Since you're always on your feet, take a few minutes to relax and soothe your feet with a softening foot soak. Fill a basin or tub with lukewarm water and add a few drops of a moisturizing oil. Need a recommendation? Try a bath oil formulated with argan oil. According to the National Center for Biotechnology Information, daily topical application of argan oil provides hydrating benefits.
TIP #2: EXFOLIATE
Similar to how you exfoliate to remove dead skin cells on your face and body, your feet can use the same TLC. Use a coffee scrub or sugar scrub and apply it to your heels, all over your toes, and the sides of your feet to gently remove dead skin and reveal soft and supple feet.
TIP #3: MOISTURIZE YOUR FEET
You may have sloughed away the dead skin cells, but your work is not quite finished yet. It's time to lock in moisture with a hydrating moisturizer. It's always smart to use a product made especially for your feet, but you can also opt for a moisturizing body lotion to get the job done. Be sure to apply your moisturizer while your feet are damp to really take advantage of the hydrating benefits.
TIP #4: HYDRATE YOUR FEET OVERNIGHT
If your feet are in need of some extra love, why not moisturize while you catch up on your beauty sleep? Apply a few drops of your favorite body oil to your dry feet and rub it in, then cover them with socks. Trust us, once you wake up, your feet will be oh-so-soft and incredibly smooth.
TIP #5. TRY A FOOT PEEL MASK
Want to say goodbye to dry, cracked feet once and for all? Treat them to a foot peel mask! This type of mask is specifically formulated to remove dead skin from your feet, leaving you with baby soft, good as new skin! Want to learn more? Read all about them in our article, Should You Do a Foot Peel?
TIP #6: SCHEDULE REGULAR PEDICURES
If your budget and schedule allow, take the time to show your peeling feet some love with a relaxing pedicure. After all, there is nothing wrong with treating yourself and giving your feet the attention they deserve. A pedicure combines most of the tips we shared plus a relaxing massage that will really take your pampering game to the next level.
TIP #7: WEAR PROPER FITTING SHOES
Your footwear can play a role in whether you have dry skin on your feet, not to mention it could be the answer to your "Why are my feet peeling?" dilemma. Friction on the soles and heels while walking and running may lead to increased dryness. Always make sure you're wearing shoes that fit properly along with moisture-wicking socks to prevent dead skin from forming.
Now that you're an expert on pampering your feet to ditch the dead skin, why not learn about other, less foot-focused, self-care tips? Next, check out our article, How to Practice Self-Care with Your Beauty Routine.
Discover more tips & tricks
Keep your skin happy
See all articles
Improve your routine
Show your new look more love:
makeup