skin care concerns
The Facial Wipe Mistakes That Could Be Wreaking Havoc on Your Skin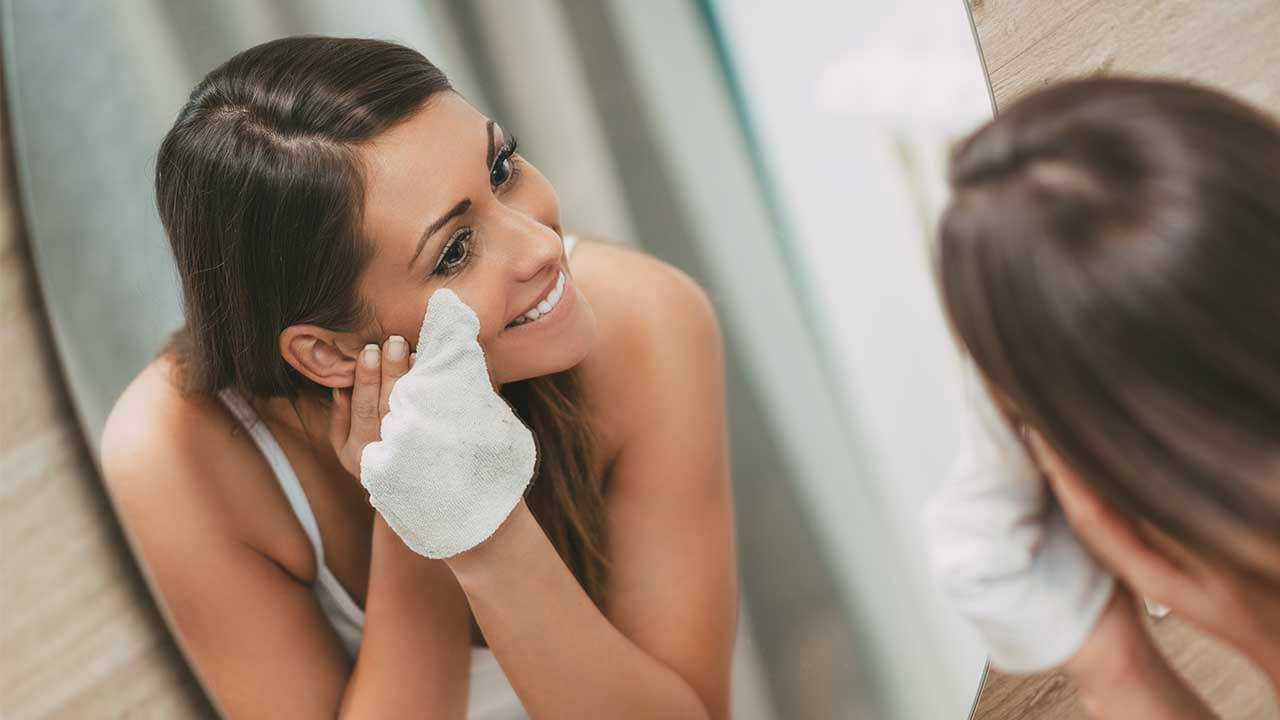 There's no denying it, makeup remover wipes are a total lifesaver. Whether you're on the go, or simply don't want to get out of bed in order to take off your makeup, cleansing wipes have you covered. Of course, that doesn't mean they're totally foolproof. While it may seem simple enough to literally wipe your skin clean, instead of washing with a traditional facial cleanser, there are a few common facial wipe mistakes you could be making. So, if cleansing wipes are a staple in your skin care routine, read on to make sure you're using them the right way.
Facial Wipe Mistake #1: Insisting on Using a Single Wipe
Don't assume one face wipe will be enough to get your skin completely clean. While wipes are amazing, you can't expect them to work miracles. One wipe might be enough to remove a light layer of makeup, but it isn't safe to say that you'll only ever need one wipe. Some days, when you've worked up a serious sweat or put on a little extra makeup, it can take two wipes to get the job done.
Facial Wipe Mistake #2: Skipping the Perimeter of Your Face
When using a facial wipe, it's easy not to miss the center of your face. You see mascara and eyeliner smudged around your eyes and it's only natural to wipe it away. However, the same can't be said for foundation and contour product that may be blended along the perimeter of your face. If you aren't wiping all the way up to your hairline and down your neck, you could be leaving makeup on your face. Ever wonder why your pores get clogged along your hairline? It's possible that it's because you're missing that area when you remove your makeup!
Facial Wipe Mistake #3: Never Following Up with Another Cleanser
If you haven't introduced double cleansing to your routine, you might be missing out. In fact, it could be a major mistake! Wipes are ideal for removing makeup from the surface of your skin, but following up with a wash-off facial cleanser will help remove any lingering impurities. Try a clay cleanser, like the L'Oréal Paris Pure-Clay Detox and Brighten Cleanser, L'Oréal Paris Pure-Clay Cleanser Purify and Mattify Cleanser, or L'Oréal Paris Pure-Clay Exfoliate and Refine Cleanser.
How to use Facial Wipes the Right Way
No more making mistakes, this is the right way to use facial wipes:
1. Wipe away eye makeup. Start by removing all of your mascara, eyeliner, and eye shadow. To do so, hold a wipe against your eye for a few seconds, then gently wipe away the makeup. Be careful not to tug or pull at the delicate skin surrounding your eyes.
2. Remove the rest of your makeup. Moving right along, remove your face makeup. Be sure to cleanse your entire face, not just the spots where you can see makeup
3. Use another wipe, if necessary. Don't think you're quite clean enough? Break out another wipe. If it's comes away from your skin looking foundation-tinged, you need to keep going.
4. Follow up with a clay cleanser. Using makeup wipes on their own is oh-so-convenient for when you're traveling or having a plain ol' lazy day but you may want to kick things up a notch for your everyday cleansing. That's when you'll want to wash with a clay cleanser. Rinse off with lukewarm water and you're almost finished.
5. Apply moisturizer to damp skin. Cleansing, even if you're just doing it quickly with a wipe, should always be following by moisturizing. Smooth on a facial moisturizer that suits your skin type, like the L'Oréal Paris Hydra Genius Daily Liquid Care for Normal/Oily Skin, L'Oréal Paris Hydra Genius Daily Liquid Care for Normal/Dry Skin, or L'Oréal Paris Hydra Genius Daily Liquid Care for Extra Dry Skin.
Our Best Facial Wipes
Now that you know how to use facial wipes the right way, don't be afraid to add them to your daily skin care routine. Try one of our best facial cleansing wipe options:
L'Oréal Paris Ideal Clean All Skin Types Makeup Removing Towelettes: These ultra-soft wipes gently yet effectively remove all traces of makeup, in addition to helping dissolve dirt and oil without drying out your skin.
L'Oréal Paris RevitaLift Radiant Smoothing Wet Cleansing Towelettes: Formulated with vitamin C, these wipes gently remove impurities and eye makeup.
Worried about the other areas in your skin care routine where you might be making mistakes? Here are 10 Face Mask Mistakes You Could Be Making.
Discover more tips & tricks
Keep your skin happy
See all articles
Shop Featured Skin Care products
Discover More