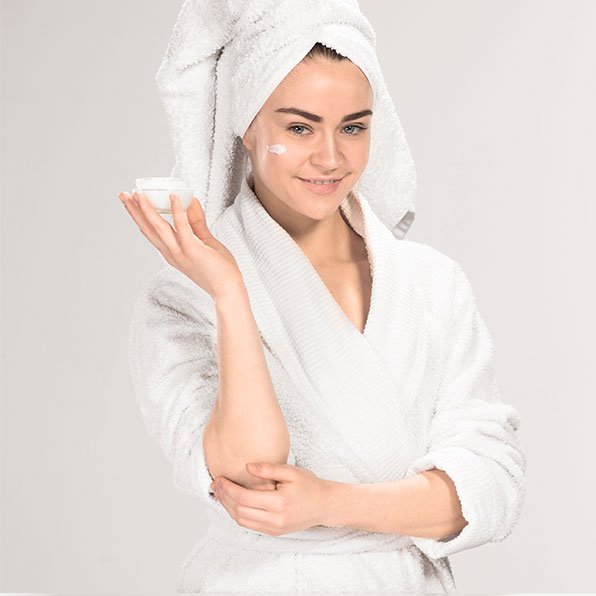 anti aging
Find the Best Anti-Aging Cream for Daytime Based on Your Skin Type
There are many anti-aging creams available, so how should you go about finding the right one? First, remember that the best anti-aging cream for daytime will have SPF with broad spectrum protection, the most important ingredient to prevent against early signs of aging like wrinkles and fine lines. Then find the best anti-aging cream by focusing on your skin type. This will help you better concentrate on your skin care needs while addressing your skin aging concerns at the same time.
If your skin type is oily:
If you have oily skin your skin will appear shiny throughout the day even only a few hours after cleansing. You could experience oily skin because of the weather, your stress level or even temporary changes with your hormones. However, if you truly have oily skin as your skin type, then that means your sebaceous glands, which produce your skin's natural oils may be larger than average and may produce more sebum than average. Oily skin still needs moisture – and using the right anti-aging cream can be crucial when it comes to properly balancing your skin's natural oil production. Look for an anti-aging day cream formulated with retinoids like
RevitaLift® Anti-Wrinkle + Firming Day Cream SPF 18
. The derivative of vitamin A will reduce the amount of pore clogging oil that your sebaceous glands are a bit overzealous in producing. Retinol and retinoic acid will also reduce the appearance of fine lines and wrinkles.
If your skin type is dry:
If you have dry skin your skin may feel tight and become extra sensitive at times. Like oily skin, dry skin may be a result of your current climate, but could a sign of skin aging or a sign that you are not exfoliating enough. If dry skin is actually your skin type, it means your sebaceous glands are under producing oil. If you have or are experiencing dry skin the best anti-aging cream for daytime will contain hyaluronic acid, try
RevitaLift® Daily Volumizing Moisturizer
. Your skin will feel more hydrated and appear more plump and supple.
If your skin type is combination:
Combination skin is actually the most common skin type to have. If you experience both oily and dry skin at the same time and on different parts of your face it's because some areas, like your T-zone, have a higher concentration of sebaceous glands, than say your cheeks for example. You'll want to properly balance your oil production and deliver extra hydration where you need it. LHA is a great anti-aging ingredient to have as a part of your daytime anti-aging cream formula. If you have combination skin, try
Age Perfect® Cell Renewal* Day SPF 15 Cream
. The derivative of salicylic acid is an exfoliating agent that helps unclog pores that are built up with excess oils, decreasing the build up of dead skin cells on your skin's surface that can make skin feel dry and look dull.
Take care of your skin type's individual needs and address your skin aging concerns, like wrinkles, loss of firmness, dryness and dullness, by looking for the best anti-aging cream for your skin's needs.
Discover more tips & tricks
Keep your skin happy
See all articles
Shop Featured Skin Care products
Discover More