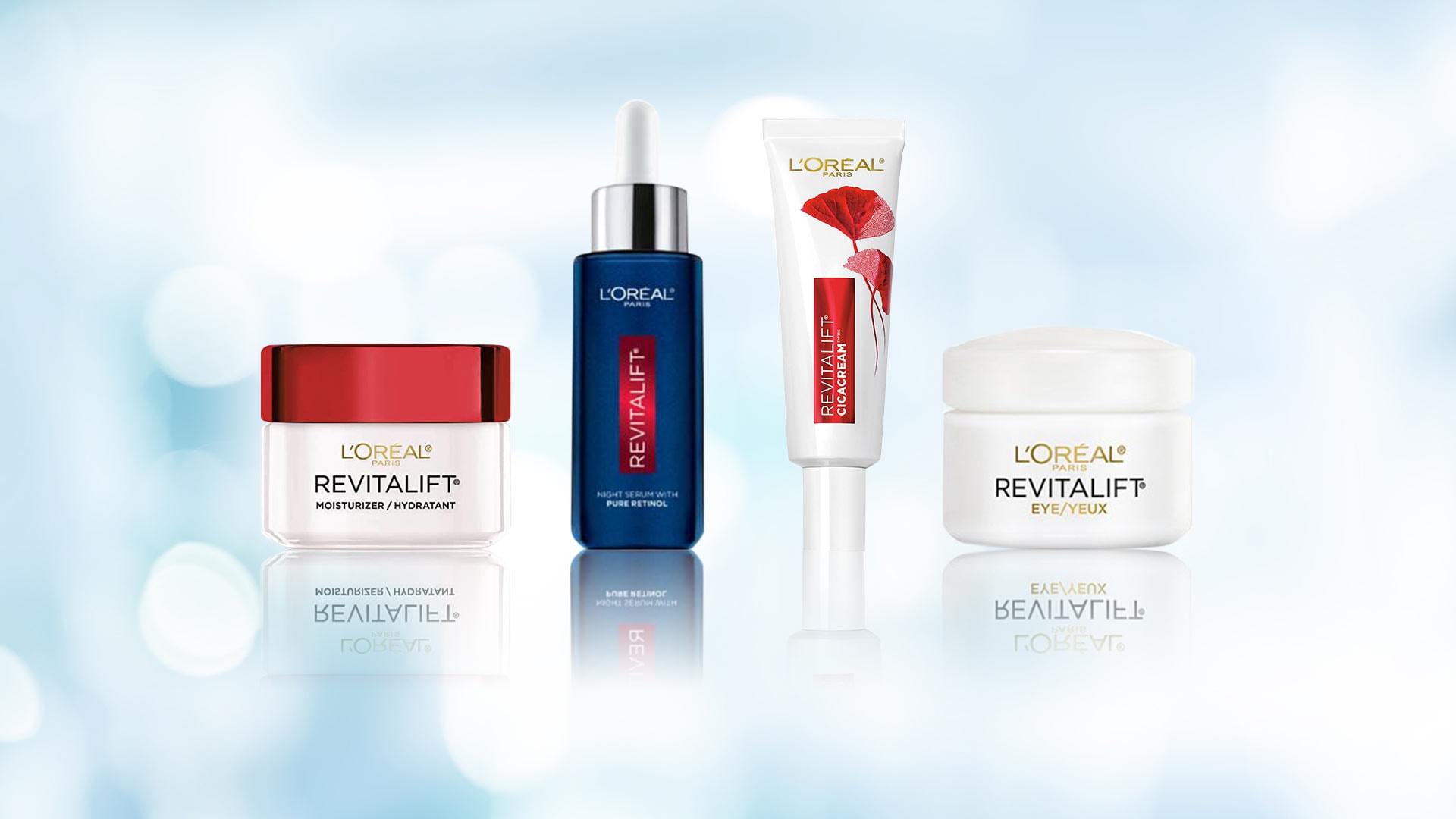 anti-aging
Our Best Skin Care Products with Retinol
If you've done your anti-aging homework, there's no doubt you've heard the word retinol tossed around quite a bit. Beloved by beauty industry pros thanks to its ability to help minimize the appearance of fine lines and wrinkles, it's no surprise that retinol creams and retinol serums have become standard fixtures in anti-aging skin care routines. After all, beauty gurus and celebs alike can't get enough of buzzy retinol products.
On the hunt for the best retinol products to add to your own skin care routine? Consider your search over! Follow along as we share all the details on the seven best retinol products from L'Oréal Paris.
WHAT IS RETINOL?
First things first, let's make sure you're familiar with what retinol products do. According to the American Academy of Dermatology, retinol—a derivative of vitamin A—can help unclog pores and minimize the appearance of fine lines and wrinkles with continued use over time. The AAD recommends the use of retinol for those who have oily skin or mild acne. If you do decide to incorporate retinol into your routine, just keep in mind that the AAD recommends starting slowly to help avoid any dryness that may occur when using retinol.
The AAD also recommends taking sun protection measures after using skin care products formulated with retinol, including applying a broad-spectrum sunscreen with an SPF of 30 or higher as directed, limiting your amount of time in the sun (especially between 10 a.m. and 2 p.m.), seeking shade, and covering up exposed areas in long sleeves, pants, UV-blocking sunglasses, and a broad-brimmed hat.
OUR 7 BEST SKIN CARE PRODUCTS FORMULATED WITH RETINOL
It's time for the reason you're here—exploring our best retinol products. Whether you're searching for a face serum or moisturizer, you'll be sure to find your best retinol match. Pick your potion below.
L'Oréal Paris Revitalift Derm Intensives Night Serum, 0.3% Pure Retinol: Formulated with our highest concentration of pure retinol, this serum fights key signs of aging like wrinkles and works to smooth and brighten your complexion for a luminous finish. Not to mention, it's paraben-free, fragrance-free, and is suitable for all skin types.
You'll need to introduce this retinol serum into your routine gradually so the skin can get used to its powerful formula. During week one, start by applying two to three drops to clean, dry skin twice a week. Week two, use every other night. Week three, use nightly if your skin can tolerate it. Follow up with a broad-spectrum sunscreen in the a.m. to protect the skin.
L'Oréal Paris Revitalift Cicacream Face Moisturizer Pro Retinol & Centella Asiatica: Skin's moisture barrier naturally weakens as we get older, which is what contributes to the development of fine lines and wrinkles. This facial moisturizer contains retinol and centella asiatica, an herb used in traditional Chinese medicine to strengthen and repair the skin barrier. Every morning and evening, smooth the retinol cream over your face until thoroughly absorbed.
L'Oréal Paris Revitalift Bright Reveal Brightening Dual Overnight Moisturizer: This overnight facial cream pairs Pro-Retinol with vitamin C and glycolic acid for a powerful wrinkle-reducing treatment. It also works to target the appearance of uneven skin tone to reveal brighter, radiant skin in just one week. Every night, smooth gently over cleansed skin.
L'Oréal Paris Revitalift Bright Reveal Brightening Day Moisturizer SPF 30: The daytime version of the aforementioned night cream, this facial moisturizer also contains SPF to protect against the sun's aging rays—which, if you remember from above, is just what you need when you start using retinol. Smooth the formula gently over cleansed skin in the morning.
L'Oréal Paris Revitalift Anti-Wrinkle + Firming Face & Neck Contour Cream: When it comes to skin care, it's important to pay attention to your neck, in addition to your face. This face and neck cream is formulated with Pro-Retinol A to help accelerate skin renewal. The non-greasy cream helps to improve skin's elasticity and reveal smoother, firmer-looking skin.
Smooth it over your neck and jawline morning and night after cleansing. In the morning, make sure to follow up with broad-spectrum sunscreen to protect against both UVA and UVB rays as well as stay out of the sun and cover up any exposed areas.
L'Oréal Paris Revitalift Anti-Wrinkle + Firming Night Cream: Sadly, as you age, the natural lifters in the skin that are responsible for your complexion's firmness and youthful look start to break down, which can lead to fine lines and wrinkles appearing more visible and skin feeling less firm. This night cream is formulated with Pro-Retinol A to help accelerate skin renewal. It also hydrates overnight. After cleansing at night, smooth the retinol cream over your face—then enjoy sweet dreams!
L'Oréal Paris Revitalift Anti-Wrinkle + Firming Eye Cream: Do your eyes give away your age? Consider adding an eye cream, like this one—which is formulated with Pro-Retinol A—to your daily beauty routine. It can help reduce the appearance of dark circles and crow's feet, plus it provides long-lasting hydration. Dab a tiny bit of eye cream on after cleansing but before applying moisturizer, morning and night.
And just like that, you're officially an expert on our best retinol products! To learn about another complexion-boosting ingredient, check out our article, The Skin Care Benefits of Hyaluronic Acid.
Discover more tips & tricks
Keep your skin happy
See all articles
Shop Featured Skin Care products
Discover More