makeup trends
How to Get a Galaxy Sunset Highlight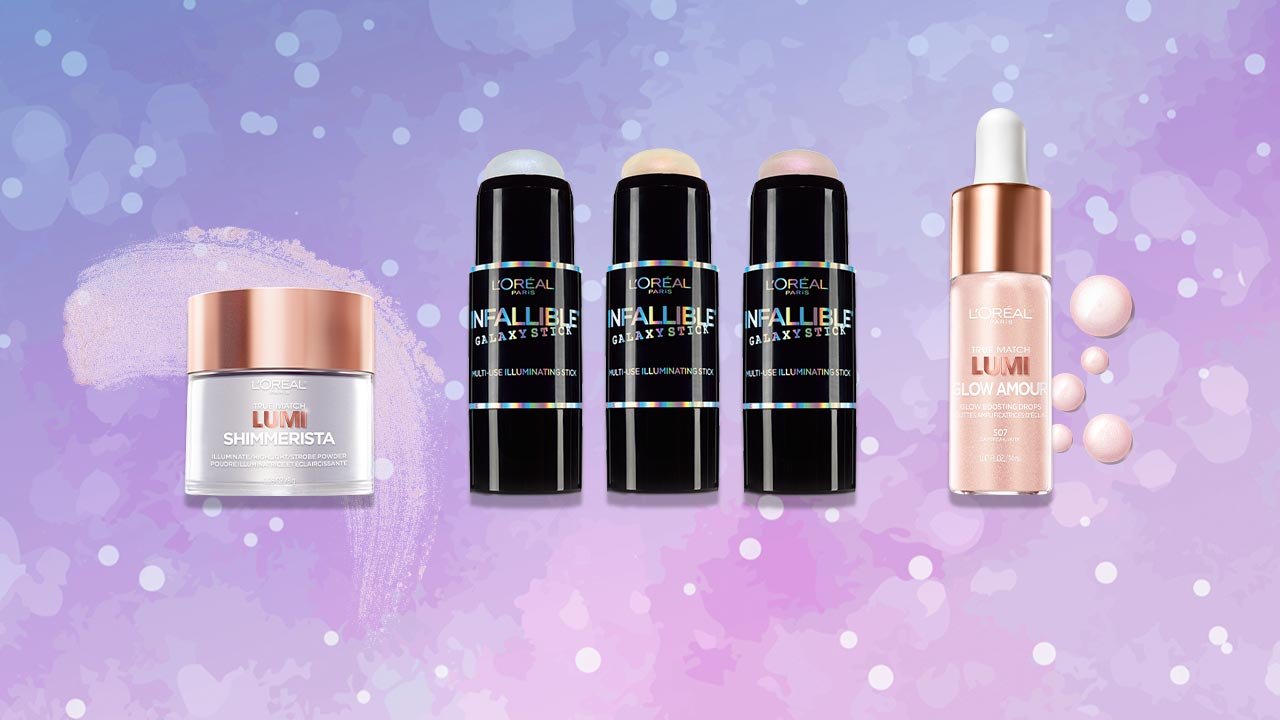 Shimmering champagne highlighters aren't the only way to get your glow on. If you want a more out there, a.k.a. other-worldly highlight, you're in luck. Metallic shimmer may still be a major makeup trend, but it's no longer the sole option for brightening up your beauty look. More colorful—but still super-shiny—highlights are catching on, and we couldn't be happier about it. Want to try one such look for yourself? Then stick with us and find out how to get a galaxy sunset highlight, which is sure to be your next face makeup obsession.
What Is a Galaxy Sunset Highlight?
First things first, you need to know what a galaxy sunset highlight is. You already know it's colorful and shiny, which should be enough to draw you in, but let us fill you in on the details. A galaxy sunset highlight uses the stunning shades you might see in a sunset to illuminate the high points of your face and includes a layer of serious shimmer for an out of this world effect.
How to Get a Galaxy Sunset Highlight
Break out your highlighters and get ready to shine bright. Here's how to get a galaxy sunset highlight.
Step #1: Apply a gold highlighter. Use the L'Oréal Paris Infallible Galaxy Stick in Galaxy Gold on key spots on your face—above your cheekbones, down the bridge of your nose, beneath your arches, and along your upper lip. Take your time to blend out, diffusing any harsh lines.
Step #2: Move on to pink. Next, pick up a pink highlighter—try the L'Oréal Paris Infallible Galaxy Stick in Cosmic Pink—and apply it directly on top of the gold, but be careful not to cover up the gold completely. You'll want to place the pink highlighter at the center of the gold area, not blending it past the edges.
Step #3: Add a touch of blue. Apply just a tiny bit of blue highlighter, like the L'Oréal Paris Infallible Galaxy Stick in Astro Blue, to the high points of your face.
Step #4: Sweep on a shimmering illuminator. At this point, you may have noticed your face isn't glowing nearly enough. That's because blushes typically aren't packed with the same sort of shimmer that highlighters have. To make up for it, dust the L'Oréal Paris True Match™ Lumi Shimmerista Highlighting Powder in Moonlight over the rest of the highlighters.
Step #5: Top it off with glow drops. Are you sure your skin is radiant enough? With a look like this, there's no such thing as too much glitz or glimmer, which means you're free to follow with another highlighter. Using a small eye makeup brush, apply the L'Oréal Paris True Match™ Lumi Glow Amour Glow Boosting Drops in Daybreak to the very center of each highpoint.
Step #6: Lock in your makeup look. Bravo! You've officially obtained a galaxy sunset highlight. All that's left is to make sure your look will last. Don't let all your illuminating efforts go to waste. Before you show off your shimmering skin, spritz your face with a setting spray. Try the L'Oréal Paris Infallible Pro-Spray & Set Makeup Extender Setting Spray.
What Goes with a Galaxy Sunset Highlight?
When sporting a more dramatic highlight, it can be hard to tell what else your look needs. In the case of the galaxy sunset highlight, we recommend keeping the rest of your makeup relatively simple. Swipe on a glossy pink lipstick, like the hair style like ever-so-trendy space buns. Secure your hair into two high buns, add a coat of hairspray and you're good to go.
Ready to put this highlighter trend to the test? Before you do, double check that you aren't making any major highlighter mistakes. To find out for sure, read our article, 5 Highlighter Mistakes You Could Be Making.
Discover more tips & tricks
Keep your skin happy
See all articles
Shop Featured Makeup products
Discover More