makeup looks
Get a Whiff of These 3 Scented Makeup Products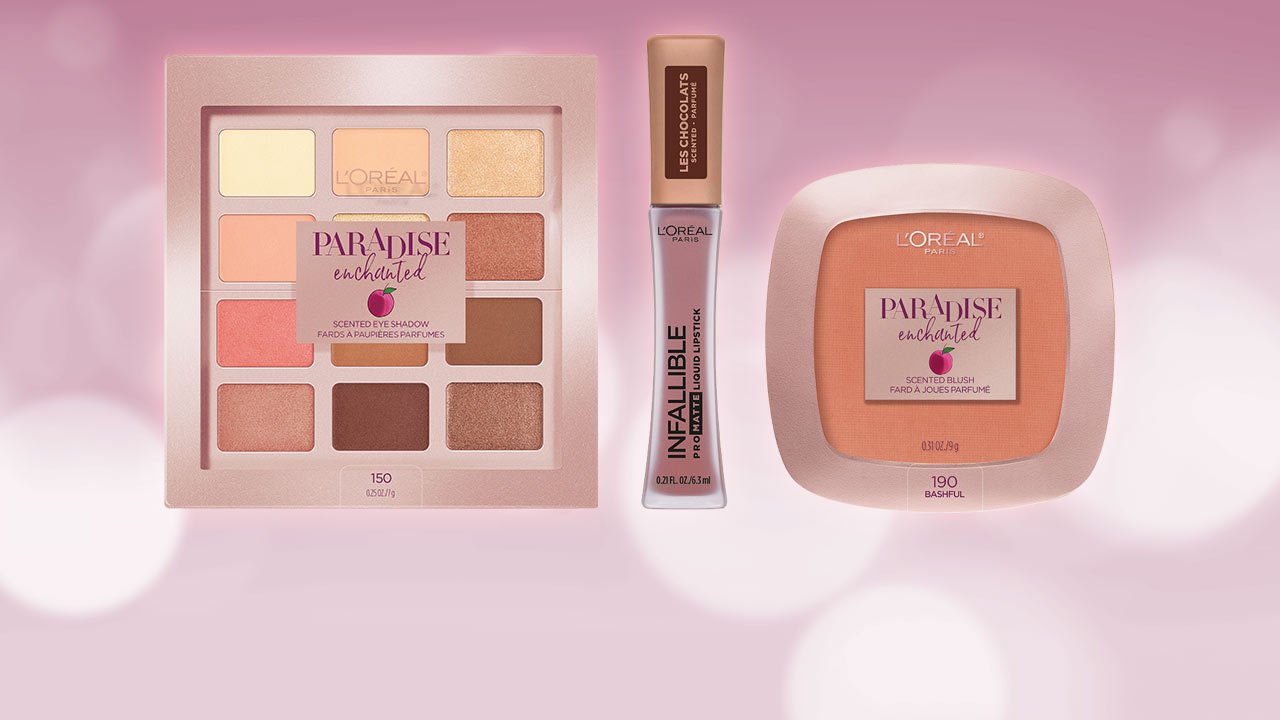 As if you needed another excuse to add new beauty products to your collection, you can now find makeup and skin care products that smell just as good as they look. Yes, you read that right. Scented beauty products are a thing, and they're totally worth indulging in. Below, we're introducing three scented makeup products you'll want to use to create your next makeup look, plus, a few aromatic goodies you can add to your skin care routine.
OUR BEST SCENTED BLUSH
Want to give your cheeks a natural-looking flush? The L'Oréal Paris Paradise Enchanted Fruit-Scented Blush Makeup comes in four beautiful shades, each of which features an enchanting fruit scent (yum!). Bashful and Just Curious are subtle peach hues perfect for day-to-day wear. If you're more of a pink blush gal, Fantastical is a radiant color that will be right up your alley. For those with deeper skin tones, Charming is a stunning warm rose shade. Every shade has a creamy, ultra-blendable texture, so application is extra easy. Dip a blush brush into whichever shade you prefer, sweep onto the apple of your cheeks and you're good to go!
OUR BEST SCENTED EYE SHADOW
If you're on the hunt for the perfect neutral eye shadow palette, look no further. The L'Oréal Paris Paradise Enchanted Scented Eyeshadow Palette features 12 beautiful hues (in a variety of finishes) including creamy ivory, rosy nudes, bronzed ambers, and pops of coral pink. The shadows have a blendable formula that makes it easy to create your eye makeup look of choice while achieving rich color payoff. The palette's enchanted fruit scent is just the cherry (no pun intended) on top!
OUR BEST SCENTED LIPSTICK
We can't forget about lip color. You may have had a sniff-worthy gloss as a child, but nowadays it's all about scented liquid lips. More specifically, chocolate-scented liquid lipsticks! Yep, this one's for all the chocolate lovers out there—there's a new way to satisfy your sweet tooth. The L'Oréal Paris Infallible Pro Matte Les Chocolats Scented Liquid Lipstick, which comes in six shades, is enhanced with an indulgent chocolate aroma. The lipstick has a smooth, matte, full-coverage formula that lasts all day and a lightweight feel that is comfortable and never sticky on the lips. After applying, all you have to do is resist the temptation to lick your lips!
OUR BEST SCENTED SKIN CARE PRODUCTS
Our L'Oréal Paris Age Perfect Manuka Honey collection contains four skin care products with a sweet, honey aroma. Not only does manuka honey smell delicious, but it also has skin care benefits. Consider adding one (or all) of the following products formulated (and scented) with manuka honey to your skin care collection.
L'Oréal Paris Age Perfect Hydra Nutrition Manuka Honey Eye Gel: As you get older, the delicate skin around your eyes is likely to get very dry. This ultra-gentle eye gel combats that by providing mature skin with nourishing moisture. The cooling formula massages away the look of puffiness, under-eye bags, and dark circles so your eyes look more youthful and refreshed.
How to use it: Use the rollerball wand applicator to massage the product under the eye area using circular motions. Apply twice a day to cleansed skin.
L'Oréal Paris Age Perfect Hydra Nutrition Manuka Honey Day Cream: This non-sticky day cream is formulated with manuka honey, nourishing oils, calcium, and antioxidants to give skin a soft, silky layer of comfort. The cream provides long-lasting hydration for mature, very dry skin and leaves skin feeling firmer with a healthy glow.
How to use it: Apply every morning to cleansed skin.
L'Oréal Paris Age Perfect Hydra Nutrition Manuka Honey All Over Balm - Face/Neck/Chest/Hands: Your face isn't the only spot where your skin can be very dry. This all-over balm can be used on not only your face but your neck, chest, and hands to relieve mature, very dry skin. It wraps skin in moisture to soothe the uncomfortable, tight feeling that goes hand in hand with dryness. After one month of use, dry, fine lines will appear reduced.
How to use it: Apply it every morning, night, or both to cleansed skin.
L'Oréal Paris Age Perfect Hydra Nutrition Manuka Honey Night Balm: This nourishing night balm moisturizer melts into skin to provide incredible nourishing comfort. The non-greasy, non-sticky formula comforts and helps strengthen mature skin. This balm can be used on the face, neck, and chest for firmer, stronger skin.
How to use it: Smooth it onto your skin every evening until thoroughly absorbed.
Want to learn more about manuka honey? Head over to our article, What is Manuka Honey?
Discover more tips & tricks
Keep your skin happy
See all articles
Shop Featured Makeup products
Discover More