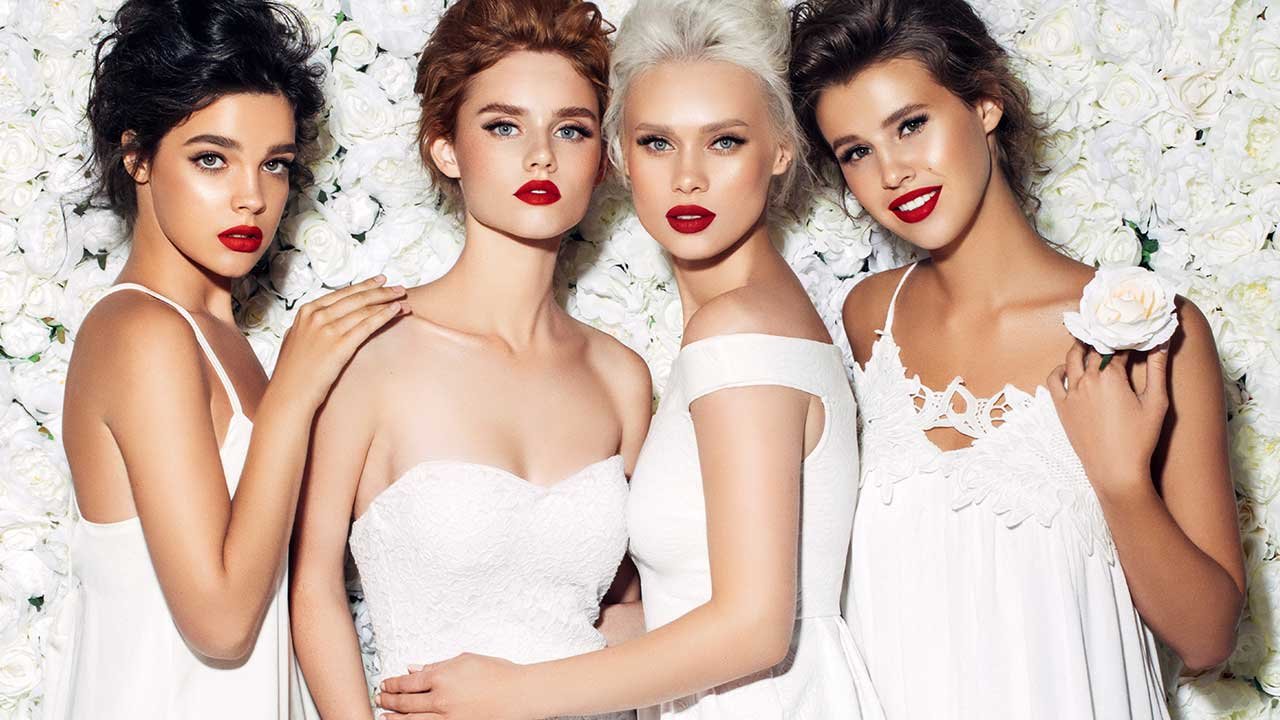 makeup looks
3 Palettes, 9 Perfect New Year's Eve Makeup Looks
When it comes time to get ready for your New Year's Eve plans, your best bet it to have a makeup bag stocked with a palette—or three. Whether you've traveled to your holiday destination or are getting ready with friends, having everything you need packed into a palette is undeniably convenient. And the best part is, you won't have to committ to just one makeup look. If at the last minute you're in the mood to try out a different beauty trend, you can! It doesn't matter if you're in possession of a highlighter, contour, or eye shadow palette, each one can offer a multitude of options for your makeup look. Below, we're sharing three palettes to get your hands on this holiday season (hello stocking stuffers!) and nine makeup looks that are perfect for ringing in the new year.
Makeup Palette Pick #1: Highlighter Palette
When everyone's rocking dresses covered in sequins and glitter, your face shouldn't be left out of the fun. It isn't only your attire that can shine bright, you can use makeup so that your skin does the same. That's where the L'Oréal Paris True Match™ Lumi Glow Nude Highlighter Palette comes into play. Each palette contains four sheer shimmery shades that'll help you get your glow on (subtly!) before the clock strikes midnight.
Makeup look #1: Highlighted high points. Just because you can't bear to part with matte foundations and face powders doesn't mean you won't be able to get use out of a highlighter palette. Apply the L'Oréal Paris Infallible Pro-Matte Foundation and L'Oréal Paris Infallible Pro-Matte Powder as per usual, then dust the highlighter shade of your choosing above your cheekbones, down the bridge of your nose, and along your brow bones. The matte makeup will ensure you don't look greasy as you dance the night away, while the highlighter will help keep your face from falling flat.
Makeup look #2: Bronze goddess. Come the end of December, you may not be able to step foot outside without being completely bundled up, but with the right makeup, no one has to know that's the case. Bronze your face using the highlighter palette and everyone will be trying to guess what sunny spot you recently vacationed in. Simply blend the deepest shade in a "3" shape along the edges of your face, focusing on the temples, cheekbones, and jawline. There you go, bronzed and beautiful!
Makeup look #3: Emphasized eyes. Highlighters aren't only face makeup. You can use them to up your eye makeup game, too. Using a blending brush, apply the darkest highlighter to the crease of your eye for definition. Then, open up the look of your eyes by applying the lightest shade to the inner corners of your eyes.
Makeup Palette Pick #2: Contour Palette
Don't worry, if you haven't already achieved your resolution of obtaining chiseled cheekbones, all hope isn't lost. That's what a contour palette is for. And even better if it can conceal any imperfections too, which is exactly what the L'Oréal Paris Infallible Total Cover Concealing and Contour Kit allows you to do. The ultimate multi-tasker, the palette's four shades can be mixed and matched to find your perfect contour and concealer colors.
Makeup look #1: Super-sharp contour. Once you've obtained your glow, consider how perfectly highlight and contour pair together. When you're sporting a super-bright highlighter, it's only natural that a super-sharp contour should follow. Use a makeup blender, like the L'Oréal Paris Infallible Blend Artist Contour Blender, to blend the cream contour into your skin and define your face.
Makeup look #2: Complexion perfection. No matter how sparkly your eye shadow or glossy your lip color, an uneven complexion can be a distraction from all your makeup application efforts. That's why it's a must to start with a flawless base. Trust us, it's not as hard as it sounds! Simply pick your concealer shade (or mix your own) and apply it to any imperfections with the L'Oréal Paris Infallible Blend Artist Concealer Blender.
Makeup Look 3: Subtle sculpting. There's no reason contouring always has to be severe. You can use the exact same palette to achieve a more subtle, sculpted look. All it takes is using a slightly lighter shade—just a little darker than your foundation—and paying extra attention to your blending.
Makeu Palette Pick #3: Eye Shadow Palette
If there's ever a time to make sure your eye makeup is on point, it's NYE. After all, when your suitor is lovingly looking into your eyes before your midnight kiss, you'll want them to have something nice to stare at. Instead of struggling to put single eye shadows together, pick up the L'Oréal Paris Colour Riche Pocket Palette Eyeshadow in Violet Amour to help (easily) create your eye-catching look. The palette's travel-friendly size doesn't prevent it from offering all the shades you'll need to do your eye shadow.
Makeup look #1: Grape gradient. This palette's purple shades are just right for creating a flawless gradient, fading from the lightest violet hue into the darkest. Place the softest shade in your inner corner, and work outwards, blending between each additional color.
Makeup look #2: Pop of color. Your eyelids aren't the only place you can put eye shadow. One of the best ways to introduce a pop of color to any look is to smudge an eye shadow along your lower lash line. Use a small brush or a cotton swab to apply a mid-toned purple below your eyes. The rest of your look can be kept neutral—all you'll really need is a coat of the L'Oréal Paris Voluminous X Fiber Mascara—allowing the pop of purple to take center stage.
Makeup look #3: Angel eyes. If you haven't heard of a "halo" eye, now's your chance. The angelic name doesn't exactly explain what a halo eye is, so we'll do the honors. A halo eye is meant to make eyes look bigger and rounder by placing a darker eye shadow in the inner and outer corners, and a light (usually shimmery) shade in the center of the lids. Easy enough, right? Go ahead and give it a try with this palette!
Now that your makeup is all set for New Year's Eve, don't forget about your hair. Check out our article, New Year's Hairstyles: 3 Chic Chignons for New Year's Eve.
Discover more tips & tricks
Keep your skin happy
See all articles