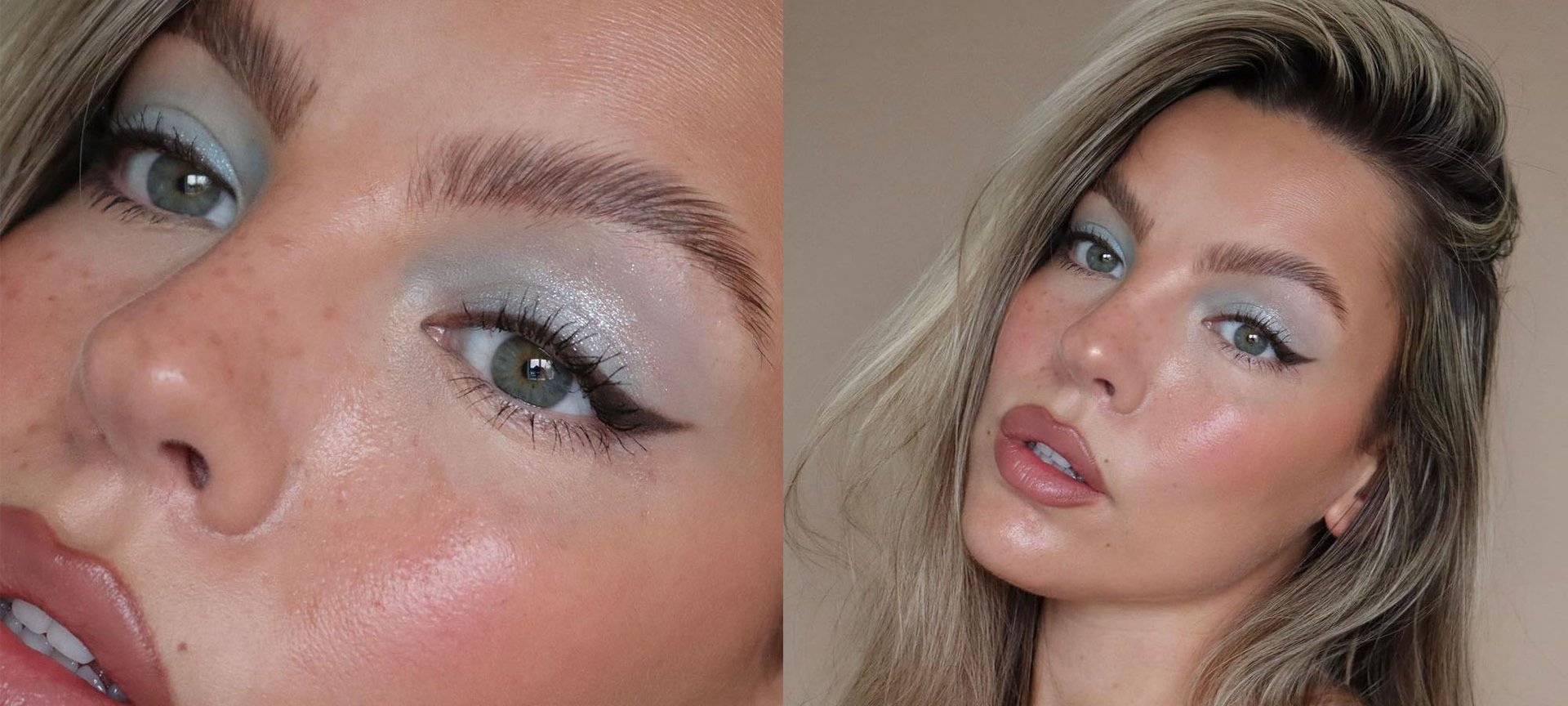 makeup looks
How To Create A Wearable Icy Makeup Look This Winter
A whimsical look for the winter season.
Pastel hues and ethereal eyeshadow looks are often reserved for spring and summer, but there's no rule that says they have to be. If you're in need of makeup look inspo this winter, you've come to the right place. Because we're sharing how to get a gorgeous, icy makeup look that's perfect for the cold weather. The frosty eyeshadow is reminiscent of a gorgeous snowfall. Plus, it's simple, customizable, and easy to achieve.
How To Create An Icy Eyeshadow Look
Below, we're sharing six simple steps to create a gorgeous icy makeup look. Trust us, it's easy to create and it makes a big impact.
Step 1. Prime Your Eyelids
To ensure your eye makeup look is long-lasting, priming your eyes is key. Blend a light layer of eyeshadow primer or concealer on your eyelids with a finger or a dense eyeshadow brush.

Step 2. Apply Your Baby Blue Base Color
If you want to make this look as simple as possible, you can skip the blue base shadow and go straight in with a frosty eyeshadow. But to give the look some dimension and a bit more pop, start by applying a light blue eyeshadow. You can choose a matte eyeshadow or a shimmery option like the L'Oréal Paris Colour Riche Monos Eyeshadow in Argentic. Apply the color to your eyelids with a flat eyeshadow brush and blend it into your crease and slightly below your brow bone with a fluffy eyeshadow brush.

Step 3. Apply A Frosty Eyeshadow On Your Eyelids
The real star of this look is the shimmery, icy white shadow on the center of the eyelids. Wet a powder eyeshadow to get maximum pigmentation, or opt for a liquid option like the L'Oréal Paris Brilliant Eyes Shimmer Liquid Eye Shadow Makeup in String of Pearls, a stunning, white glitter shadow with hints of blue pearl. Apply it to the center of your lids with a finger and diffuse it out lightly with a fluffy brush.

Step 4. Create Winged Eyeliner Using Eyeshadow
If you prefer to leave the look more natural, you can skip this step. But to enhance your eye shape while maintaining a soft, ethereal look, create winged eyeshadow eyeliner. Create your faux eyeliner look with a deep matte shadow like the L'Oréal Paris Colour Riche Monos Eyeshadow in Noir Cest Noir. Using a small angled eyeliner brush, dip it into the shadow and trace your lash line. If you have a steady hand, you can freehand the wing. If you need some help ensuring the wing is straight and sharp, use tape at the outer corner of your eyes to act as a guide.

Step 5. Apply A Volumizing Mascara
The last step to making your eyes pop is to apply a generous coat of a volumizing mascara. The L'Oréal Paris Voluminous Lash Paradise Washable Mascara is the perfect pick because it adds tons of thickness to the lashes without weighing them down. For ultra-dramatic lashes, apply two to three layers of mascara.

Step 6. Apply A Mid Tone Nude Lipstick
After your eye makeup is done, complete your brows and complexion makeup as normal. Then, top off the look with a mid-tone nude lipstick. Because the eyeshadow is so light in color, adding a pale nude lipstick could make you look washed out. Instead, opt for a nude shade with some richness to it. Choose your favorite shade of the L'Oréal Paris Colour Riche Les Nus Intense Nude Lipstick and apply it straight from the bullet for intense pigment. It has a satin matte finish with a creamy, hydrating formula.
Next: Take A Trip Back To The '90s With Ombré Lips
Written by: Alyssa Kaplan, Photo Credit: Stacey Louise, IG/@staceylouisemakeup
Discover more tips & tricks
Keep your skin happy
See all articles
Improve your routine
Show your new look more love:
makeup