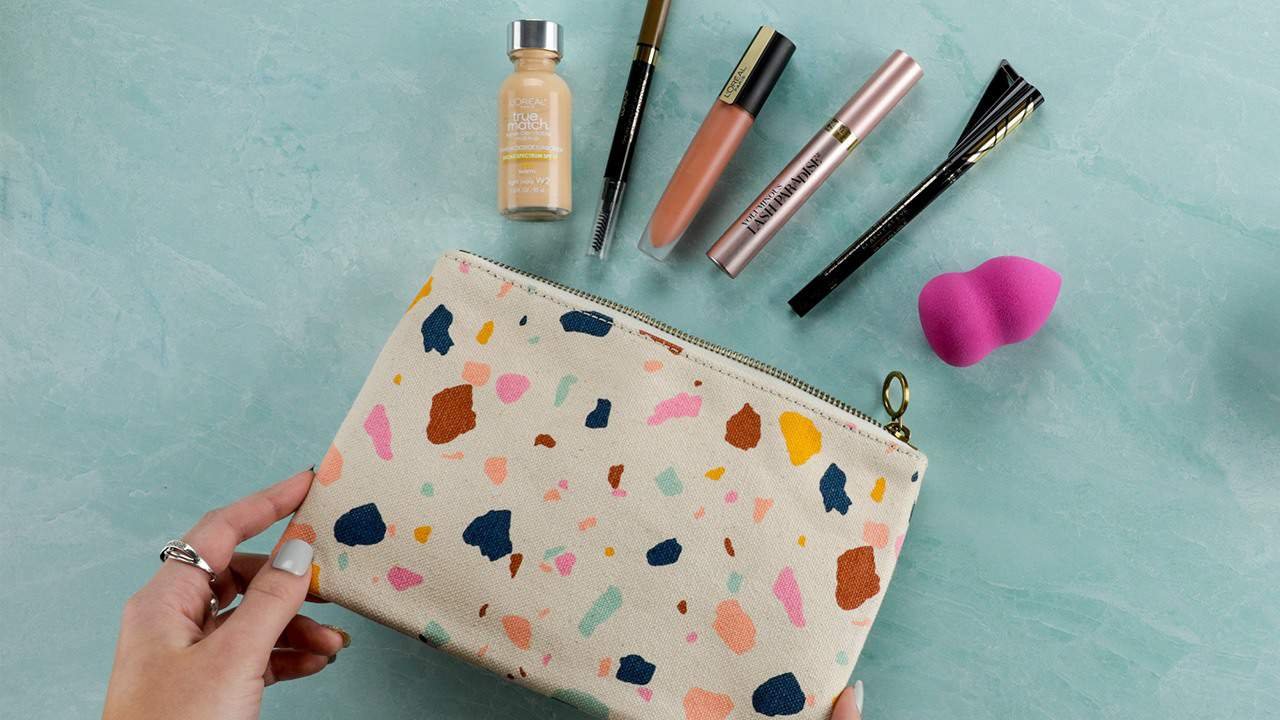 makeup looks
How to Clean and Organize Your Makeup Bag
There are only so many hours in a day, so it's understandable that organizing and cleaning often fall to the wayside. Between juggling work, exercise, friends, family, and a social life, cleaning up the clutter can't always be at the top of your to-do list. But organizing your makeup bag doesn't have to be intimidating or time-consuming. In fact, a little order can go a long way toward a morning routine that goes smoothly without fail. No more searching through everything for your favorite eyeliner! No more shattered face powder or palettes! Below, we're sharing 11 tips on how to clean and organize your makeup bag like a pro.
TIP #1. TAKE INVENTORY
First things first, dump everything out of your makeup bag and onto a clean surface to really sort through what you have. Trust us, once you see what you're working with, organizing your makeup will be a breeze. Next, decide what you want to keep and what you think can go—for example, if you have multiple of the same shade of blush, you can store the extras elsewhere to save space. Keep in mind, makeup products have an expiration date. Toss anything that's been sticking around for too long. Lastly, store the products you use daily in your makeup bag so that you can easily access them—even when you're on the go. Stash everything else neatly in a drawer at home.
TIP #2. PROTECT YOUR BLENDERS AND BRUSHES
Have you ever looked at your makeup blenders and brushes and wondered why they seem so ratty? Well, if they're stuffed into a bag with lots of other makeup products, they could get bent out of shape. Not only can their bristles become misshapen, but they can also become really dirty—and you don't want to use dirty makeup brushes to apply makeup on your clean skin! Always keep them in their own bag to protect their bristles—after all, to make magic happen on your face, your tools need all the TLC they can get. P.S. Don't forget to wash them regularly!
TIP #3. LEAVE THE HEAVY PRODUCTS AT HOME
Shoulder pain the bane of your existence? Consider lightening your load by removing your arsenal of primer, foundation, and setting powder from your bag before heading out for the day. You don't need a full range of face makeup products for minor touch-ups—a slim concealer, like the L'Oréal Paris True Match Super-Blendable Multi-Use Concealer, will do the trick.
TIP #4. STICK TO ONE LIPSTICK FOR THE DAY
Just like you don't need to cram a million face products into your carry-along cosmetic bag, your lipsticks are no exception. Keep things light and only pack the color you're wearing for the day. Since you likely matched your lippy to your look, there's really no reason to add multiple lip products to your bag when you know you're not going to switch from a nude to a purple halfway through the day.
TIP #5. STOCK UP ON MULTI-USE PRODUCTS
A great way to pare down your travel makeup bag is to look for products that have multiple uses—think: all-in-one highlighter sets, eyeshadow palettes to create an entire eye look, and so on. For a multi-use highlighter palette, try the L'Oréal Paris True Match Lumi Glow Nude Highlighter Palette, which comes with four pigmented shades to help you create a natural radiant look or a multi-dimensional glow. Similarly, rather than pack multiple single eyeshadows, grab the L'Oréal Paris Paradise Enchanted Scented Eyeshadow Palette, which comes with 12 different shades that all work beautifully together.
TIP #6. USE CLEAR BAGS WITHIN YOUR BAG
If you carry a slightly larger makeup bag, instead of digging through it and risking spilling your prized products on the floor, organize all of your goodies into smaller, clear makeup bags that will make finding specific products a lot easier. Try pairing all of your lip products together, all of your eye products together, all of your face products together—you get the idea.
TIP #7. KEEP THE ESSENTIALS ON HAND
What's worse than messing up your eyeliner, mascara, or liquid lipstick and not having the proper products to clean up the mess? To make sure that you can fix a makeup faux pas at a moment's notice, keep a few cotton swabs and a miniature bottle of micellar water in your makeup bag for quick clean-up on the go.
TIP #8. USE COTTON PADS TO PREVENT SHATTERING
There is nothing worse than finding your go-to eyeshadow palette or face powder completely shattered. Like it or not, day to day movements can cause your makeup to bump up against each other, break, and spill. But preventing this is easier and quicker than you may think—simply lay a thin cotton round (cut to the right size) on top of the palette/powder, then shut the compact as usual. Having this protective cotton layer will help prevent any breakage.
TIP #9. WIPE DOWN EACH PRODUCT
Tired of your makeup palettes or lipsticks staining your clothing and surfaces around your house? Now is a great time to give your products a quick wipe down. Using a makeup remover wipe, like the L'Oréal Paris Ideal Clean All Skin Types Makeup Removing Towelettes, or a damp cloth, wipe down your bottles and palettes to keep stains from transferring. This is something to keep in mind every time you use your products!
TIP #10. ORGANIZE BY SIZE
Another great organizing tip that works for just about any situation is organizing by size. For example, instead of tossing all of your products into your makeup bag every which way, group them by size. Put all of the square and circle-sized palettes—face powder, bronzer, blush etc.—next to each other, lined up in a neat row. Similarly, group together the long, slender products, like your eyeliner, mascara, lipstick, lip liner, and brow gel. This organization system is particularly helpful when you have a smaller makeup bag that doesn't allow for the bags within a bag method.
TIP #11. WIPE YOUR MAKEUP BAG
If you've been dealing with spillage, chances are the inside of your makeup bag is filled with stains. Lucky for you, there is an easy answer for how to clean your makeup bag and have it look as good as new. First, hold your makeup bag upside down over the trash to get rid of loose debris. If you're using a cloth makeup bag, pop it into the washing machine using hot water to get rid of any bacteria. If it's made of plastic, simply turn it inside out and use a makeup remover wipe to give it a proper wipe down. Easy, peasy!
Now, you have a clean, organized makeup bag—good for you! Up next, learn our top tips for packing your makeup bag when you're going on vacation or a trip of any sort. Here's How to Pack Your Makeup When You Travel.
Discover more tips & tricks
Keep your skin happy
See all articles
Shop Featured Makeup products
Discover More