makeup looks
How to Do Your Makeup During Your Commute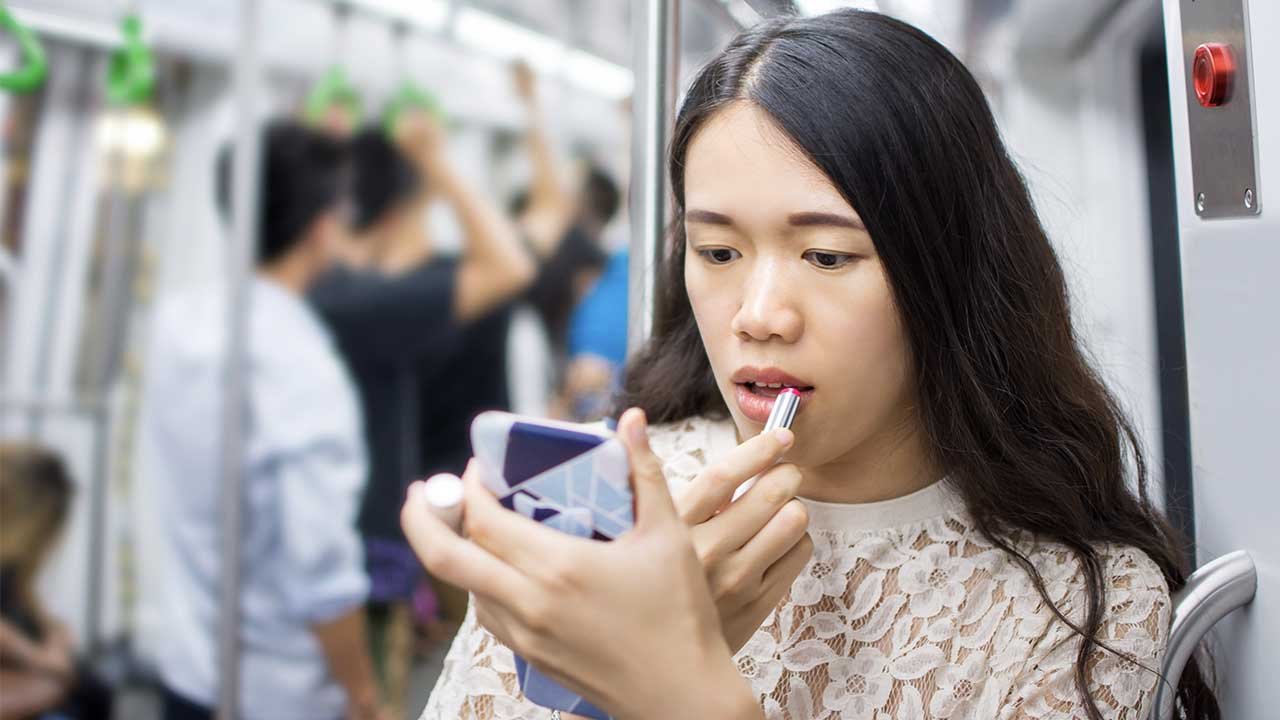 We've all had mornings when we've hit the snooze button a few too many times, leaving us feeling rushed as we try to get ready to make it work without being late. Maybe you had enough time to get started, but even rushing through your makeup routine, you end up with a half-done face. It's too late for time-saving beauty hacks to save you—but there's one solution left. Why not make use of your commute to work and do your makeup during the trip? That's right, from your eye shadow to your lipstick, as long as you have a steady hand, you can beautify yourself during your commute. From which type of products to use to when and where to apply, here are our tips for a smooth makeup application—even on a bumpy ride.
COMMUTER MAKEUP TIP #1: START AT HOME
If you only have time for one part of your makeup routine before you head out the door, prioritize foundation. Liquid products are more susceptible to spilling, so it's best to keep your L'Oréal Paris Infallible Pro-Matte Foundation at home. Plus, once your base is finished, the smaller details are easy.
COMMUTER MAKEUP TIP #2: FIND A SEAT
If you're carpooling, this shouldn't be a problem. But any bus or subway commuter knows that scoring a seat is a feat some days. If you know you'll be applying your makeup on the subway, find a way to snag a seat so that you'll be as stationary as possible.
COMMUTER MAKEUP TIP #3: PACK THE RIGHT MAKEUP
Another tip that starts at home—packing your makeup bag. Certain types of products are just easier to travel with, not to mention much less messy. Stick to cream and stick products or anything with a rollerball or sponge applicator. Leave your makeup brushes at home—they take up too much space and if you use them to apply products while seated, they will likely end up all over your outfit. Stick products, on the other hand, are perfect because they don't require any brushes. An eye shadow stick, like L'Oréal Paris Infallible Eye Shadow Crayon, will glide smoothly on the lid—just blend with your fingers. And if you really think you've mastered the art of commuter makeup, you can even try contouring sticks.
Another thing to leave at home? Powder products, especially loose powders. Taking a powder blush, foundation, or bronzer on-the-go with you is a recipe for either a big mess or a cracked compact. Cream products offer more control and can be applied with your fingers so there's no need to pack extra tools.
If you are going to apply foundation during your commute, try a cushion compact foundation like L'Oréal Paris True Match Lumi Cushion Foundation. The formulas are light, easy to blend, and sometimes even contain SPF. The best part? The product is in the cushion, so it's mess-free.
To tame your brows, opt to bring along a brow gel instead of a brow pencil. You'll get the same amount of definition without the worry of messing up your eyebrows. Try L'Oréal Paris Brow Stylist Boost & Set Brow Mascara in the shade that matches your brows or in clear if you're worried about messing your brows up while on the move.
For lips, a tinted balm is probably your best bet. Try L'Oréal Paris Colour Riche Lipstick Glossy Balm or L'Oréal Paris Colour Riche Lipstick Balm for color that shows but doesn't require the same precision as a lip liner or bold lipstick. Another option is foregoing lip color and opting for just a lip gloss like L'Oréal Paris Infallible 8 HR Le Gloss.
Last, but certainly not least, you need a good mirror and some makeup remover wipes. Our best tip is to get a compact with a mirror on both sides. It won't take up any extra room but gives you double the amount of mirror. The makeup wipes are for cleaning your hands once you're done. With all the cream products and finger-blending, you'll want to make sure you're not still covered in makeup when you arrive at your destination.
COMMUTER MAKEUP TIP #4: KNOW WHEN TO APPLY WHAT
This is arguably the most important part of doing your makeup during your commute: knowing when to apply what. Blushes, cream shadows, and lip gloss can be easily applied while train or bus cars are moving because they don't have to be quite as precise.
Lip liners, eyeliners, mascaras, and lipsticks are best applied when your mode of transportation is at a halt. Any kind of product that draws a harsh line is likely hard to remove or fix without completely redoing your makeup, and uneven lipliner or wonky eyeliner isn't a professional way to show up at the office.
Ran out of time to style your hair too? Here are 3 Easy Hairstyles in 3 Minutes Each.
Discover more tips & tricks
Keep your skin happy
See all articles
Shop Featured Makeup products
Discover More