face makeup
Your Infallible Pro-Glow Makeup Routine
May 19, 2017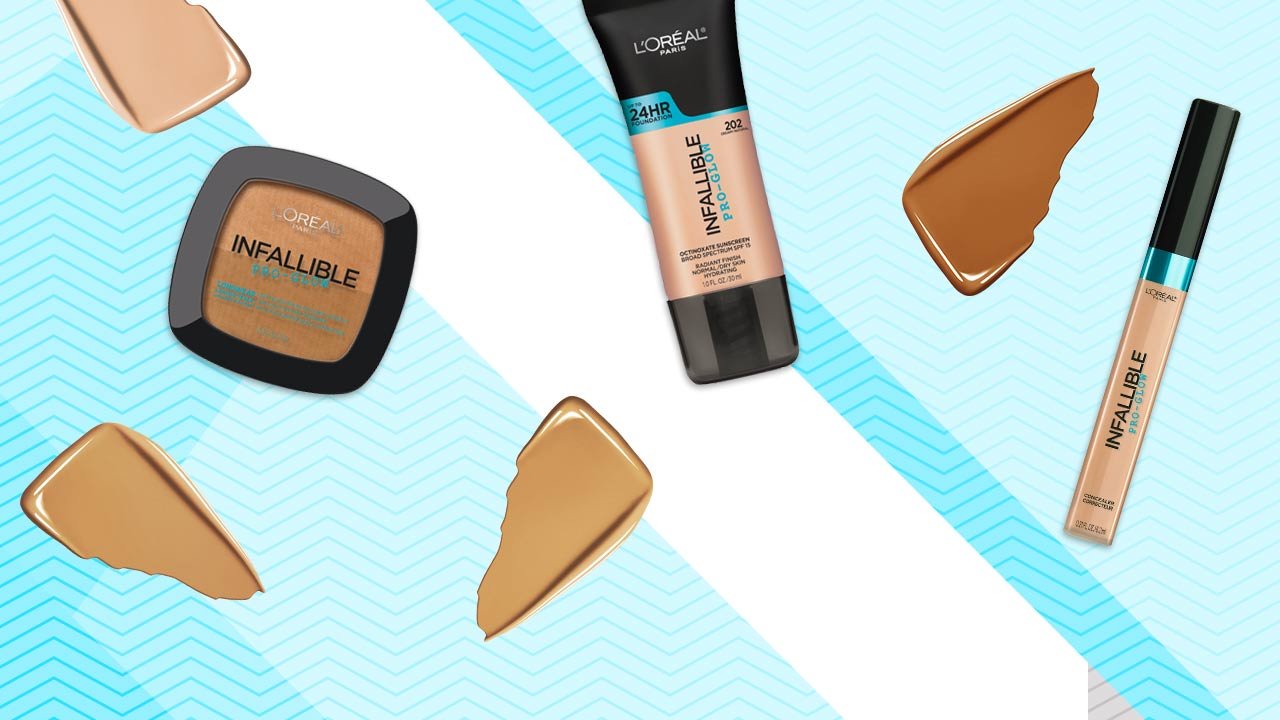 When you have dry skin, you know full well that your complexion can end up looking a little, well, dull. Not to mention, applying makeup over dry skin can leave you looking patchy. So, what can you do? It's all about finding the right face makeup products for dry skin. Here, learn how to prep your skin for makeup and use the L'Oréal Paris Infallible Pro-Glow line to help create a radiant finish for your dry skin.
Step 1: Cleanse
Before getting started on your makeup routine, it's a good idea to cleanse your complexion. Use a gentle, no-rinse cleansing option, like the L'Oréal Paris Micellar Cleansing Water Complete Cleanser for Normal to Dry Skin, which hydrates and soothes. It's powered by tiny micelles—oil molecules—that act as a magnet to lift dirt, makeup, and impurities up and away from the skin. To use, simply pour some micellar water onto a cotton pad and wipe the pad across your face. Since you don't have to be anywhere near a sink to use it, micellar water makes a great travel-friendly option—whether you have a vacation planned or are just heading to the gym.
Step 2: Moisturize
Next up: Moisturizer! After cleansing, apply a lightweight moisturizer formulated for your skin type, like the L'Oréal Paris Hydra Genius Daily Liquid Care for Normal/Dry Skin. It's formulated with hyaluronic acid and aloe vera water to help provide long-lasting hydration and help make your skin appear more radiant and luminous. Gently glide the water-based moisturizer over your face post-cleansing.
Step 3: Primer
To help create a smooth canvas, apply a thin layer of primer on before foundation. The L'Oréal Paris Magic Lumi Light Infusing Primer can be worn under or mixed with foundation for a soft light illusion. You can also use it to highlight specific areas of your face to help create a sculpted effect.
Step 4: Foundation
Now it's time to move onto makeup. When you have dry skin, you may want to consider steering clear of matte formulas, as these can exacerbate the look of your dryness. Instead, reach for a foundation that has a radiant finish, like the L'Oréal Paris Infallible Pro-Glow Foundation, which is available in 12 shades. Apply it with the L'Oréal Paris Infallible Blend Artist Foundation Blender for a seamless finish. Squeeze a tiny amount of foundation onto the tip of the blender and use the rounded edge to dab it onto your skin.
Step 5: Concealer
There's so much more you can do with concealer than just hide skin imperfections—although you can certainly use it do that as well. The L'Oréal Paris Infallible Pro-Glow Concealer comes in a thin tube with a wand applicator so that you can easily conceal dark circles or blemishes or get in on the highlighting trend.
Step 6: Powder
After concealing, finish your look by dusting on a powder. Again, if you have dry skin, matte isn't the way to go. Reach for a glow-y powder, like the L'Oréal Paris Infallible Pro-Glow Powder, instead. The powder is split into two—the top half is a highlighter, while the bottom half is a flesh-toned setting powder. Use the bottom half first to help set your look, then follow up with a sweep of the highlighter to help add the look of brightness to your complexion.
Step 7: Eyes and Lips
Done with your face? Keep things simple by dabbing on a neutral shimmery shadow, like the L'Oréal Paris Infallible 24 HR Eye Shadow in Amber Rush and topping that off with the L'Oréal Paris Voluminous Lash Paradise Mascara. As for your lips, if they're dry, use a lip scrub to help slough off dead skin cells from the surface, then follow up with the L'Oréal Paris Colour Riche Glossy Balm.
Step 8: Makeup Setting Spray
No makeup look would be complete without a quick spritz of setting spray! Holding the L'Oréal Paris Infallible Pro-Spray & Set Makeup Extender Setting Spray 8-10 inches away from your face, close your eyes and spray it four to six times in an X and T motion.
Discover more tips & tricks
Keep your skin happy
See all articles
Shop Featured Skin Care products
Discover More