eye makeup
How to Do Runway-Inspired Glitter Eye Makeup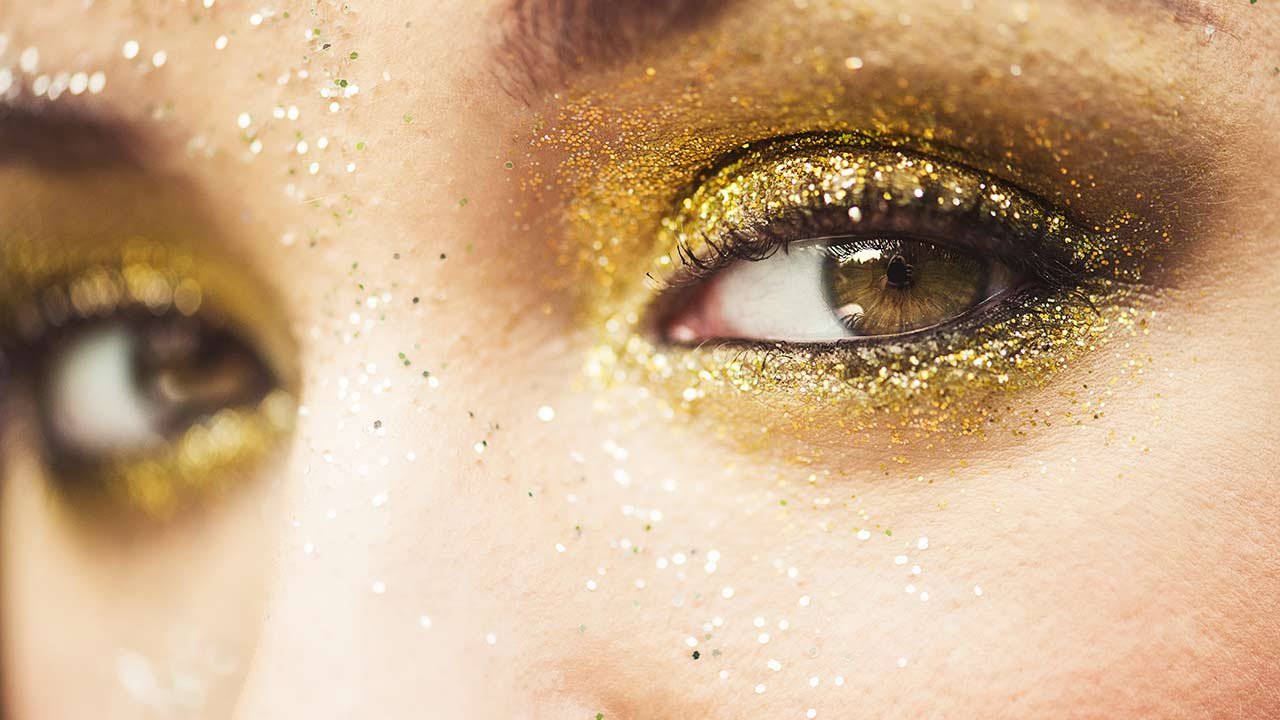 Matte makeup will always have a special place in our hearts—but right now, we're totally in love with all things sparkly. And one of our favorite makeup looks to grace runways during fashion week recently has been glitter eye makeup. It's super-pretty and totally eye-catching.
Want to get in on the glitzy trend? It turns out it's pretty easy to pull off! Follow our tutorial below to get the look.
Your Step-by-Step Guide to Creating a Glitter Eye Makeup Look
You don't have to be a professional makeup artist to get in on the glitter eye makeup trend. Here's how to get this eye and lash look sans having a professional makeup artist at your beck and call backstage. Let's get started!
Step 1: Ace your base. When it comes to your skin, keep things simple. Start off by applying a primer, like the L'Oréal Paris Lumi Light Infusing Primer, all over your face.
Step 2: Color correct. Use a color correcting concealer palette, like the L'Oréal Paris Total Cover Color Correcting Kit, to help hide any imperfections, such as dark circles, redness, or dullness.
Step 3: Add foundation. Follow up by applying a full coverage foundation, like the L'Oréal Paris Infallible Total Cover Foundation, with a makeup sponge, like the L'Oréal Paris Infallible Blend Artist Foundation Blender, using dabbing and rolling motions.
Step 4: Highlight, highlight, highlight. Top things off with a few dabs of the L'Oréal Paris True Match™ Lumi Liquid Glow Illuminator along your cheekbones, brow bones, and the bridge of your nose.
Step 5: Apply mascara to your top and bottom lashes. Use one coat of the L'Oréal Paris Voluminous Original Mascara on your top and bottom lashes.
Step 6: Play with glitter! When using a loose glitter eye shadow, you'll need to have a mixing solution on hand so that it'll adhere to your skin. So, dip an eye shadow brush into the mixing solution, then dip it into your loose glitter eye shadow, and finally brush it on wherever you'd like to sparkle. Depending on how bold you want to get, you can apply glitter all over your top lid as well as on your lower lash line. As far as color choice goes, it's totally up to you! We're always a fan of gold, but feel free to opt for whatever hue you'd like. You're now ready to strut your stuff!
Step 7: Keep your lips simple. With this look, your eyes are truly the star of the show, so do neutral lip to keep the attention on your eyes. Try the L'Oréal Paris Infallible Paints/Lip in Nude Star. Outline your lips using the pointed tip, then fill them in.
How to Remove Your Makeup at the End of the Day
While it's fun to play around with makeup, taking it off at the end of the day is not always as enjoyable. In fact, we've all had those moments when we've scrubbed and scrubbed to get everything off. This time around, opt for a gentle cleansing option, like micellar water. The L'Oréal Paris Micellar Cleansing Water Complete Cleanser Waterproof – All Skin Types removes makeup (even waterproof!), cleans dirt and impurities, and intensely purifies. You can use it on your face, lips, and eyes, and it's suitable for all skin types—even sensitive skin. This micellar water is powered by tiny micelles (oil molecules) that act like a magnet to help lift dirt, oil, and makeup off of the skin—no rinsing or harsh rubbing required. To use, simply saturate a cotton pad with the micellar water and wipe the pad across your face. For eye makeup removal, hold the pad over closed eyes for a few seconds, then wipe.
And there you have it. Whether you've got a fancy party to attend or you just want to be the center of attention, wearing glitter eye makeup can certainly get the job done. Go ahead and get your sparkle on!
Discover more tips & tricks
Keep your skin happy
See all articles
Shop Featured Makeup products
Discover More