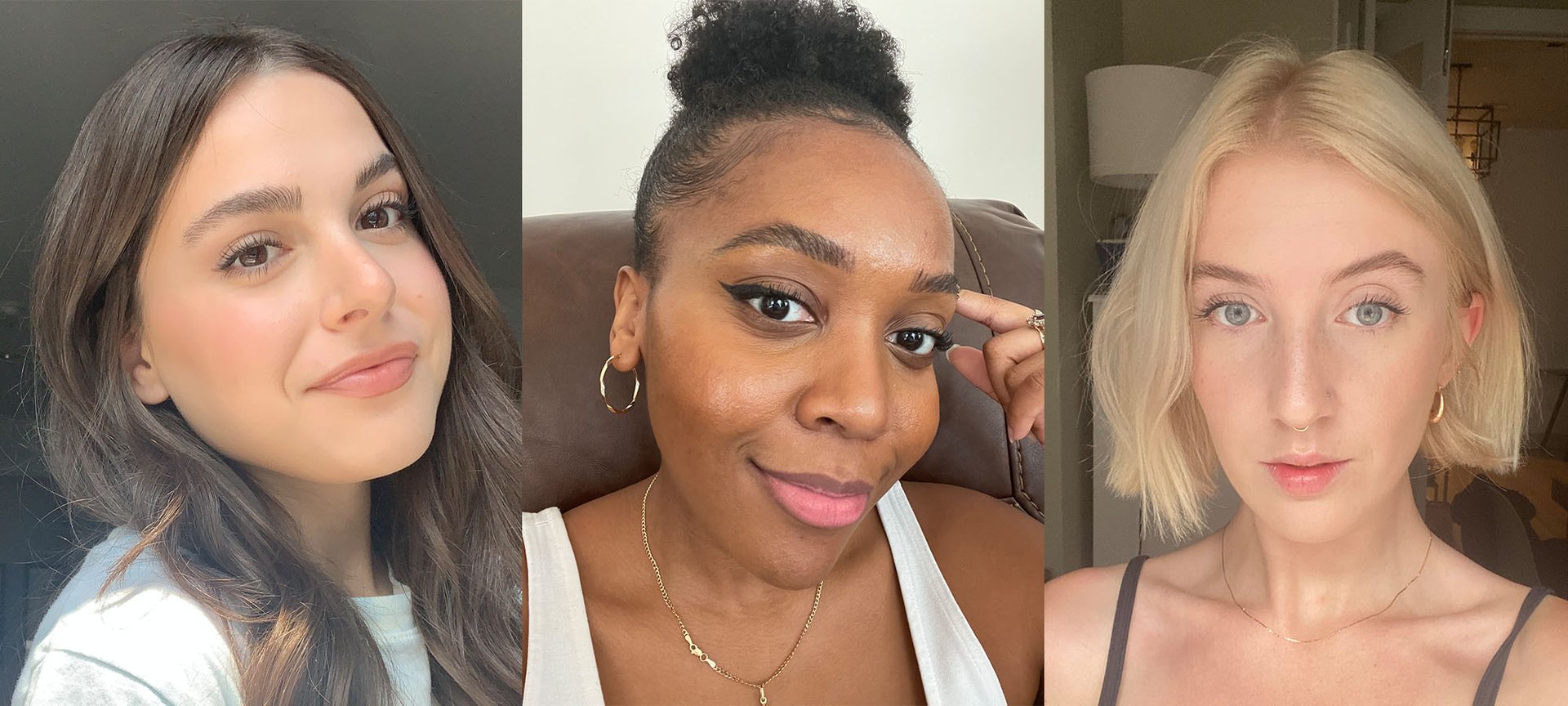 eye makeup
7 Editors Share Their Favorite L'Oréal Paris Brow Products for National Brow Day
"Our brows have never looked better!"
It's National Brow Day — and if you're anything like us, then you're likely celebrating with your brows tamed, framed and full. A versatile brow product is a must-have for days like today (and on the daily!), and from gels, to pencils, pomades and more, there are dozens of products out there to choose from and fall in love with. So in honor of the day, we're sharing our current favorite L'Oréal Paris brow makeup products that regularly help us get our best brows.
Shalwah, Associate Content Director
Brow Pick: L'Oréal Paris Brow Stylist Shape & Fill Mechanical Pencil
I can proudly say that I never fell victim to the thin brows trend that once dominated and have always kept my brows pretty full. I thread once a quarter to clean them up and in between visits I use this wonderful brow pencil to keep my eyebrows looking good. The triangular tip lets me fill in my brows evenly with the lightest strokes, and the spoolie helps me brush my unruly hairs into a shape that I like without making me look overdone. I love how put together it makes me look on my no makeup days — which tends to be most days!
Alanna, Assistant Managing Editor
Brow Pick: L'Oréal Paris Unbelieva-brow Longwear Waterproof Brow Gel
If you know me, you know that I love my brows thick, framed and sharp. One of my favorite ways to achieve this is by using a pigmented brow gel like the Unbeliva-brow. I simply brush on the color with the small angled brush, and then comb through my hairs with the spoolie to ensure the product sets in and my brows lay flat. I'm left with full, saturated brows that I can't go a day without!
Lauren, Associate Editor
Brow Pick: L'Oréal Paris Brow Stylist Definer Waterproof Eyebrow Mechanical Pencil
Like most people, I was born with a less than perfect eyebrow shape. They grow in full but all over the place. Even though I prefer a more natural look, it still takes a bit of shaping and shading to make them presentable. So for me, the Brow Stylist Definer Mechanical Pencil is my saving grace. Its super-fine tip works just like an ink pen, which is great for drawing in brow hairs and the shade goes on light enough to give the illusion of an eyebrow arch without being too pronounced.
Ariel, Associate Editor
Brow Pick: L'Oréal Paris Brow Stylist Frame and Set
I am forever grateful that I inherited my mom's full brows — but like anyone with a pair of tweezers and a little too much free time on their hands, sometimes I get carried away with plucking them. When that happens, I reach for this waterproof pomade in the shade Blonde to fill in any sparse areas and make my brows look more sculpted and defined. The effect is surprisingly natural and is the perfect camouflage until my real brows grow back in.
Kat, Social Media Editor
Brow Pick: L'Oréal Paris Micro Ink Pen by Brow Stylist, Up to 48HR Wear
I'll be the first to admit that in their natural state, my eyebrows can look more like distant cousins, rather than sisters. For that reason, I love using a product that can help me really build the shape that I'm looking for. I love a more natural-looking brow, and I'm surprised that I'm able to achieve it with a pen. The way that this pen is shaped is like no other on the market. It has three points on the side of the brush, making it easy to create hair-like strokes.
Alyssa, Assistant Editor
Brow Pick: L'Oréal Paris Unbelieva-brow Topcoat, Waterproof Universal Transparent
As someone with naturally full eyebrows, I refuse to spend time filling in minor gaps on a daily basis. Rather, I just apply a clear brow gel to groom my brows and keep them in place. I've been loving this top coat because it holds the hairs in place for much longer than the average brow gel, all while leaving my brows looking natural and not feeling hard or crunchy.
Caitlyn, Assistant Editor
Brow Pick: L'Oréal Paris Age Perfect Brow Magnifying Pencil with Vitamin E
My eyebrows are far from perfect — they're literally two different shapes. In an effort to make my brows look more like sisters (forget twins) rather than play cousins, I always turn to the L'Oreal Paris Age Perfect Brow Magnifying Pencil with Vitamin E. With just a few gentle strokes of the pencil, I'm able to softly define and manipulate my thin eyebrow hairs with a little shaping and lots of brushing with a spoolie.
Next: The Complete Guide to Eyebrow Makeup
Written by: Alanna Martine Kilkeary, Photo Credits: Alyssa Kaplan, Kat Pierre, Ariel Wodarcyk
{ "@context": "https://schema.org/", "@type": "WebPage", "speakable": { "@type": "SpeakableSpecification", "cssSelector": ["speakable-content"] }, "url": "https://www.lorealparisusa.com/beauty-magazine/makeup/eye-makeup/loreal-paris-brow-products-editor-picks" }
Discover more tips & tricks
Keep your skin happy
See all articles
Improve your routine
Show your new look more love:
makeup
{ "@context": "http://schema.org", "@type": "BreadcrumbList", "itemListElement": [ { "@type":"ListItem", "position": 1, "item": { "@id": "/", "name": "Home" } } , { "@type":"ListItem", "position": 2, "item": { "@id": "https://www.lorealparisusa.com/beauty-magazine", "name": "Beauty Magazine" } } , { "@type":"ListItem", "position": 3, "item": { "@id": "https://www.lorealparisusa.com/beauty-magazine/makeup", "name": "Makeup Tips For Every Look" } } , { "@type":"ListItem", "position": 4, "item": { "@id": "https://www.lorealparisusa.com/beauty-magazine/makeup/eye-makeup", "name": "Eye Makeup" } } , { "@type":"ListItem", "position": 5, "item": { "@id": "https://www.lorealparisusa.com/beauty-magazine/makeup/eye-makeup/loreal-paris-brow-products-editor-picks", "name": "loreal-paris-brow-products-editor-picks" } } ] }