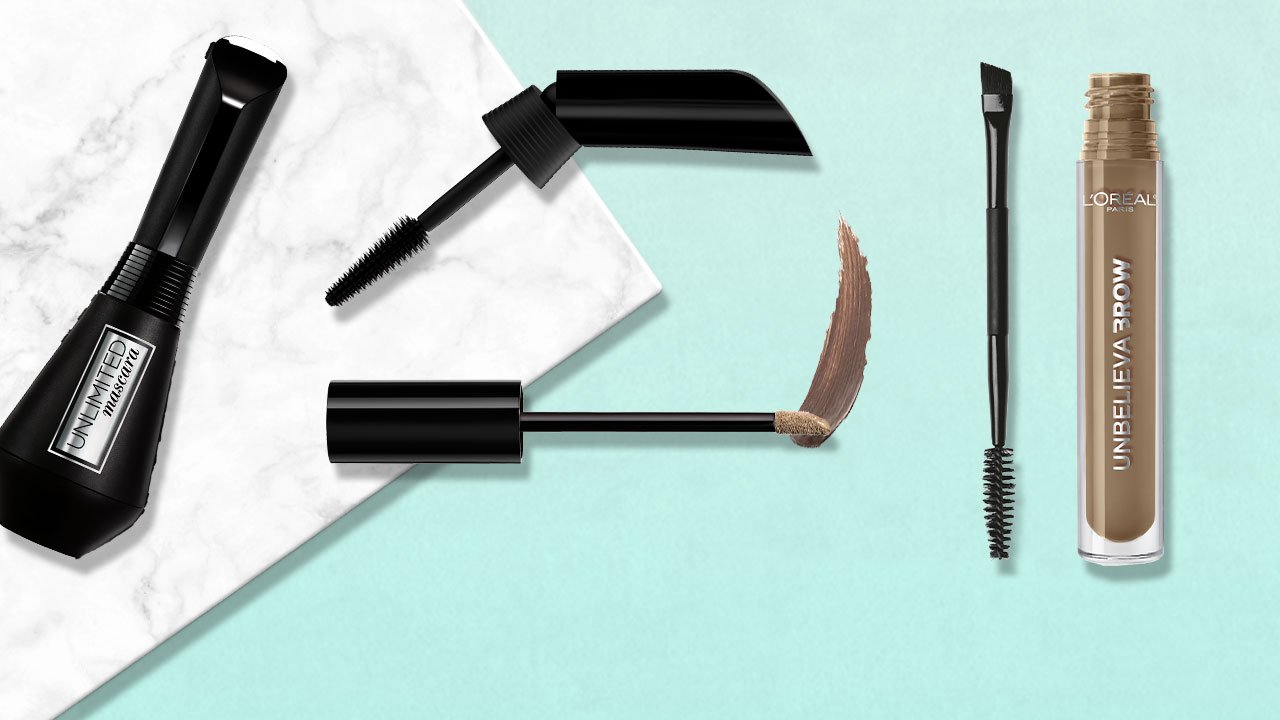 eye makeup
Eye Tech: Take Your Eyes to the Next Level
Often, your beauty products are more than meets the eye. You look at your trusty tube of mascara and see a mascara, not the technology and innovation that make it so deserving of a place in your makeup bag. Today, we're letting you behind the curtain, so to speak, and giving you new reasons to appreciate your favorite eye makeup products. Yes, you know that mascara makes your lashes look amazing—but why? Here, we're breaking down the innovation behind two of L'Oréal's most exciting eye makeup launches: L'Oréal Paris Unbelievabrow Longwear Waterproof Brow Gel and L'Oréal Paris Unlimited Lash Lifting and Lengthening Mascara.
The Innovation Behind Unbelievabrow
If you're anything like us, filling in your brows has been a total game changer. You use a little bit of brow mascara or pencil to enhance your arches and ta-da, your entire beauty look is that much better. The only thing is, wouldn't it be nice if you weren't always filling in your brows? You know, if your eyebrow makeup could maybe just last a little longer? Even if it could survive a sweat session or an ultra-active summer day—that would be sweet. Well, that's the beauty of Unbelievabrow.
The magic of this brow gel is in the formula, which is water, smudge, transfer, and sweat resistant. Basically, it's a brow gel that was made to last—and that includes through a workout. And despite its heavy duty, long-lasting formula, the brow gel stills helps you achieve natural-looking arches—you aren't obligated to end up with dramatic Insta-glam brows.
The tools you use to apply Unbelievabrow also deserve attention—not because they're something new that you've never heard of, but because you're given multiple options that allow you to sculpt the brows of your dreams. You've likely used an angled brush, a spoolie, and a doe foot applicator before, but this time you don't have to decide which tool is right for your desired brow look. Unbelievabrow includes all three, each with their own role to make application a breeze. The doe foot applicator can be used to fill in sparse areas, the angled brush is for outlining and defining your brow shape with feather-like strokes, and the spoolie provides the perfect finishing touch, so you can comb through your brows and get a more natural look.
Let's review: Unbelievabrow has a formula with major staying power and it comes with all the tools you could ever need to achieve enviable brows. Sounds innovative to us! Now, onto the next.
The Innovation Behind Unlimited Mascara
There's no shortage of mascaras on the market—there are formulas for length, volume, and everything in between—so it really takes something special to make a splash. A product has to be not just innovative, but flat out good—and thankfully, Unlimited Mascara fits the bill.
First things first, let's talk about the wand. We've tried every type of mascara wand, from comb wands to fat brushes, but this is our first bendable wand. That's right, this mascara wand bends! Inspired by an old makeup artist trick that allows you to reach those tricky inner lashes, the Unlimited Mascara wand can be used in two positions—straight and bent—to customize your lash look. Use it straight to stretch and lengthen your lashes, then bend it and lift lashes from root to tip. The brush itself is also innovative, with a tapered shape that has a panoramic effect on lashes. So pretty!
Moving onto the formula, this mascara has one that's definitely noteworthy. It's long-lasting, it glides onto lashes without clumps or flakes, it doesn't smudge, and it's suitable for sensitive eyes! Essentially, it hits all the right notes—and it's also available in black brown and waterproof variations so you can pick whichever option suits your fancy.
That may have been a lot to take in, so here's your recap: Unlimited Mascara pairs an innovative, bendable brush with a stretchable formula for a stunning lash lift effect.
We just told you about two advancements in beauty, but there's plenty more where that came from. Next, let us answer one of your biggest beauty tech questions: What is a Smart Mirror?
Discover more tips & tricks
Keep your skin happy
See all articles
Shop Featured Makeup products
Discover More