hairstyle trends
How to Get the Wet Hair Look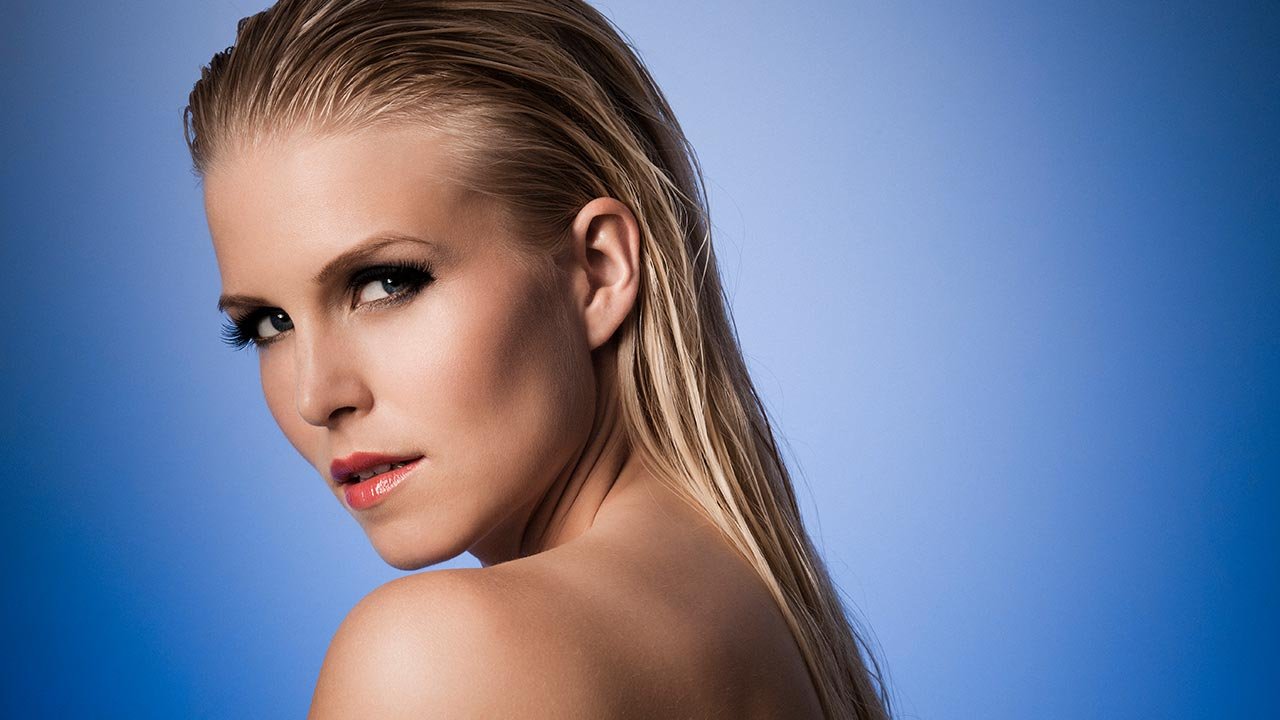 The wet hair look has been seen on celebrities and runways for quite a while now. And no, this beauty trend doesn't require you stepping foot outside with a sopping wet head of hair. Even if you don't have a glam squad waiting at your beck and call to give you a wet look hairstyle (because really who does?), you can recreate a wet and shiny hair look all on your own. While it may seem a tad bit intimidating at first, it's actually really easy to replicate this runway-ready beauty look—even in the winter. Wet-looking strands can give off après-beach vibes, but it's actually a hairstyle that's perfect all year round. Aside from its amazing versatility, the best thing about the wet hair look is a total no-brainer: no professional hairstylists needed! Follow this step-by-step guide to master the wet hair look for yourself. 
Step 1: START WITH DAMP HAIR
You would think you'd have to start with soaking wet hair for this style, but that's not actually the case. And once you hear the reason why, we promise it will all makes sense. In order to get the right look, you actually have to start with damp—not wet—hair. That's because if your hair is dripping wet, the hair gel you use in the following step won't stick, which means you won't be able to sculpt your hair into perfection. 
step 2: PICK THE RIGHT HAIR GEL
Choose a non-sticky, high shine hair gel, like the L'Oréal Paris Advanced Hairstyle LOCK IT Extreme Style Gel. The strong hold hair gel will keep hair in place, even defying gravity, all day (or night) long.
step 3: APPLY A HEAPING AMOUNT OF hair GEL TO YOUR ROOTS
When it comes to the wet hair look, don't skimp out on applying some product. Yep, this is your permission to go to town with your hair gel! Take a generous helping of hair gel and work it through your locks, starting at your roots. Start with a dollop of hair gel, but feel free to add more as you go to really amp up "wet" look. Feel it out to see what you like the best, but keep this in mind: Essentially, the more gel you add, the wetter your hair will look. 
step 4: COMB OR BRUSH YOUR HAIR BACK
Depending on the look you're going for, there are a variety of combs and hair brushes you can use to style your strands. For this look, consider opting for a fine tooth comb. Once you've applied a generous amount of hair gel, take the comb and work it through your hair from root to tip. You can also use a boar bristle brush for a sculpted look. The soft bristles on a boar bristle brush can help smooth back your hair and evenly distribute the hair gel without creating any bumps. 
step 5: SPRITZ ON A GLOSSING SPRAY
Now that the roots of your hair have a nice glossy finish, it's time to focus on the rest of your hair. Make the bottom of your locks blend with the top by using a glossing spray. Hold the bottle 6-8 inches away from your hair and spray it evenly throughout your lengths, avoiding the roots. 
step 6: KEEP EVERYTHING IN PLACE WITH HAIR SPRAY
As with any hairstyle (wet ones included), using a hair spray at the end of the process can help to hold everything together. Reach for a shine-enhancing hair spray, like the L'Oréal Paris Elnett Precious Oil Satin Hairspray, and spray it all over your mane. Whether you're out at dinner with that someone special or dancing your heart out at a club with your girlfriends, using a hair spray can help keep your style in place so you don't have to worry about too many touchups. You can also use hairspray to help keep baby hairs in check.
Editor's tip: Make sure to use the hair spray before the hair gel has dried. Take the can of hair spray and spritz some onto your wet hairdo from about 10-12 inches from away from your head. Layer more hair spray for stronger control, and now you're good to go.
What better to pair a wet hair look with than a similarly slick eye makeup look? Next, find out How to Rock a Glossy Eye Makeup Look.
Discover more tips & tricks
Keep your skin happy
See all articles
Shop Featured Hair Style products
Discover More