hair color tutorials
How to Use Super Blonde Creme Lightening Kit
September 25, 2017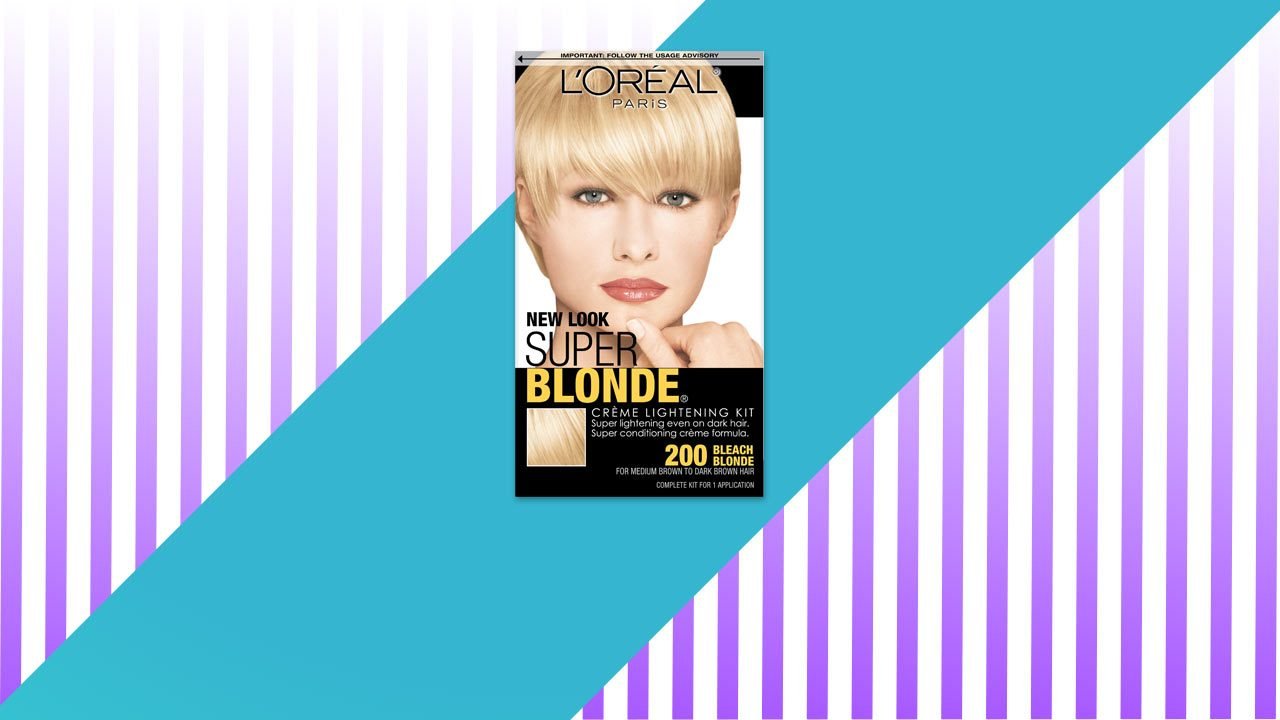 So, you've probably heard a little rumor that blondes have more fun. How factual that is may be debatable (after all, brunettes and redheads are perfectly capable of having a good time, too!). But that doesn't mean coloring your hair blonde is any less of a tempting decision. Even more tempting is being able to go blonde from the comfort of your own home. But is that really doable? It's a valid question—dyeing your own hair might seem like something best left to the professionals. But it turns out you can color your hair blonde at home. It's all about finding the right at-home hair color kit. Today, we're here to give you all the details on the L'Oréal Paris Super Blonde. Keep reading to learn exactly how to use it.
What You Need to Know Before Becoming Blonde
Woo-hoo, you've decided to go blonde! But before you pick up a Super Blonde kit, there are a few things you need to keep in mind. When going blonde, it's important to have realistic expectations and to plan accordingly. One thing you've probably heard—and it's true—is that dyeing your hair blonde will involve bleach. Anytime you're lightening your hair, you'll need to bleach it first. And the darker base color you're working with, the more effort it may take to achieve your desired blonde result.
How to Use the L'Oréal Paris Super Blonde Creme Lightening Kit
OK, now we can get into what you're here for: how to actually use Super Blonde. The kit comes in two shades: bleach blonde and super bleach blonde, so take your pick depending on how blonde you want to go. Open up the kit to find a lightening powder, developing creme, lightening creme, and conditioning shampoo. As for how to use them, you'll want to carefully follow the instructions provided. Once you're done, it's time to show off that gorgeous blonde shade!
How to Take Care of Blonde, Color-Treated Hair
Once you've used Super Blonde to change your hair color, your hair care routine will be in need of a revamp. Here's how to take care of your hair after going blonde.
1. Switch to products formulated for blonde, color-treated hair. Your regular shampoo and conditioner won't do the trick for colored hair. Make the switch to a line meant specifically for (faux) blondes. Try the L'Oréal Paris EverPure Blonde Shampoo, L'Oréal Paris EverPure Blonde Conditioner, and L'Oréal Paris EverPure Blonde Shade Reviving Treatment to help neutralize unwanted brass tones while hydrating over-processed hair. Gently massage the shampoo into wet hair, then rinse and follow up with the conditioner. Leave the conditioner on for 1-2 minutes before rinsing. Swap out the conditioner for the hair mask once a week, and apply it after using the shampoo. Leave it on for 3-5 minutes before rinsing.
2. Style strands into beach-worthy waves. Blonde hair and beachy waves are basically a perfect pairing. Instead of breaking out any heat tools, embrace your natural texture by allowing your hair to air dry and using a wave-making spray. After towel-drying your hair, spritz it with the L'Oréal Paris Advanced Hairstyle Air Dry It Wave Swept Spray and let your hair finish drying. To take your waves to the next level, try putting your hair into a braid after spraying on the product. Create a single braid for looser waves or multiple for tighter waves—it's totally customizable.
3. Keep your roots undercover. Seriously, how do roots show up so fast? Especially when you're blonde, you may notice that new growth appears pretty quickly. While you may not have the time to immediately dye your hair again, a root cover-up spray can handle it for you in the meantime. Available in light to medium blonde and dark blonde shades, the L'Oréal Paris Magic Root Cover Up is a lightweight spray that hides roots and lasts until your next shampoo. Just enough time to start planning for a touchup!
4. Touchup and trim. Keep a box of Super Blonde in your bathroom so that you can touchup your blonde color when needed—and think about pairing your blonde hair with a stylish new haircut, too. New color + new cut = brand spanking new you!
You know you're going to be blonde, but have you chosen your specific shade? For ideas, check out our article, From Platinum to Dirty Blonde: 7 Stunning Blonde Hair Ideas.
Discover more tips & tricks
Keep your skin happy
See all articles
Shop Featured Hair Color products
Discover More