hair color tutorials
How to Use Féria
September 19, 2017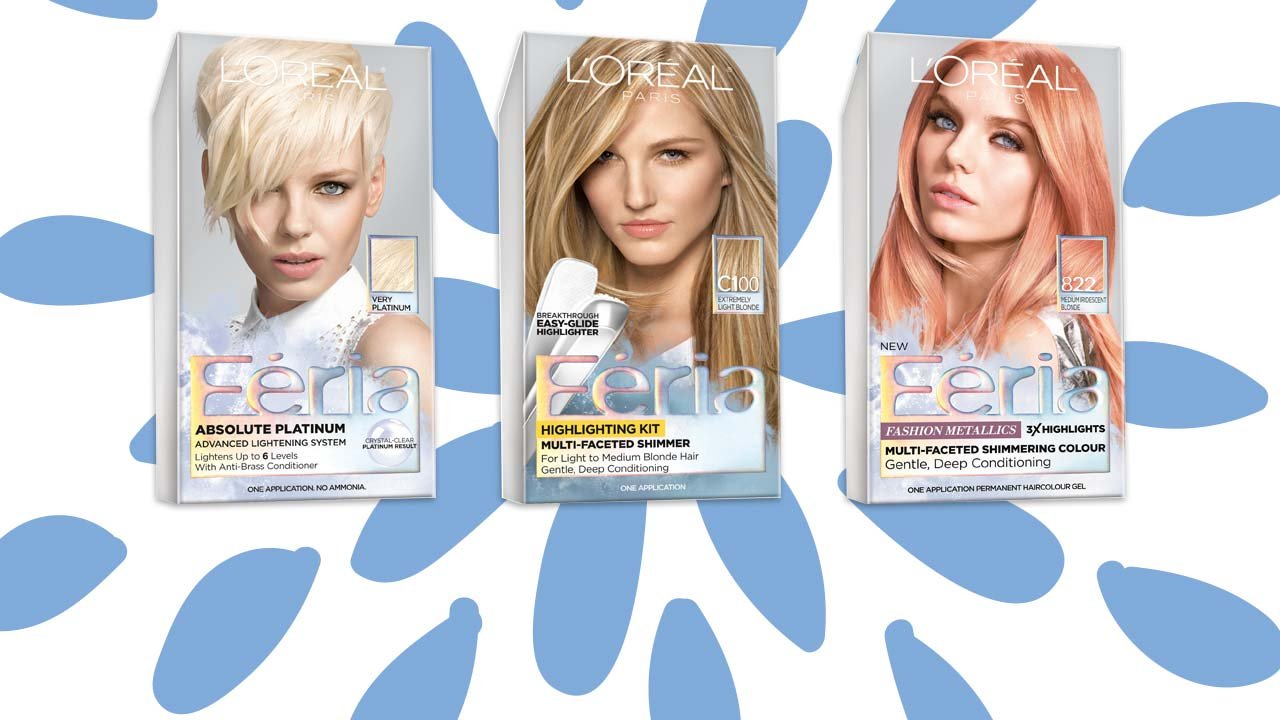 If you have the urge to get a little crafty with your hair color, this one's for you. Dyeing your hair at home is not only a convenient option, but it can also allow you to exercise your desire to DIY. Not sure how to color your hair all alone? No problem. Get your hands on a color from the L'Oréal Paris Féria line, and we'll teach you the rest. We're sharing everything you need to know about changing your color courtesy of Féria hair dye, below.
All About L'Oréal Paris Féria
When it comes to L'Oréal Féria, your options are far from limited. Learn a little more about the different kits in the collection before deciding how to dye your hair.
L'Oréal Paris Féria: The classic Féria is probably what brought you here, and with good reason. Available in 70 shades ranging from basic blondes to bold brights to pretty pastels, the multi-faceted hair color never looks dull or flat.
L'Oréal Paris Féria Multi-Faceted Highlights: At-home highlights don't require a pro. With this easy, quick, and precise option from Féria, anyone can do it. Apply shimmering strands of dimension exactly where you want them, using the highlighting formula and easy-glide highlighting tool.
L'Oréal Paris Féria Wild Ombré: Looking for something trendy to do with your tresses? Then you'll want to consider an ombré style. Lighten your hair's lengths and ends with this kit. The best part: It's up to you whether you go subtle or bold. And of course, it can't hurt that ombré hair doesn't require frequent touch-ups.
How to Color Your Hair Using L'Oréal Paris Féria
If you're ready to get your DIY on, you're in the right place. Follow our step-by-step tutorial for using L'Oréal Paris Féria and caring for color-treated hair post-dye job.
Step 1: Pick your shade. Choosing the right hair color for your mane can be overwhelming. To help make your decision easier, try looking at images of celebrities with enviable hair colors and read our article, How to Find the Best Hair Color for Your Skin Tone, for ideas. As we told you, L'Oréal Paris Féria comes in a large variety of shades—you're bound to find one you love! Just remember that if you're going from a dark hair color to a lighter one, then you'll have to bleach your hair—and the more drastic the change, the more work it may take to achieve your desired color.
Step 2: Color your hair. Once you've been thoroughly inspired and settled on your new color, it's time to dye. Break out your L'Oréal Paris Féria kit and follow the included instructions for best results.
Step 3: Switch up your hair care routine. Make a quick trip to your shower and start pushing your old shampoo and conditioner to the side once you're done dyeing your hair with L'Oréal Paris Féria. Color-treated hair requires special care. Stick with a system of products specifically formulated for colored hair, like the L'Oréal Paris Hair Expert Color Vibrancy Intensive Shampoo, L'Oréal Paris Hair Expert Color Vibrancy Intensive Conditioner, and L'Oréal Paris Hair Expert Color Vibrancy Intensive Ultra Recover Mask. Gently massage the shampoo into wet hair, then rinse out. Follow up with the conditioner, leaving it on for 1-2 minutes before rinsing out. Once or twice a week, swap out the conditioner for the mask, leaving it on for 3-5 minutes before rinsing out.
Step 4: Allow your hair to air dry. Put down the heat tools and give your color-treated hair a break post-L'Oréal Paris Féria dye job. After your next shower, towel dry your hair to remove excess water. Then, use the L'Oréal Paris Advanced Hairstyle Air Dry It Wave Swept Spray for texturized waves, L'Oréal Paris Advanced Hairstyle Air Dry It Ruffled Body Mousse for voluminous body, or L'Oréal Paris Advanced Hairstyle Air Dry It Undone Style Cream for a trendy bedhead inspired style. After working your hairstyling product pick through your hair, let your locks finish air drying.
Step 5: Temporarily hide gray roots, then repeat. Certain things seem to always sneak up on you, and having to re-do your roots can be one of them. If your new gray growth catches you by surprise, tide yourself over with the help of a root touch up spray, like the L'Oréal Paris Magic Root Cover Up, which lasts one shampoo. Make sure to have a box of L'Oréal Paris Féria on hand so that you can color your hair again when you're ready to do so.
To learn about a super-trendy hair color idea, check out our article, Balayage 101: Everything You Need to Know About This Highlighting Technique.
Discover more tips & tricks
Keep your skin happy
See all articles
Shop Featured Hair Color products
Discover More