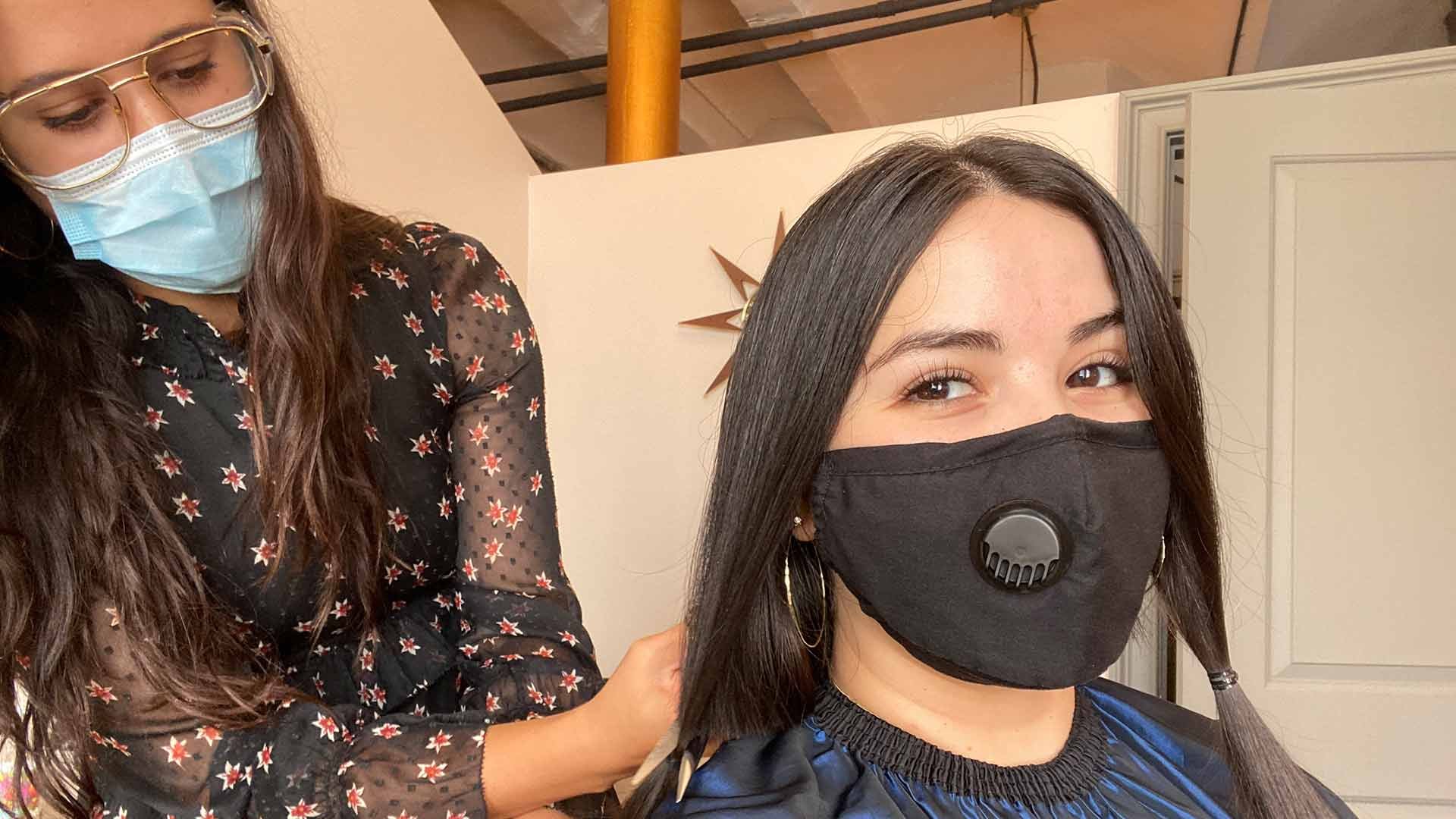 all hair types
5 Things Your Hairstylist Wishes You Would Do Before Your Visit
Every spring when we start to think twice about all the winter hair damage we might've caused, we're reminded of how much we love our hairstylists. Not to mention, Hairstylist Appreciation Day is in April, and the perfect time to honor these creatives and the magnificent work that they do. But one great way to show your favorite stylist some gratitude (of course outside of the flowers and sweet treats) is by following some simple rules of etiquette for your styling appointments. Sure, they love that gift card to their favorite store, but making their job easier is much more valuable. So we asked L'Oréal Paris celebrity hairstylist and colorist Jonathan Colombini, what are five basic things that your hairstylist wants you to do before your appointment, plus three things that they really wished you didn't. Show them you really love them by adhering to his tips for your next salon visit.
1. Do Your Homework
Whether you're a new client or one of the stylist's regulars, every visit can be an opportunity for a new style. The best way to give your hairstylist a clear idea of what you're envisioning is to bring inspiration, so do a little digging prior to your visit to gather some photos together. And ask for the cut you want clearly.
"The most important part of the service starts at the very beginning—during the consultation," says Colombini. "So I always ask that a client show me inspo pics. I generally like to see two pics of what they like and two of what they don't like. Typically the 'don't like' photos narrow it down to become less vague."
2. Come With Clean Hair
"There's no need [for hair] to be squeaky clean," Colombini explains. "But showcase your hair to your hairstylist so we can get a very good idea of who you are and how you'd like to present your hair as your biggest accessory."
Need a shampoo and conditioner recommendation? We love the L'Oréal Paris EverPure Moisture Shampoo and L'Oréal Paris EverPure Moisture Conditioner for soft, shiny and hydrated hair that feels clean and not stripped.
3. Know What Hair Care Products You're Using At Home
"This always comes up in conversation at some point during the service," he says. "I always want to know because it's my job to ensure that at-home hair care is just as much a priority as in salon hair care."
4. Don't Be Late
It's a simple yet very effective rule: be on time. Your stylist understands that things happen, but if you're late, your appointment can then run over into someone else's. Worst case scenario is that your stylist has to rush through the process and in turn you get inferior service.
"Let's enjoy this process together," says Colombini. "The pressure of not having enough time due to tardiness is not fun!"
5. Be Open To A Little Change
Hairstylists are artists, so you have to understand their desire to create. Colombini says that while it's important to stick with your vibe and what makes you (the client) feel and look your best, "as the seasons change let your hair reflect that in some ways. Change is good!"
In addition to the tips above, Colombini says that there are also behaviors you should avoid to create a seamless salon experience for you and your hairstylist. Check out these three tips on what not to do before or at your next appointment.
1. Don't Come With Filthy Hair
"Please don't come with really dirty hair, like gym hair or even wet hair," he says. "It slows us down if we have to blow dry your hair first or wash and then blow dry your hair."
2. Leave Your Friends At Home
You're not filming an episode of Say Yes to the Dress, so why the need for the entourage? "Don't bring your posse," Colombini says. "It's distracting and unnecessary. This is your time—enjoy it!"
3. Lose The Ponytail
Don't have your hair in a ponytail, especially when discussing a haircut, Colombini advises. It's hard for your hairstylist to come up with an accurate plan during a consultation while you have a harsh ponytail bend in your hair.
Photo Credit: Melissa San Vicente-Landestoy
Discover more tips & tricks
Keep your skin happy
See all articles
Shop Featured products
Discover More