beauty trends
8 Lessons on Bettering Yourself from the 2018 Women of Worth Summit
January 02, 2019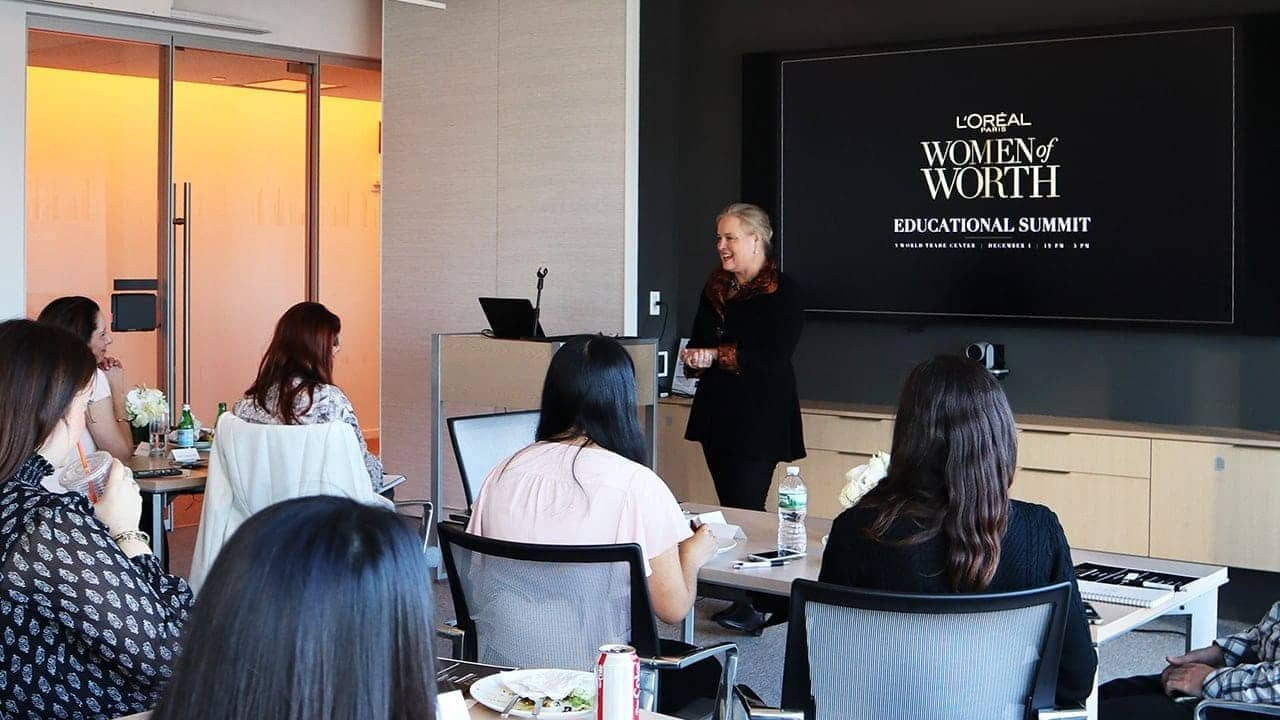 Written by Margaret Fisher, Beauty Editor.
Every year, L'Oréal Paris' philanthropic program, Women of Worth, honors amazing women that give back to their communities. After the honorees are chosen, there's a celebration—which you may have even seen some of your favorite celebrities attend in years past. However, that isn't the only WoW event that occurs. L'Oréal Paris also hosts a summit for all of the honorees, where they're able to learn how to take their charitable efforts a step further, practice self-care and balance those efforts with their personal lives, and more. This year, I was lucky enough to attend the summit alongside the women being honored, and while I don't have a non-profit of my own, like so many of 2018's Women of Worth, I was able to take a number of lessons from the summit. Here, I'm sharing the best of the best things I learned at the 2018 Women of Worth Summit, in hopes we can all be a little better in 2019.
Lesson #1: Focus on One Thing
Are you ready to make a change? Even if you know exactly what you want to do, it can be overwhelming to tackle the task at hand and make that change. To encourage success, keep things simple. Focus on the one thing you can change today, the one thing you can change this week, and the one thing you can change this month. By breaking things down into simpler, singular tasks and maintaining focus, you're able to be more effective. As I learned at the summit, the power of one can increase your effectiveness.
Lesson #2: Donate to Organizations You Care About
This concept is pretty simple, but doing good can make you feel good. If you don't regularly donate, it can be hard to get started, but in the end, it can be incredibly rewarding. Rather than ask around to see where your friends and family make charitable contributions, think about what matters to you. Whether you're an animal lover, someone who's passionate about the arts, or you've been impacted by an illness, there's an organization out there that you can contribute to and feel amazing about doing so. And don't feel obligated to make a large donation. If you've found organizations or charities you want to support, consider scheduling smaller donations on a monthly or quarterly basis—they'll add up over time, but won't take too big of a toll on your bank account.
Lesson #3: Volunteer Your Time and Skills
Remember, money isn't the only way you can do good or help the organizations you care about. Why not volunteer your time and abilities, too?
Lesson #4: Be Well-Read—Even When You're Short on Time
In my humble opinion, reading is one of the best things you can do to improve yourself. Of course, most of us don't have quite as much reading time as we'd like. Thankfully, through the WoW summit, I found one of my new favorite tips for becoming well-read. If you're short on time, try carving out a few minutes in the morning—perhaps during your commute—to read the summaries of books that have earned spots on best seller lists. This little tip will help you to be well-read without having to read the whole book. Who would have thought?
Lesson #5: Create a Ritual Around Sleep
You can't argue about the benefits of sleep. From how it impacts your beauty look to how it plays a major role in how you feel throughout the day, catching enough shut-eye is one of the most important things you can do. Unfortunately, that's often easier said than done. If you find yourself having trouble shutting down at the end of the day, try creating a ritual around sleep. 30 minutes before you want to go to bed, put on your pajamas, use a face mask or jade roller, and squeeze in a few minutes of reading. Repeat the same nighttime routine every night and see how your sleep improves!
Lesson #6: Dump Your Thoughts and Worries Before Bed
Do your stressors ever keep you up at night? We've all been there, tossing and turning because you're stressing over everything you need to get done when you wake. That's why I love this idea: Before bed, take a notebook and pen and do a 'mind dump'. Write down everything you need to complete the following day. Go to sleep knowing that's what you'll accomplish the next day, then actually take action in the morning.
Lesson #7: Take a Break from Technology
Technology is amazing, but you have to admit, a lot of us indulge a little too much. In fact, it can negatively impact your sleep—which as we already covered, is about as important as it gets. Bedtime is your perfect opportunity to take a break from technology. While you're going through your nighttime routine and doing your mind dump, put your phone away and don't look at it for at least 30 minutes before bed.
Then, when it's time to get between the sheets, make sure your phone isn't on your bed. This will remove the temptation to look at your phone when you wake in the middle of the night—a quick peek may seem harmless but it will only make falling back to sleep more challenging.
Lesson #8: Form New Habits
If you've attempted to make any New Year's resolutions for 2019, you know that forming new habits is hard. The best advice I learned in regards to this is to take things one month at a time. Fully commit to doing your new behavior—whether that's exercising, eating healthy, or anything else—every day for one month. After you've managed it for a full month, there's a much greater chance you'll be able to keep it up!
Next: 2019 Trend Forecasting: These are the 28 Trends to Watch
Discover more tips & tricks
Keep your skin happy
See all articles
Improve your routine
Show your new look more love:
makeup