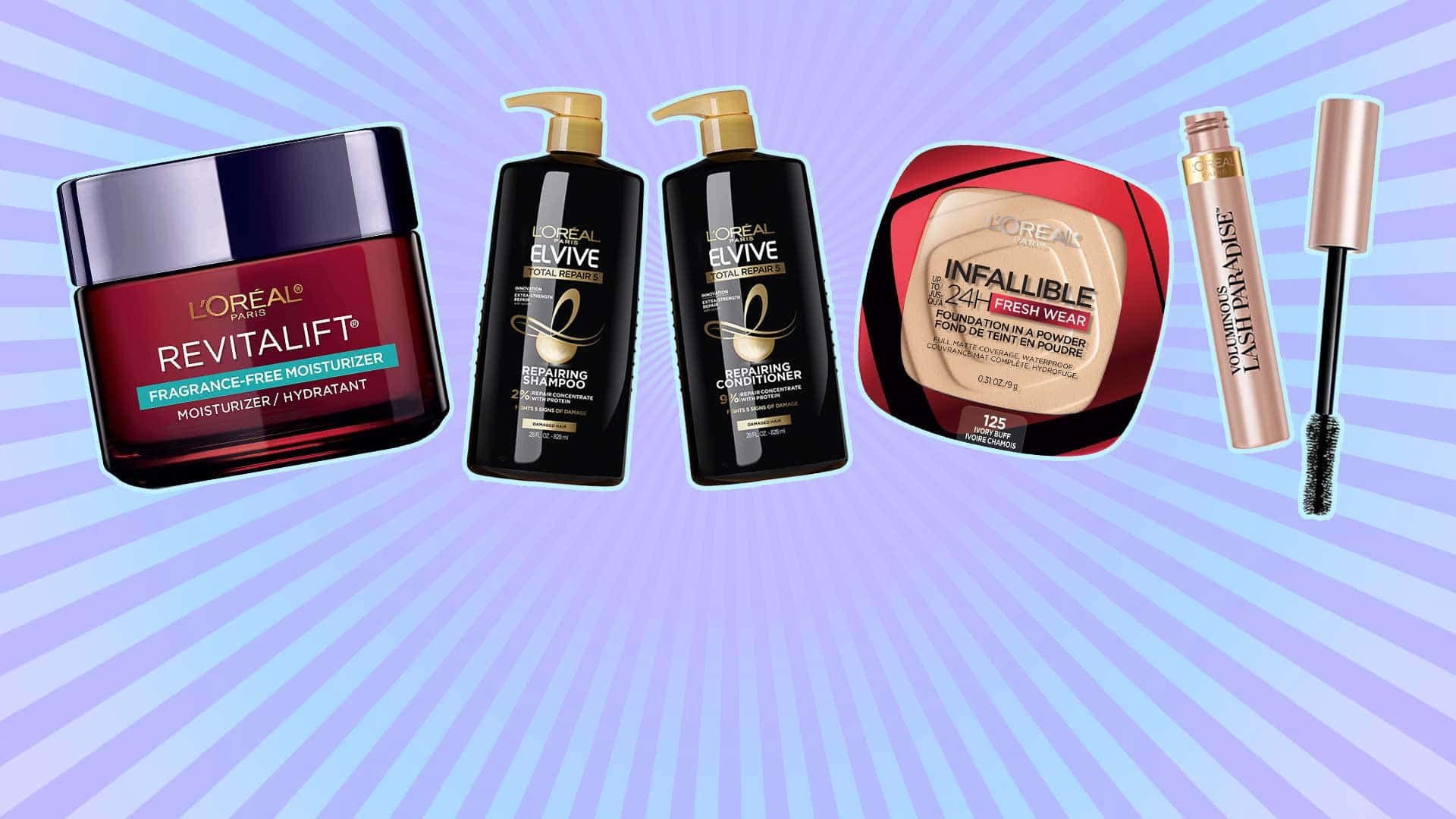 beauty trends
The Best Amazon Prime Day Deals from L'Oréal Paris
The only thing more fun than buying new beauty products is getting those products at a discount. Wouldn't you rather purchase your favorite skin care, makeup, and hair essentials for less? Who doesn't love saving some coins? Exactly—everyone loves a deal! And Amazon Prime Day 2021 is quickly approaching, bringing along with it some of the best beauty discounts to help you fill up your makeup bag and vanity.
WHAT IS PRIME DAY?
Amazon Prime Day is an annual event for Prime members, where products are seriously on sale. It's a popular day to score deals on tech accessories and TVs, but you can also stock up on necessities, small pleasures, and, most importantly, beauty products.
WHEN IS PRIME DAY?
This year, prime day falls on June 21 and June 22—but, of course, the products with the best discounts can sell out quickly so don't wait. These days of deals mean you can stock up on must-haves that let you makeup again as mask mandates change and your cheeks come out for summer, or you can start your holiday shopping early so it's out of the way when the fall rolls back around again. Who says you've got to wait for Black Friday to get the best deals?
THE BEST AMAZON PRIME DAY DEALS FROM L'ORÉAL PARIS
There are almost too many deals to count, but below we're naming 15 of our favorite L'Oréal Paris products that will be 20 percent off for Amazon Prime Day 2021. You can find all of the best deals, here.
1. REVITALIFT DERM INTENSIVES 1.5% PURE HYALURONIC ACID SERUM
If you ask us, every skin care routine needs a hyaluronic acid serum. This fast-absorbing formula immediately replenishes hydration and visibly reduces wrinkles for youthful-looking skin. In just one week skin feels firmer and more elastic with a dewy glow.
2. REVITALIFT DERM INTENSIVES NIGHT SERUM, 0.3% PURE RETINOL
For anyone that's been debating introducing retinol to their routine, now's your chance with this serum with 0.3 percent pure retinol. From the start, you'll notice your skin texture feels refined. Over time, deep wrinkles start to appear less visible and your complexion is brighter and more luminous. It also contains glycerin and hyaluronic acid to help balance the drying effects of retinol.
Editor's tip: If you're unsure about retinol, read our article, 8 Retinol Myths To Stop Believing Now.
3. COLLAGEN MOISTURE FILLER DAY/NIGHT CREAM
For deep hydration during the day and overnight, grab this moisturizer that also helps to fill in the appearance of fine lines and wrinkles. It's great for all skin types, including sensitive skin, and absorbs quickly without feeling greasy. We see younger-looking skin in your future.
4. REVITALIFT TRIPLE POWER ANTI-AGING MOISTURIZER
An anti-aging moisturizer to take your skin care regimen to the next level? Yes, please! This face cream is formulated with Pro-Retinol, vitamin C, and hyaluronic acid to minimize the appearance of wrinkles, firm, and brighten the skin. After use, skin feels softer, smoother, and plumped with hydration. The formula is also paraben- and mineral oil-free.
5. TRIPLE POWER ANTI-AGING MOISTURIZER FRAGRANCE FREE
If you prefer your skincare products without fragrances, there's also a fragrance-free version of the aforementioned formula. It has all the potent anti-aging ingredients you want sans the sweet fragrance.
6. SUBLIME BRONZE SELF-TANNING FACIAL DROPS, FRAGRANCE-FREE
One natural-looking summer glow coming up! These self-tanning drops let you build a streak-free tan in just hours. Simply add a few drops to your facial moisturizer and massage it into the skin. You'll get that fresh-from-vacation glow without the potential UV damage from hours spent laying out in the sun.
7. VOLUMINOUS MAKEUP LASH PARADISE MASCARA
Mascara is one product you always need—protective face mask or not—you might as well buy it when it's on sale! Even better if it's an all-time favorite like Lash Paradise. The formula offers voluptuous volume and intense length, so you can really take your lashes to the next level. It also doesn't clump, making it a no-brainer to add to your cart. Check out, 3 Reasons Lash Paradise Mascara Is a Must-Have, in case you need any more convincing.
8. INFALLIBLE UP TO 24H FRESH WEAR IN A POWDER, MATTE FINISH
Finally you can get your hands on that foundation that has TikTokers hooked, running down aisles at their local drugstores in the quest for the perfect matte finish. And you can get it at a discount! Find out how this sweatproof, transferproof, heatproof, lightweight formula can take your summer makeup look up a notch.
9. ELVIVE 8 SECOND WONDER WATER LAMELLAR HAIR TREATMENT
This hair treatment works its magic in less time than it takes to buy it. Seriously. It works in just eight seconds to visibly transform hair in a single use. The result is strands that feel healthy, shiny, and silky.
10. ELVIVE TOTAL REPAIR 5 REPAIRING SHAMPOO & CONDITIONER
Formulated with a protein repair concentrate, this shampoo and conditioner duo are exactly what you need to take your damaged hair from a chore to a treasure. Both products work to strengthen and soften hair without weighing it down. Use the system in conjunction with the L'Oréal Paris Elvive Total Repair 5 Power Restore Multi-Use Treatment for silkier, healthy-looking hair.
11. EVERPURE SULFATE FREE BRASS TONING PURPLE SHAMPOO AND CONDITIONER
If you have brassy hair, this duo's for you. This sulfate-free purple shampoo and conditioner work on blonde, highlighted, and silver hair to remove orange and yellow tones and keep your color vibrant between coloring sessions.
12. FERIA PERMANENT HAIR COLOR
Thinking about a new hair color for the summer? Perhaps a platinum blonde hue is on the brain. Look no further than this shimmering permanent hair dye that delivers intense color that won't wreck or ravage your hair—it'll just make it head turning. The best part: You can do it on your own, no salon appointment necessary!
13. EXCELLENCE CREME PERMANENT HAIR COLOR
Another great option for scroll-stopping at-home hair color is the Excellence Creme line. The DIY hair dye kit offers gorgeous results thanks to an exclusive triple color creme that protects as it colors. It also offers 100 percent coverage for stubborn grays.
14. MAGIC ROOT COVER UP SPRAY
Speaking of gray hairs, with our lives being mostly virtual with few opportunities to get to the salon in the past year, grays have been allowed to reign our crowns. But there's sure to be some occasion where you need to look your best and you want those grays gone. Grab this root concealer to quickly cover your gray roots when you're in between color sessions. The lightweight formula doesn't smudge or leave your hair with a sticky residue.
15. LE COLOR GLOSS ONE STEP IN-SHOWER TONING GLOSS
To keep your hair color vibrant and shiny, add this at-home hair color gloss to your online shopping cart, stat. This no fuss treatment enhances hair tone and deeply conditions in just one 15-minute session that you can do in the shower. No more salon visits to refresh your color. The clear formula is also great for virgin hair and hair color-treated with unique shades that don't fall under the typical blonde, red, brunette and black hair color categories.
Photo Design: Sarah Duvivier
Discover more tips & tricks
Keep your skin happy
See all articles