beauty looks
7 Beauty Tips to Hide Your Holiday Party Hangover
No one has to know how hard you partied.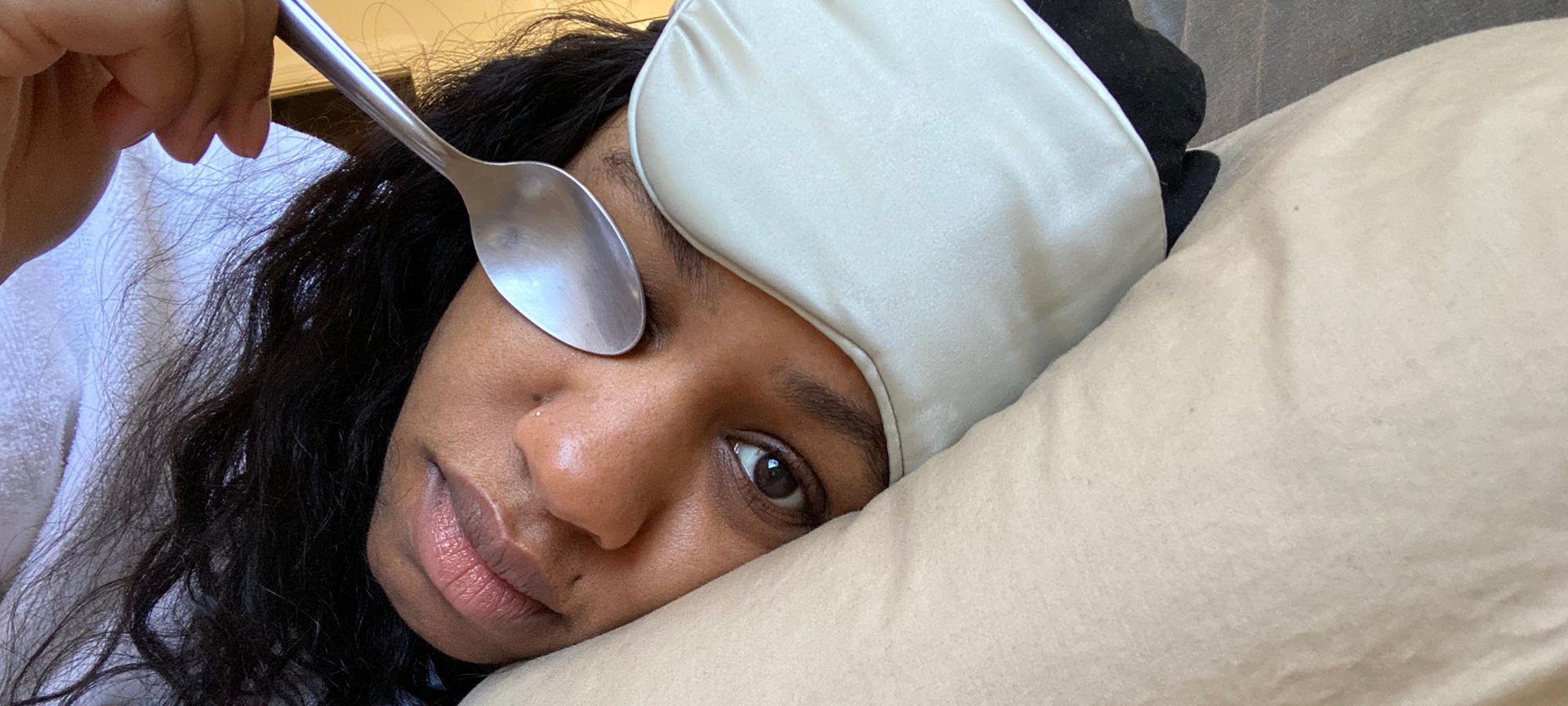 The holidays feel like the most wonderful time of year all the way up until you wake up on New Year's Day with the most gnarly hangover of the season. You know the type — it feels like there isn't enough tea and freeze-dried ramen on the planet to calm it down and the remnants linger well into that first work week. Don't worry, we've got a few beauty tips up our sleeves to help you hide the evidence of a holiday hangover. From using color correcting concealer to hide the appearance of dark circles under eyes to getting the right moisturizer to help brighten your complexion, here are the skin care products and makeup techniques you can use to disguise your holiday party hangover.
Beauty Tip 1. Add Radiance With A Detoxifying Mask
If all the bubbly-filled late nights has your skin looking dull and sallow, it's time to break out a detoxifying mask like the L'Oréal Paris Pure Clay Exfoliate & Refining Face Mask, to help brighten the look of your skin. In just 10 minutes, its red algae extracts exfoliate and refine skin texture and remove dead skin cells from the surface of the complexion. So whether you're heading back into the office or working virtually, your skin will look brighter, more luminous and smoother immediately. No one will ever have to know how late your celebration of the ball drop actually went.
Beauty Tip 2. Liven Up Your Skin's Appearance With Moisturizer
You already know that it's important to keep yourself hydrated with H2O when you have a hangover — the same goes for your skin, too. But it's not a matter of using more moisturizer, it's all about using the right one. Once you've washed off your face mask, enlist the help of your moisturizer to help hydrate and brighten your complexion all at the same time. We love the L'Oréal Paris Revitalift Triple Power Day Lotion SPF 30. Formulated with hyaluronic acid, vitamin C and Pro-Retinol and broad-spectrum sunscreen, it hydrates, firms and brightens.
Beauty Tip 3. Reach For A Tinted Serum For Coverage
When you need to put your best face forward but your face just isn't looking its best, a tinted serum (also called skin tint) will be your best friend. The L'Oréal Paris True Match Hyaluronic Tinted Serum is packed with luminous pigments to offer natural coverage and hyaluronic acid for all-day hydration. It immediately brightens the complexion and evens skin tone without clogging pores.
Beauty Tip 4. Apply Nude Eyeliner to Brighten Eyes
They say the eyes are the windows to the soul — and we say your eyes can be a dead giveaway that you have a hangover. The good news is, you can highlight your eyes with a nude eyeliner to help them appear brighter. Use the L'Oréal Paris Infallible Pro-Last Waterproof Up to 24HR Pencil Eyeliner in Nude to gently line the inner rim of your waterline. Because no one has to know you drank one too many glasses of coquito if you don't want them to!
Beauty Tip 5. Color Correct to Hide Dark Circles
Ah, dark circles: A telltale sign you're tired. But you can disguise dark circles under eyes with a color correcting concealer. The L'Oréal Paris True Match Color Correcting Crayons come in five shades to conceal dark circles. Use the crayon point to draw under your eyes, then blend well with a brush or fingers. Color corrector should be applied as the first step in your makeup routine, so do this right after you're done moisturizing.
Editor's Tip: If you're running low on time and need to combine steps, the L'Oréal Paris True Match Eye Cream in a Concealer, 0.5% hyaluronic acid instantly covers dark circles while hydrating the under-eye area throughout the day.
Beauty Tip 6. Use Highlighter to Perk Up Your Complexion
If you stayed up a little too late and now find yourself scurrying to get ready after pressing snooze one too many times, keep your makeup routine simple. If your complexion looks dull from all those in-person holiday parties (finally!), just squeeze a few highlighter drops, like the L'Oréal Paris True Match Lumi Glow Amour Glow Boosting Drops, into a radiant finish foundation, like the L'Oréal Paris Infallible Pro-Glow Foundation. Apply with a makeup blender and you're good to go.
Beauty Tip 7. Try On A Faux-Glow
If you're well aware the night before (or at sunrise) that your appearance will be less than stellar for the work day, get ahead of the dull complexion with a self-created glow. With the L'Oréal Paris Sublime Bronze Self-Tanning Facial Water Mist, Vitamin E you can easily spritz on a natural, even-looking tan. If you time it right, you can have a healthy-looking, radiant, bronze appearance by your first meeting of the day with no evidence of a hangover in sight.
Next: 10 Skin Care Products To Go Along With Your Dry January
Edited and photographed by: Shalwah Evans
Discover more tips & tricks
Keep your skin happy
See all articles
Shop Featured Skin Care products
Discover More