sun care and self tanning
Our Best Gradual Self-Tanner Lotion for a Natural-Looking Tan
November 04, 2019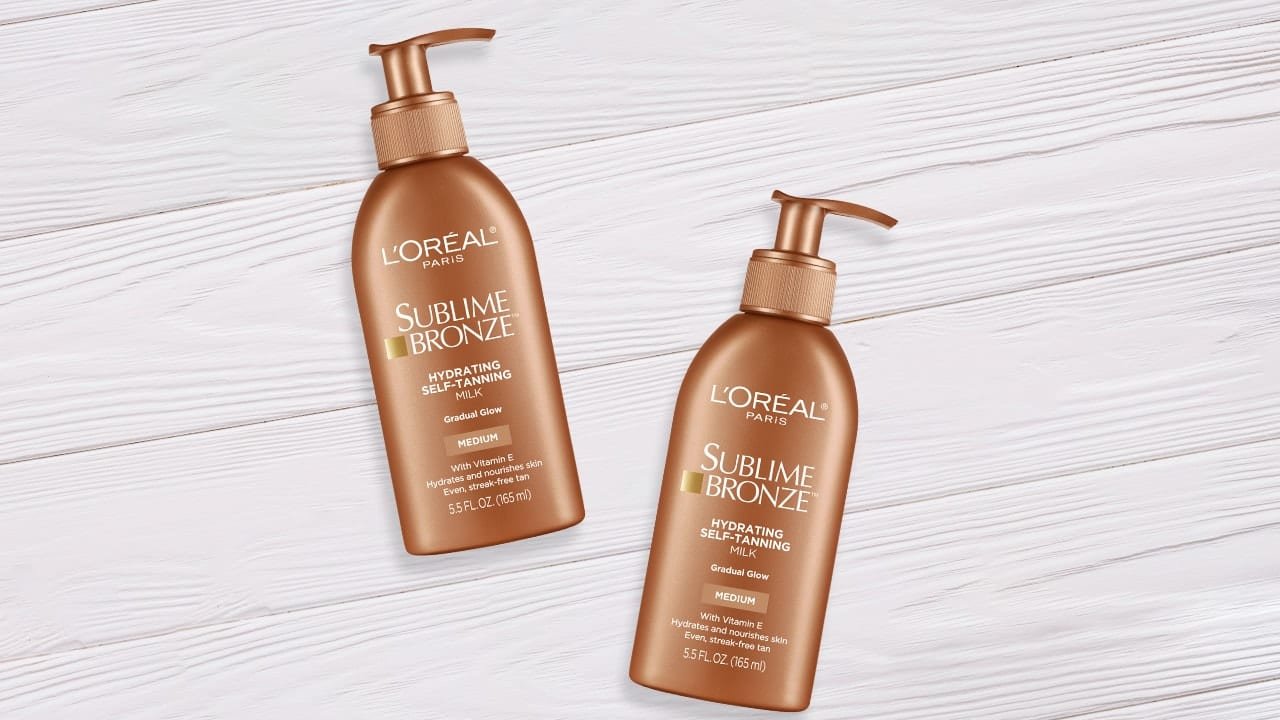 While we can't control the weather (sorry, everyone!) or make laying out totally safe, we can let you in on a little beauty secret: It's possible to create the appearance of a beautiful golden glow all year round without stepping foot under the sun—all it takes is the help of our best gradual self-tanner lotion. Not exactly sure how gradual self-tanner lotion works? Or how it differs from traditional self-tanner? If you're curious to learn more about this skin care product and how you can add it to your skin care routine, keep reading for all the details on our best gradual self-tanner.
WHAT IS GRADUAL SELF-TANNER LOTION?
If you've ever taken a stroll down the self-tanner aisle at the drugstore, you already know how many different options there are to choose from. From tanning towelettes to serums to mousses and everything in between, there are more types of self-tanner than ever. And while we're certainly not complaining, it can make it difficult to figure out what type you should use. One of your safest and easiest-to-apply options is a gradual self-tanner lotion.
Gradual self-tanner lotions work to slowly develop a subtle color over time. Instead of using a self-tanner once and instantly having a dark bronze shade, you can build up to your desired level of tan with repeated applications. For this reason, gradual self-tanner lotion is a great option for those with light skin tones, anyone who's hesitant about appearing too orange, or for any self-tanner newbies. Another benefit of gradual tanning lotion is that it moisturizes and hydrates your skin while giving you that sought after glow! Also, perhaps most importantly, gradual self-tanners are helpful when it comes to avoiding a streaky tan. Since the tan builds up over time, you're less likely to end up with obvious streaks if you miss a spot or don't blend the formula out perfectly.
OUR BEST GRADUAL SELF-TANNER
Without further ado, allow us to introduce you to our best gradual self-tanner, the L'Oréal Paris Sublime Bronze Hydrating Self-Tanning Milk Medium. This gradual self-tanning lotion will leave you with a streak-free tan, and thanks to a formula that includes vitamin E, it also helps keep skin healthy and soft.
HOW IS GRADUAL SELF-TANNER LOTION DIFFERENT FROM TRADITIONAL SELF-TANNER?
So, you might be wondering where the difference lies between gradual self-tanner and other types of self-tanners. Like we touched on earlier, with traditional types of self-tanner, noticeable color will typically develop within a few hours and last for a few days up to a couple of weeks, depending on the self-tanner formula you use. When you apply these types of self-tanner you will usually see some color on your skin right away, and a darker color will develop. Conversely, gradual self-tanner lotion generally offers a subtler color payoff—and that color develops with continued use over time (usually, you'd use a gradual self-tanner lotion a few times a week to build color).
WHAT ARE THE BENEFITS OF USING A GRADUAL SELF-TANNER LOTION?
Why, exactly, should you try a gradual self-tanner lotion? We've already touted a number of the benefits of reaching for a gradual self-tanner, but we can share more! Not only does our gradual self-tanner lotion soften and nourish skin, but it also provides a bronzed glow within hours of application, and it lets you gradually build up to your perfect level of tan. You can use this self-tanner year-round to achieve a natural-looking tan.
HOW DO YOU USE A GRADUAL SELF-TANNER LOTION?
It's important to master your self-tanner technique in order to create streak-free bronzed color. Nobody wants to end up with an uneven tan, so follow these steps for using our gradual self-tanner lotion. For best results, use our self-tanner lotion as a body lotion three times per week. Pencil it into your calendar!
STEP 1: CLEANSE AND EXFOLIATE SKIN
If you want your gradual self-tanner to go on smoothly and evenly, you should start in the shower by cleansing and exfoliating your skin. Reach for a body scrub in the shower, gently massaging it onto your skin using circular motions, then rinse off thoroughly with lukewarm water. Pay special attention to areas that tend to be dry, such as knees and elbows. You can also try dry brushing your skin before you get into the shower to help exfoliate.
STEP 2: MOISTURIZE DRY AREAS
When you apply your self-tanner, dry areas of skin (like knees and elbows) tend to soak up more color, making them appear darker than the rest of your body. In order to prevent this, apply regular body moisturizer onto these areas right after you hop out of the shower—before you put on your self-tanner lotion.
STEP 3: REACH FOR YOUR GRADUAL SELF-TANNER LOTION
It's time to get your glow on! All you have to do is smooth our gradual self-tanner lotion evenly over your entire body. Use it sparingly around joints (knees, elbows, and ankles), because, as we said, these areas of dry skin tend to soak up color—and you want your tan to look even. You can use your hands or a tanning mitt to apply the gradual self-tanner lotion—whatever you prefer.
STEP 4: WASH YOUR HANDS
If you used your hands to apply your gradual self-tanner lotion, wash them thoroughly once you're done. After all, you don't want your hands to look darker than the rest of your body, do you?
STEP 5: WAIT TO GET DRESSED
Be patient! Don't get dressed or put on makeup until your skin has completely dried post-gradual self-tanner application. When you do get dressed, opt for dark, loose-fitting clothing to help avoid staining.
WHEN TO USE GRADUAL SELF-TANNER LOTION
Using gradual self-tanner can come in handy quite often. Here are some of the best times to incorporate gradual self-tanner lotion into your skin care routine.
1. Use gradual self-tanner lotion…during the cold winter months. The cold winter months can leave all of us feeling extra pale. And rather than reach for a traditional self-tanner and instantly look like you've spent months out in the sun, go for a more realistic look with the help of gradual self-tanner.
2. Use gradual self-tanner lotion…before your next vacation. Heading somewhere warm and tropical? Or maybe to Europe? Honestly, wherever you're going, a little bronzed skin will pair perfectly with all of your vacay looks. Start using gradual self-tanner lotion a few weeks before your trip so you have time to build up to your desired level of tan.
3. Use gradual self-tanner lotion…before a big event. Whatever type of event you have coming up, a gradual self-tanner lotion will provide just the right touch of bronze for skin that radiates a healthy glow. Example events might include a wedding, a public speaking engagement, a work party, or literally anything else that will require some picture-snapping. Trust us, you'll be thankful for your sun-kissed skin when you get tagged in those photos down the line.
Next up: Interested to learn more about other self-tanning options? We've got you covered. Check out our article on How to Use Every Type of Self-Tanner.
Discover more tips & tricks
Keep your skin happy
See all articles
Shop Featured products
Discover More