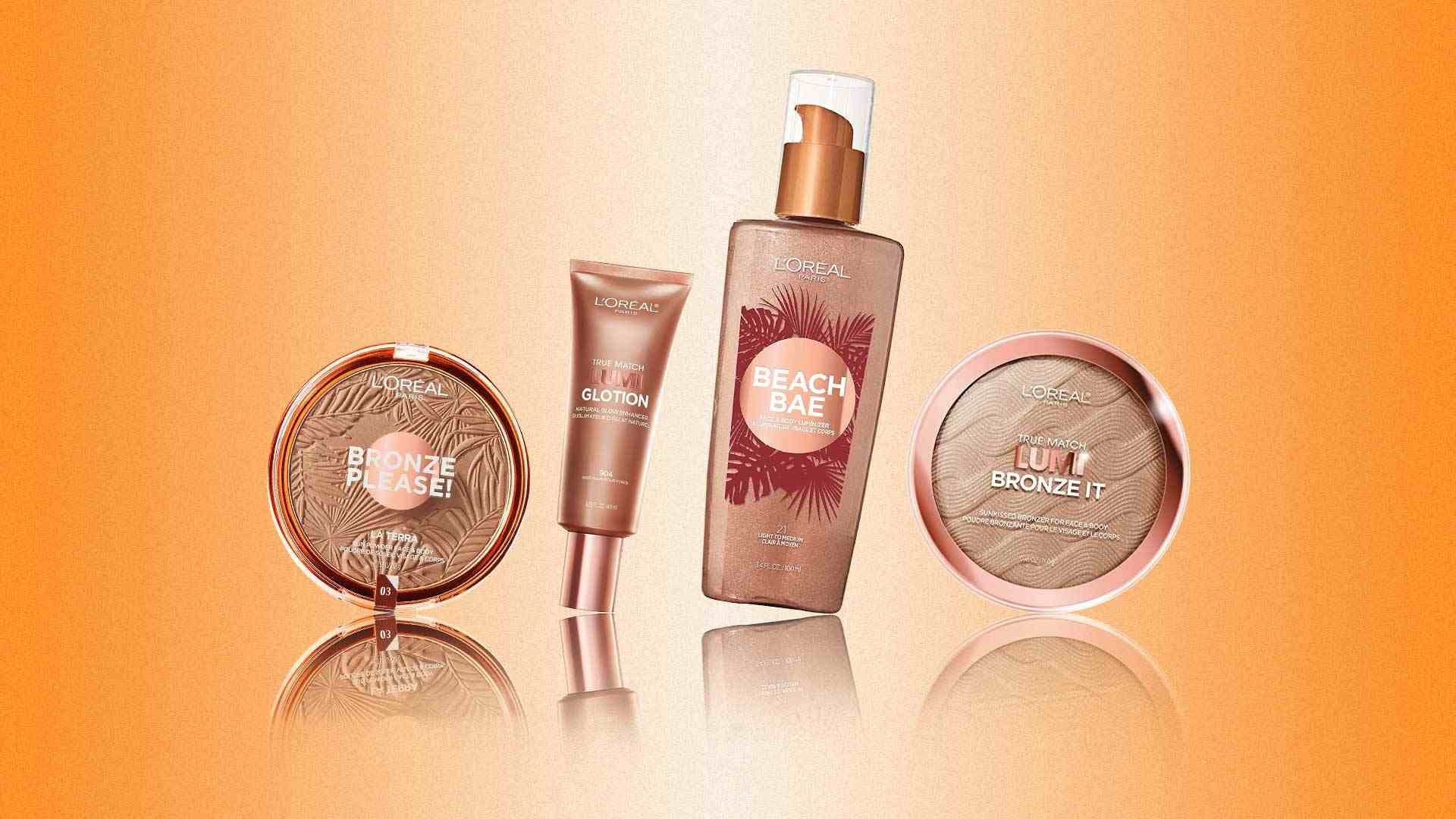 If you seek a beautiful, bronzed glow, you aren't alone. Bronzed skin is undeniably sought after, hence the popularity of self-tanner. Of course, there's another way to get your glow on: bronzer. A bit of carefully placed bronzer can give you a flush of healthy-looking color and make it look as if you may have recently spent a little time by the beach—what more could you ask for? Here, learn how to take your face makeup—and your body beauty routine—to the next level with the help of bronzer. That's right, we're sharing how to use face and body bronzer!
OUR BEST FACE AND BODY BRONZERS
Before we can dive into how to use bronzer, let us fill you in on our four best face and body bronzers.
L'Oréal Paris True Match Lumi Bronze It Bronzer: This powder bronzer—which can be used to achieve sun-kissed skin on your face and body—comes in three subtle shimmery shades, light, medium, and dark, allowing you to choose based on your skin tone.
L'Oréal Paris Summer Belle Makeup Bronze Please!: Another powder option, this all-over matte bronzer is packed with long-wear, blendable pigments for sun-lit color on your face and body.
L'Oréal Paris True Match Lumi Glotion Natural Glow Enhancer: Partial to using liquid products in your makeup routine? Try bronzing with a darker shade of this hydrating, highlighting lotion.
L'Oréal Paris Summer Belle Makeup Beach Bae Face & Body Liquid Luminizer: Speaking of liquid bronzers, we couldn't forget this lightweight face and body luminizer! Available in two shades, light to medium and medium to deep, the hydrating, blendable formula offers a dewy, sheer bronze finish.
HOW TO USE FACE BRONZER
Using bronzer is certainly easier than applying winged eyeliner or mastering a cut crease, but there are still mistakes that can be made. To ensure you know how to apply face bronzer, follow our simple step-by-step tutorial.
STEP 1: PICK THE RIGHT COLOR
All bronzers aren't created equal. Choose the wrong product, and you could end up looking orange, or worse: dirty. Yep, you'll want to take time to find the best bronzer for your skin tone. Look for bronzers with a beige base and just a little bit of shimmer. You don't want to go overboard! Steer clear of shades that have red undertones, while these may seem like they'll warm up your complexion, you'll risk ending up with an orange beauty look.
STEP 2: FOLLOW THE RULE OF THREE
One of the biggest bronzer mistakes we see being made is dusting it all over your face. While we can understand the thought process behind this move, it's not the way to achieve a bronzed look. Instead, you'll want to place bronzer in key spots. Thankfully, there's a helpful rule that makes it easy to remember exactly where to apply your face bronzer; all you need to do is think of the number three. Imagine a three on the side of your face, sweeping from your temples to your cheekbones and down to your jawline—that's where your bronzer should go. Use a fluffy powder brush, a domed stippling brush, or a makeup sponge to apply your bronzer and remember: less is more.
STEP 3: BLEND!
Don't forget to blend. Your bronzer shouldn't look super obvious, it should be subtle. If you think you might have been too heavy-handed, dip a powder brush into translucent powder and use it to help blend out your bronzer. If you're working with a liquid formula, consider combining it with a small amount of face moisturizer or foundation to dilute the color.
HOW TO USE BODY BRONZER
Using body bronzer isn't all that different from using face bronzer. You'll still want to use shades that aren't too orange or overly sparkly, and it's just as important to blend. To apply bronzer to your body, apply the product onto your shoulders and collarbones—this will look amazing paired with a V-neck!
Now, what about bronzing further down from your shoulders? Can you use bronzer on your legs? While most bronzing makeup isn't meant for your legs, if you're looking for an all-over body bronzing, you can use a wash-off self-tanner. These handy products are basically makeup and self-tanner hybrids since they can be applied at a moment's notice when you need to be bronzed, then washed off at the end of the night. Really, they're as convenient as can be.
Smooth one on wherever you want to have sun-kissed skin—we recommend bronzing your arms and legs the next time you'll be sporting a sundress or hitting the beach. When it comes time to bid farewell to your bronzed skin, hop in the shower, and wash up as per usual.
As for a more long-lasting option, how about a bronzing tanning lotion? This type of self-tanner offers instant bronzed color and a faux tan that develops over the course of a few hours.
Now, we still have time to share another beauty lesson. Click right over to our article on How to Contour Your Body.
{ "@context": "https://schema.org/", "@type": "WebPage", "speakable": { "@type": "SpeakableSpecification", "cssSelector": ["speakable-content"] }, "url": "https://www.lorealparisusa.com/beauty-magazine/skin-care/sun-care-and-self-tanning/how-to-use-face-and-body-bronzer" }
Discover more tips & tricks
See all articles
Shop Featured Makeup products
Discover More
{ "@context": "http://schema.org", "@type": "BreadcrumbList", "itemListElement": [ { "@type":"ListItem", "position": 1, "item": { "@id": "/", "name": "Home" } } , { "@type":"ListItem", "position": 2, "item": { "@id": "https://www.lorealparisusa.com/beauty-magazine", "name": "Beauty Magazine" } } , { "@type":"ListItem", "position": 3, "item": { "@id": "https://www.lorealparisusa.com/beauty-magazine/skin-care", "name": "Skin Care For Every Age" } } , { "@type":"ListItem", "position": 4, "item": { "@id": "https://www.lorealparisusa.com/beauty-magazine/skin-care/sun-care-and-self-tanning", "name": "Sun Care & Self-Tanning" } } , { "@type":"ListItem", "position": 5, "item": { "@id": "https://www.lorealparisusa.com/beauty-magazine/skin-care/sun-care-and-self-tanning/how-to-use-face-and-body-bronzer", "name": "how-to-use-face-and-body-bronzer" } } ] }