sun care and self tanning
Our Best Moisturizing Facial Oil with SPF
August 08, 2017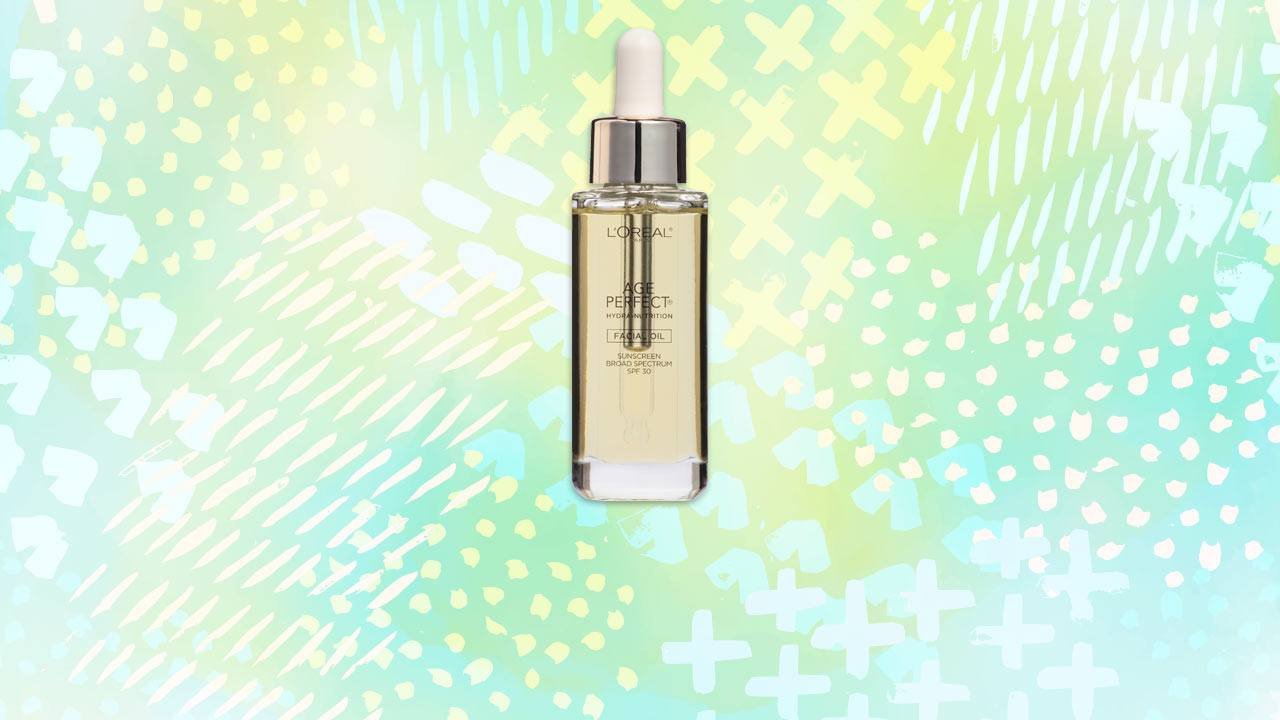 Rergardless of what time of year it is, moisturizing and sun protection should play important roles in your daily skin care routine, especially when you have mature skin. That's because your skin can often lose moisture as you age, leaving your complexion looking drier and duller. No fair! The good news is, you can combine these two steps to cut back on the amount of time you have to spend getting ready in the morning. Looking for a skin care product formulated for mature skin that will help take care of your moisturizing and sun protection needs? Here, we're sharing our best facial oil with SPF (formulated for mature skin), along with how to use it. Plus, we're also outlining other sun protection measures you should be taking daily along with wearing broad-spectrum sunscreen. Let's get started!
The Best Facial Oil with SPF from L'Oréal Paris
Facial oils can get a bad rap, because people may wrongly assume that using one will leave your skin looking greasy. But it's time to turn that notion on its head. As part of your everyday skin care routine, facial oil can have some hydrating benefits, especially as you age. As skin matures, natural oil protection can decrease—and that can leave your complexion looking lackluster. The L'Oréal Paris Age Perfect Hydra-Nutrition – Facial Oil SPF 30 is a lightweight, non-greasy facial oil that absorbs quickly to instantly moisturize and nourish mature skin. It's formulated with eight essential oils and broad-spectrum SPF 30 sunscreen to help provide long-lasting hydration, ultra-soft comfort, and a pretty-looking glow for mature skin. Immediately, skin is replenished with hydration and skin is deeply nourished with continued use over time. Have we convinced you to add a facial oil to your skin care routine? Keep reading to learn how to use this one!
How to Use the L'Oréal Paris Age Perfect Hydra Nutrition Facial Oil SPF 30
When you're looking to moisturize mature skin, using a facial oil is easy an easy way to boost hydration. First things first, though: Before you apply your facial oil, cleanse your skin. Try the L'Oréal Paris Age Perfect Nourishing Cream Cleanser, which is formulated with replenishing oils to gently yet effectively remove traces of makeup. Now you're ready to move on to your facial oil. After cleansing, place 4-5 drops of the L'Oréal Paris Age Perfect Hydra-Nutrition – Facial Oil SPF 30 in the palm of your hand and gently smooth the oil onto your face using your fingers. Massage the facial oil from your nose to your ears and your outer eye area, then smooth it from your eyebrows to hairline in an upward motion. Finally, spread the oil from your neck to your jawline, finishing with your upper chest until it's absorbed. For sunscreen benefits, apply it prior to sun exposure. Simple, right? (Find more tips for incorporating a facial oil into your skin care routine here.)
Other Sun Protection Measures to Take Year-Round
Applying a broad-spectrum sunscreen with an SPF of 15 or higher is only one sun protection measure you should be taking daily. According to the Food and Drug Administration (FDA), there are a few other steps you should take as well. One, remember to reapply sunscreen at least every two hours—or immediately after swimming or sweating. You should also limit your amount of time in the sun, especially during the sun's peak hours of 10 a.m. to 2 p.m., and seek shade whenever you can. Finally, cover up any exposed areas in long sleeves, pants, UV-blocking sunglasses, and a broad-brimmed hat. (Follow our guide for summer sun protection.)
And there you have it—our best facial oil with SPF, formulated for your specific skin concerns.
Discover more tips & tricks
Keep your skin happy
See all articles
Shop Featured Skin Care products
Discover More