skin care essentials
Our Best Foam Cleanser
January 10, 2020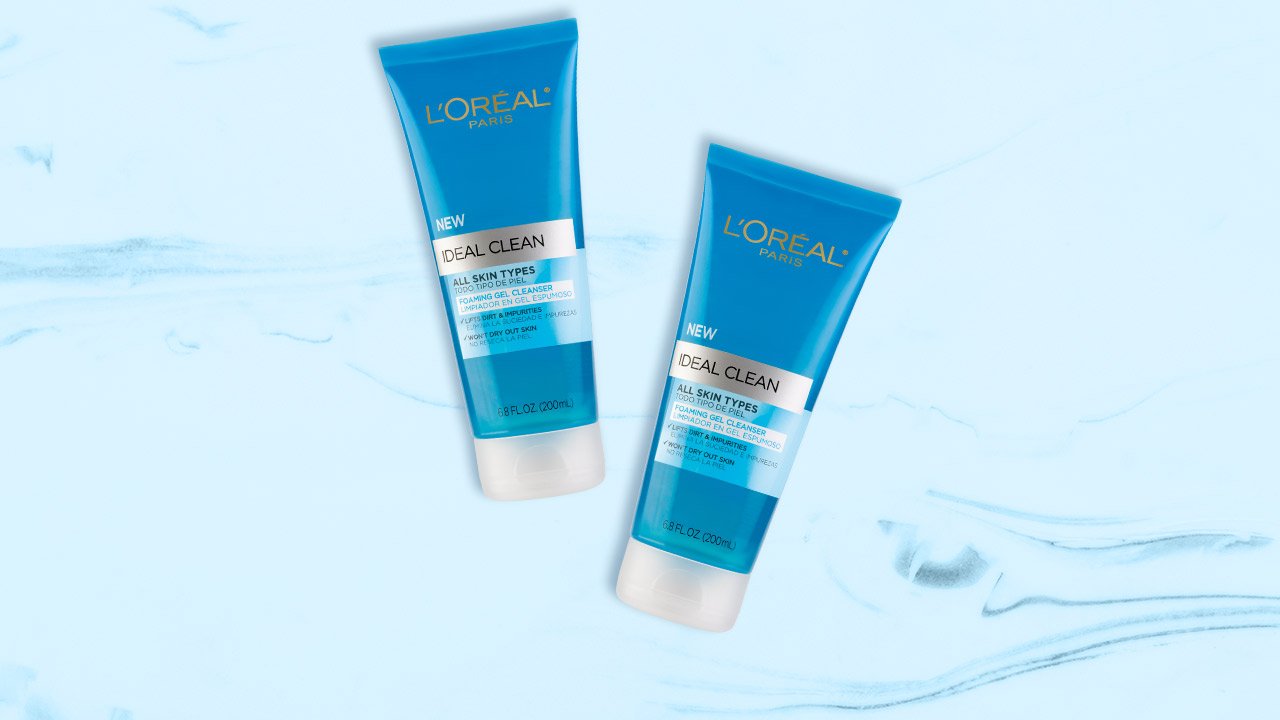 From cream to water-based to clay, there are quite a few types of facial cleanser formulas to consider. One staple we didn't mention? Foam cleansers! This popular cleanser type is one you should consider adding to your daily skin care routine. Want to know why? You'll have to keep reading! Below, we're sharing what exactly a foaming facial cleanser is, who can benefit from using one, our best L'Oréal foaming face wash, and how to add it to your skin care regimen. Let's get to it!
WHAT IS A FOAM CLEANSER?
This may seem pretty self-explanatory, but we figured we'd give you a breakdown of what a foam cleanser is. Just as you may have guessed, a foaming facial cleanser creates a foamy lather when you apply it. These cleansers tend to intensely cleanse and purify your skin by removing the buildup of oil, makeup, and other impurities that accumulates throughout the day. While foaming face wash can be used by anyone, they're often recommended for those with oily or acne-prone skin due to their thorough cleansing properties. Still, some foam cleansers, like our best L'Oréal foam cleanser (more on that momentarily), are actually meant for all skin types!
OUR BEST FOAMING FACIAL CLEANSER
Now that you know more about what a foaming facial cleanser is and who can benefit from using one, you may be wanting some product recommendations. Well, look no further than our best L'Oréal foam cleanser—the L'Oréal Paris Ideal Clean All Skin Types Foaming Gel Cleanser. This oil-free cleanser gently removes makeup and buffs away impurities, leaving skin refreshed and radiant. The gel formula makes removing makeup quick and easy, deeply purifying while helping to minimize pores. As we mentioned, our foam cleanser works for all skin types (score!), and it won't leave behind any tightness or residue.
HOW TO USE A FOAMING FACE WASH IN YOUR SKIN CARE ROUTINE
So, how do you go about using a foam cleanser in your skin care routine? Follow the steps below to do just that.
STEP #1: GRAB YOUR CLEANSER
First things first, you'll want to wash your face! Before reaching for the L'Oréal foam cleanser, wet your face and hands with lukewarm water. Work a small amount of the gel into a foamy lather and massage it onto your face using a gentle, circular motion. Then rinse with lukewarm water and pat dry with a soft towel.
STEP #2: APPLY AN EYE CREAM
Next, you'll want to apply an eye cream. Try the L'Oréal Paris Age Perfect Rosy Tone Anti-Aging Eye Brightener Paraben Free. Formulated with imperial peony extracts, the whipped formula works to visibly correct and reduce the look of dark circles, brighten skin around the eye area, and provide an overall healthier, younger-looking complexion. With your ring finger, apply the eye cream in small dots around your eye, then smooth gently until thoroughly absorbed.
STEP #3: USE A SERUM
Grab a serum to give your skin some extra TLC. We love the L'Oréal Paris Revitalift Derm Intensives 1.5% Pure Hyaluronic Acid Serum. Formulated with 1.5% pure hyaluronic acid, the serum absorbs quickly to replenish and reduce the appearance of wrinkles for visibly plumped, youthful-looking skin. Apply two to three drops to the face and neck and gently smooth over your skin.
STEP #4: REACH FOR A MOISTURIZER
Complete your foam cleanser skin care routine with a moisturizer! It's always important to moisturize after cleansing, but especially so when you've used a deep-cleansing option like a foam cleanser. Try using a water-based moisturizer. Choose one from the L'Oréal Paris Hydra Genius Daily Liquid Care line, picking based on your skin type. If you have oily skin, reach for the L'Oréal Paris Hydra Genius Daily Liquid Care - Normal/Oily Skin. If you have dry skin, use the L'Oréal Paris Hydra Genius Daily Liquid Care - Normal/Dry Skin. As for extra dry skin, give the L'Oréal Paris Hydra Genius Daily Liquid Care - Extra Dry Skin a try.
There you have it—now you know all the details about foam cleanser, from what our best foam cleanser is to how to use one! Want to learn about other cleansing options? Head over to our article about different Types of Facial Cleansers and When to Use Each One.
Discover more tips & tricks
Keep your skin happy
See all articles
Shop Featured Skin Care products
Discover More