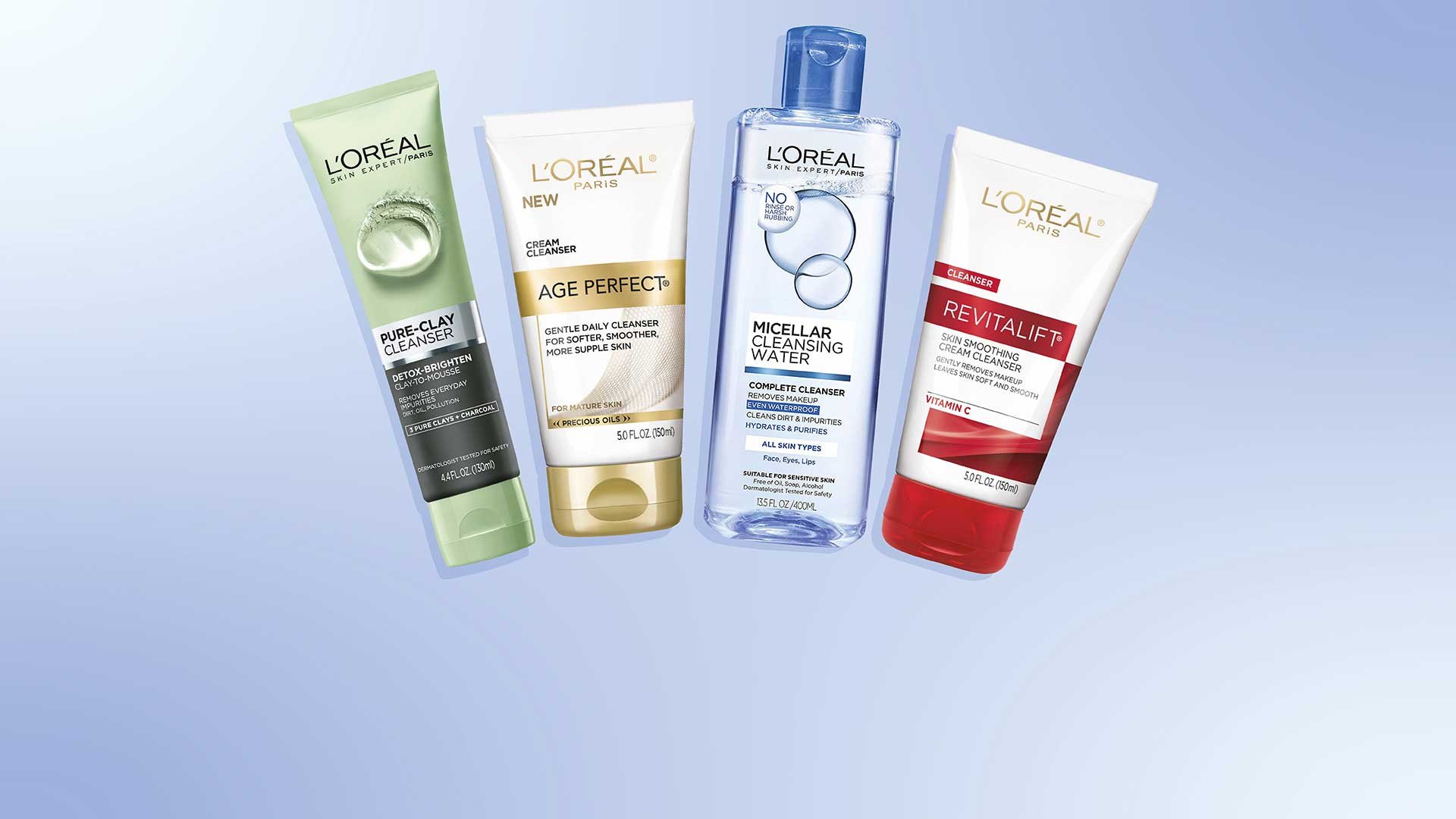 Face washes are meant to cleanse your skin, but pick the wrong one and it can end up washing off too much of your skin's natural oils. And when you have dry skin, washing your face can seem like just about the worst thing you can do. That's because, depending on the type of facial cleanser you use, your skin may end up feeling super tight and look dull afterward. But, not washing your face is non-negotiable in your daily skin care routine—that's why it's important to find the right cleanser for your skin type. Read on to learn more about our best face washes and tips you can incorporate into your regimen to keep your skin hydrated and soft.
Micellar water is a no-rinse cleansing option powered by tiny micelles (oil molecules) that act as a magnet to lift dirt, makeup, and impurities up and away from the skin. This micellar cleansing water is a go-to for dry skin because its formula contains molecules made to help hydrate and purify your skin. Plus, this micellar cleansing water is free of oil, soap, and alcohol, so no need to worry about it stripping your skin. Just saturate a cotton pad with the cleansing liquid and wipe across your face.
Dry skin craves moisture so this cream cleanser is great for dry skin because it's formulated with replenishing oils like jojoba and macadamia ternifolia seed oil. These ingredients are made up of fatty acids which will help keep the skin moisturized. It also helps to gently remove traces of makeup and it will leave your skin feeling soft. Every morning and evening, lather the cleanser into wet hands and massage it onto your skin. Rinse thoroughly with lukewarm water while you cleanse. Washing your face with water that is too hot or cold could strip your skin of essential oils.
Clay facial cleansers help clean out clogged pores and revive dull skin. Reach for this detox and brighten cleanser which includes charcoal to help draw out toxins residing below the skin's surface level. Its clay-to-mousse texture also won't dry out your skin, so it's great to use daily. After frequent use, you may begin to notice your dull skin appearing brighter and more luminous.
Creamy cleansers do more than remove makeup, dirt, excess oils, and impurities from your skin—they also provide nourishing comfort. And this cream cleanser is another great option for dry skin types, as it's specially formulated to nourish the skin and boost its radiance. Its formula includes ingredients like coco-betaine, which is sourced from coconut oil. Coconut oil is super beneficial for dry skin because it's made up of fatty acids that work great to keep the skin moisturized. The cream formula will also exfoliate, removing dead skin cells from the skin's surface, leaving you with smoother and more radiant-looking skin.
Always Apply A Moisturizer After Cleansing
Of course, your skin care routine wouldn't be complete without moisturizer—and that goes for everyone, regardless of skin type. Look for one that's specifically for dry skin, like the L'Oréal Paris Hydra Genius Daily Liquid Care - Normal/Dry Skin. This lightweight water-based moisturizer is formulated with aloe vera water and hyaluronic acid and helps provide long-lasting hydration. Immediately, you'll notice the skin appears more luminous and feels softer. The formula glides on easily for quick absorption, so smooth it over your face morning and night after cleansing.
{ "@context": "https://schema.org/", "@type": "WebPage", "speakable": { "@type": "SpeakableSpecification", "cssSelector": ["speakable-content"] }, "url": "https://www.lorealparisusa.com/beauty-magazine/skin-care/skin-care-concerns/best-facial-cleansers-for-dry-skin" }
Discover more tips & tricks
Keep your skin happy
See all articles
Shop Featured Skin Care products
Discover More
{ "@context": "http://schema.org", "@type": "BreadcrumbList", "itemListElement": [ { "@type":"ListItem", "position": 1, "item": { "@id": "/", "name": "Home" } } , { "@type":"ListItem", "position": 2, "item": { "@id": "https://www.lorealparisusa.com/beauty-magazine", "name": "Beauty Magazine" } } , { "@type":"ListItem", "position": 3, "item": { "@id": "https://www.lorealparisusa.com/beauty-magazine/skin-care", "name": "Skin Care For Every Age" } } , { "@type":"ListItem", "position": 4, "item": { "@id": "https://www.lorealparisusa.com/beauty-magazine/skin-care/skin-care-concerns", "name": "Skin Care Concerns" } } , { "@type":"ListItem", "position": 5, "item": { "@id": "https://www.lorealparisusa.com/beauty-magazine/skin-care/skin-care-concerns/best-facial-cleansers-for-dry-skin", "name": "best-facial-cleansers-for-dry-skin" } } ] }