makeup trends
Trend Alert: Powder to Cream Makeup Pigments
September 07, 2018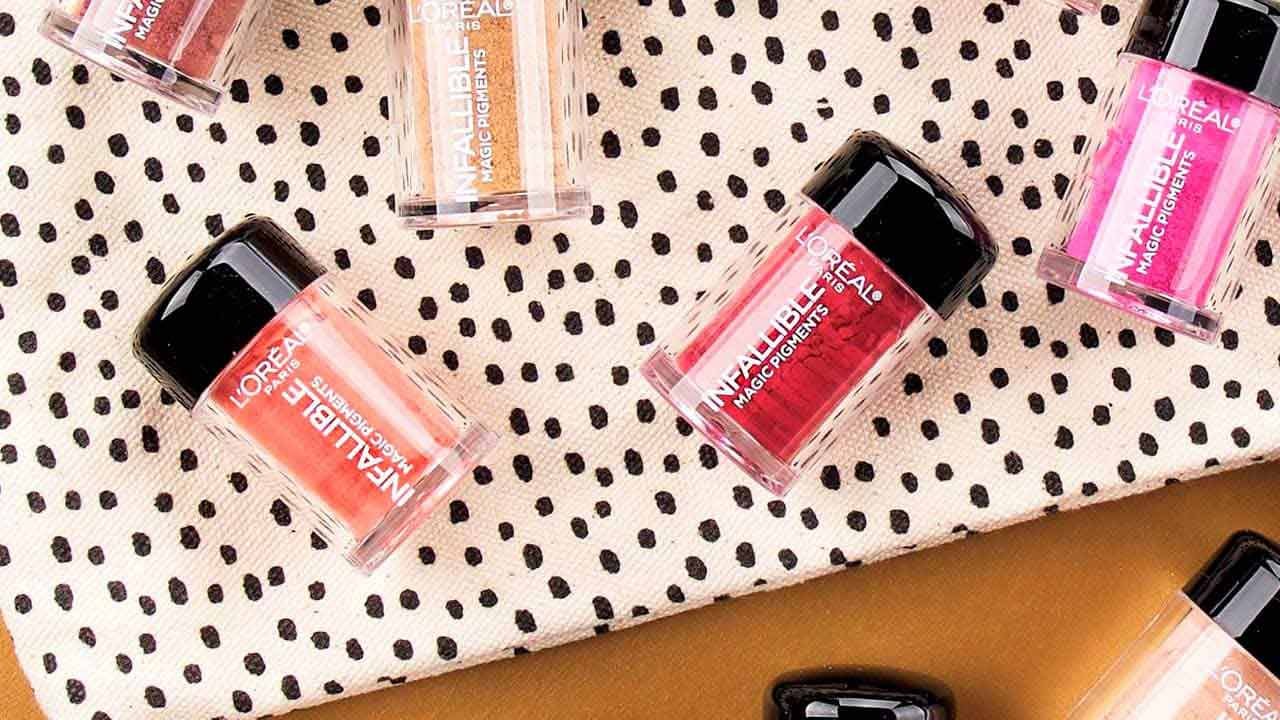 If you haven't seen the latest makeup trend circulating your social media platforms—we've got you covered! Powder to cream makeup pigments are totally trending—meaning they're a makeup product you should be adding to your makeup bag. Offering vibrant eye shadows and statement lip colors, what's not to love? Here's everything you need to know about powder to cream makeup pigments, including how to use them in your next makeup look.
WHAT ARE POWDER TO CREAM MAKEUP PIGMENTS?
As you may have guessed, powder to cream makeup pigments are just that—powder formulas that transform into creams when they come into contact with your skin. They create an intense color payoff, are super buildable, and are easy to blend!
OUR BEST POWDER TO CREAM MAKEUP PIGMENTS
Ready to get in on this makeup product trend? The L'Oréal Paris Infallible Magic Pigments line is a collection of pure pigments formulated with powder-to-cream technology to give you blendable, buildable, vibrant color.
The pigments are available in a variety of shades for eyes and lips. For lips, you can have your pick of five shades: Coffee Date, Instant Crush, Desired, Red Tape, and 1st Base. For your eyes, there are a total of 10 colors to choose from: Wink Wink Pink Pink, Ivy League, Gold Digger, Sneak Peek, Disobedient, Attitude, Lover's Tree, Retro, Temptress, and Do Not Enter.
HOW TO WEAR POWDER TO CREAM MAKEUP PIGMENTS
These pigments are super easy to use! There's no mixing needed—the technology of the Magic Pigments allows the formula to transform from powder to cream instantly upon application. Here's how you can incorporate them into your daily makeup look:
Step 1: Create your base
Before applying makeup, you should always use a makeup primer so you can be confident that your look will stay in place without fading throughout the day. To get started, apply the L'Oréal Paris Pro-Glow Lock Makeup Primer all over your face.
Step 2: Grab your foundation
Next, it's time to apply foundation! Use the L'Oréal Paris Infallible Pro-Glow Foundation to give your skin a fresh, luminous finish.
Step 3: Contour
Now that you have flawless, radiant skin, we suggest contouring to define your features. Use the L'Oréal Paris Infallible Longwear Foundation Shaping Sticks, the L'Oréal Paris Infallible Longwear Blush Shaping Sticks, and the L'Oréal Paris Infallible Longwear Highlighter Shaping Sticks in the appropriate shades for your skin tone to enhance your features with their buildable, creamy formula.
Step 4: Prime your eyes
Just like you primed your face, you want to use an eye shadow primer to prep your eyelids for your eye shadow and keep your color looking vibrant all day long.
Step 5: Apply your eye shadow
Finally, the step you've been waiting for! It's time to reach for a few shades of your powder to cream pigments. First, apply a metallic pigment all over your lid, building the color to your liking. Then, apply a deeper shade in the crease of your eye using a fluffy blush. To complete your eye shadow look, apply a light pigment to the inner corner of your eye and below the arch of your eyebrow as a highlight.
Step 6: Line your eyes
Since this is an everyday makeup look, neutral colors are ideal. For your eyeliner, try using a brown shade rather than black for a less harsh look. Try the L'Oréal Paris Infallible The Super Slim Liquid Eyeliner in Brown to line your upper lash line and the L'Oréal Paris Pro-Last Waterproof Pencil Eyeliner in Nude to line your waterline.
Step 7: Pump up your lashes
As the finishing touch for your eye makeup, use a brown mascara to add volume and length to your lashes. A few coats of the Voluminous Lash Paradise Washable Mascara in Black Brown should do the trick!
Step 8: Paint your pout
Your eyes look amazing—but what about your pout? Apply a pink lip pigment with a lip brush to create a pretty flush.
Step 9: Seal the deal
Hold up, don't forget to set your makeup with a few sprays of the L'Oréal Paris Infallible Pro-Spray & Set Makeup Extender Setting Spray. Then you're all done!
Cream to powder makeup pigments are perfect for achieving colorful lips and eyes, but there may be another area you want to punch up with a pop of color. Where? Your eyebrows! Check out our article, How to Experiment with Colorful Eyebrows.
{ "@context": "https://schema.org/", "@type": "WebPage", "speakable": { "@type": "SpeakableSpecification", "cssSelector": ["speakable-content"] }, "url": "https://www.lorealparisusa.com/beauty-magazine/makeup/makeup-trends/powder-to-cream-makeup-pigments" }
Discover more tips & tricks
Keep your skin happy
See all articles
Shop Featured Makeup products
Discover More
{ "@context": "http://schema.org", "@type": "BreadcrumbList", "itemListElement": [ { "@type":"ListItem", "position": 1, "item": { "@id": "/", "name": "Home" } } , { "@type":"ListItem", "position": 2, "item": { "@id": "https://www.lorealparisusa.com/beauty-magazine", "name": "Beauty Magazine" } } , { "@type":"ListItem", "position": 3, "item": { "@id": "https://www.lorealparisusa.com/beauty-magazine/makeup", "name": "Makeup Tips For Every Look" } } , { "@type":"ListItem", "position": 4, "item": { "@id": "https://www.lorealparisusa.com/beauty-magazine/makeup/makeup-trends", "name": "Makeup Trends" } } , { "@type":"ListItem", "position": 5, "item": { "@id": "https://www.lorealparisusa.com/beauty-magazine/makeup/makeup-trends/powder-to-cream-makeup-pigments", "name": "powder-to-cream-makeup-pigments" } } ] }