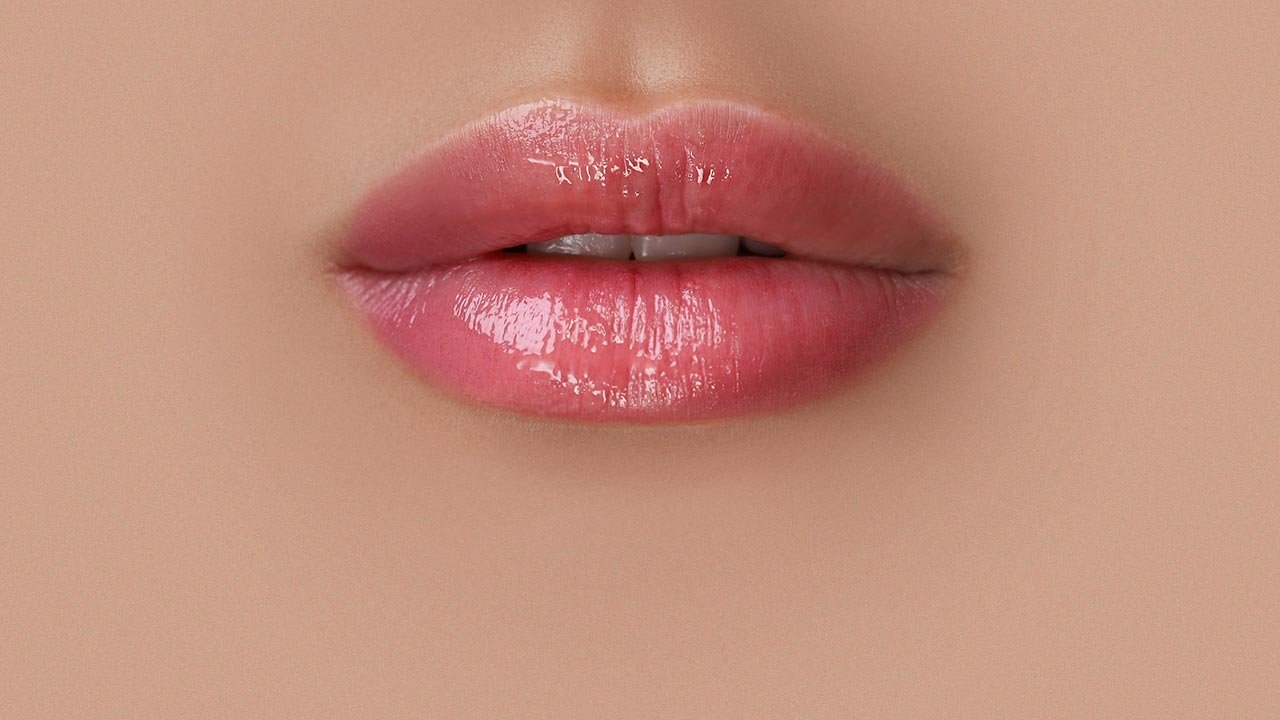 While we're huge fans of makeup, wouldn't it be nice to quite literally say "I woke up like this" when it comes to certain parts of your makeup look? One of the first things that likely comes to mind is your lipstick—hence the recent lip blushing trend. We think it's safe to say that most people would love to wake up with a perfect flush of color on their pout—no need to apply (or reapply!). And that's where the lip blushing beauty trend comes in. This permanent makeup craze is a type of lip tattoo that just might be the answer to having color that literally lasts all night and a fuller-looking pout to go with. Sound too good to be true? Read on to learn what this permanent lipstick tattoo trend entails, plus find out how to cover your tattoo with makeup if you want to switch up your pout for a special occasion.
WHAT IS LIP BLUSHING?
Permanent makeup can be used to mimic the appearance of lipstick, per the Cleveland Clinic, which is exactly what this trend is about. Lip blushing is a form of permanent makeup that involves tattooing your lips to enhance your natural lip color and shape. This will leave you with the illusion of naturally full lips. Think of it like using lip liner to slightly outline outside of your natural lip shape—only you don't have to reapply each day to keep your faux full lips going! Essentially, this trend will give you a seriously long-lasting "your lips but better" appearance.
HOW LONG DO LIP TATTOOS LAST?
As with all permanent makeup, lip blushing doesn't actually last forever. How permanent is permanent lip makeup? It's all dependent on how well you take care of your lip tattoo. The Cleveland Clinic states that permanent makeup will fade over time due to the fact that skin cells are constantly being replaced. So, as you use lip scrubs to exfoliate or makeup remover to wipe off your lipstick, your lip blush will fade, just as traditional tattoos fade with time.
HOW TO CARE FOR YOUR LIPSTICK TATTOO
Like we said, lip blushing is a form of permanent makeup that will fade. That being said, there are a few basic tattoo skin care tips you can follow to ensure you get the most out of your lip tattoo. Keep the following in mind.
Lip Blush Tip #1: Keep your lips hydrated. Moisturized skin is happy skin, and this is especially the case for tattooed skin. You wouldn't want your lip blush to look dry, cracked, or chapped, would you? Look for a lip balm that's formulated without petroleum jelly, as petroleum-based products can cause the ink to fade, according to the American Academy of Dermatology (AAD).
Lip Blush Tip #2: Wear sun protection. Ultraviolet (UV) light can fade some tattoo inks, per the AAD, so make sure to protect your tattoo by applying a lip balm formulated with a broad-spectrum sunscreen with an SPF of 30 or more. And don't forget to reapply every two hours—SPF application isn't a one-and-done situation!
Lip Blush Tip #3: Avoid tanning beds. Speaking of UV damage, tanning beds are also a no-no when it comes to increasing the lifespan of your lip blush. The AAD states that tanning beds and sunlamps can also fade the ink in tattoos or, in some cases, the UV light may also react with the tattoo ink, causing a painful skin reaction. It's safe to say we'll pass!
Lip Blush Tip #4: Keep exfoliation to a minimum. This may go without saying, but you'll want to limit your use of lip scrubs to get the most out of your lip blush. Exfoliating your pout will shed dead skin cells from your lips and, in turn, skin cells that have pigment from your lipstick tattoo.
WHAT TO DO IF YOU WANT TO CHANGE YOUR LIP COLOR
Does lip blushing mean you're stuck with the same makeup look forever? No way—and you don't even need to wait for the tattoo to fade. Rather, anytime you want to mix things up, you can easily layer a pigmented lipstick, like the L'Oréal Paris Infallible Pro-Matte Les Macarons Scented Liquid Lipstick, or a pretty gloss on top.
Next up: You may be a lip blushing pro, but there's still more left to learn about caring for tattooed skin! Ready for your next lesson? Here's Your Skin Care Routine for Tattooed Skin.
Discover more tips & tricks
Keep your skin happy
See all articles
Shop Featured Makeup products
Discover More