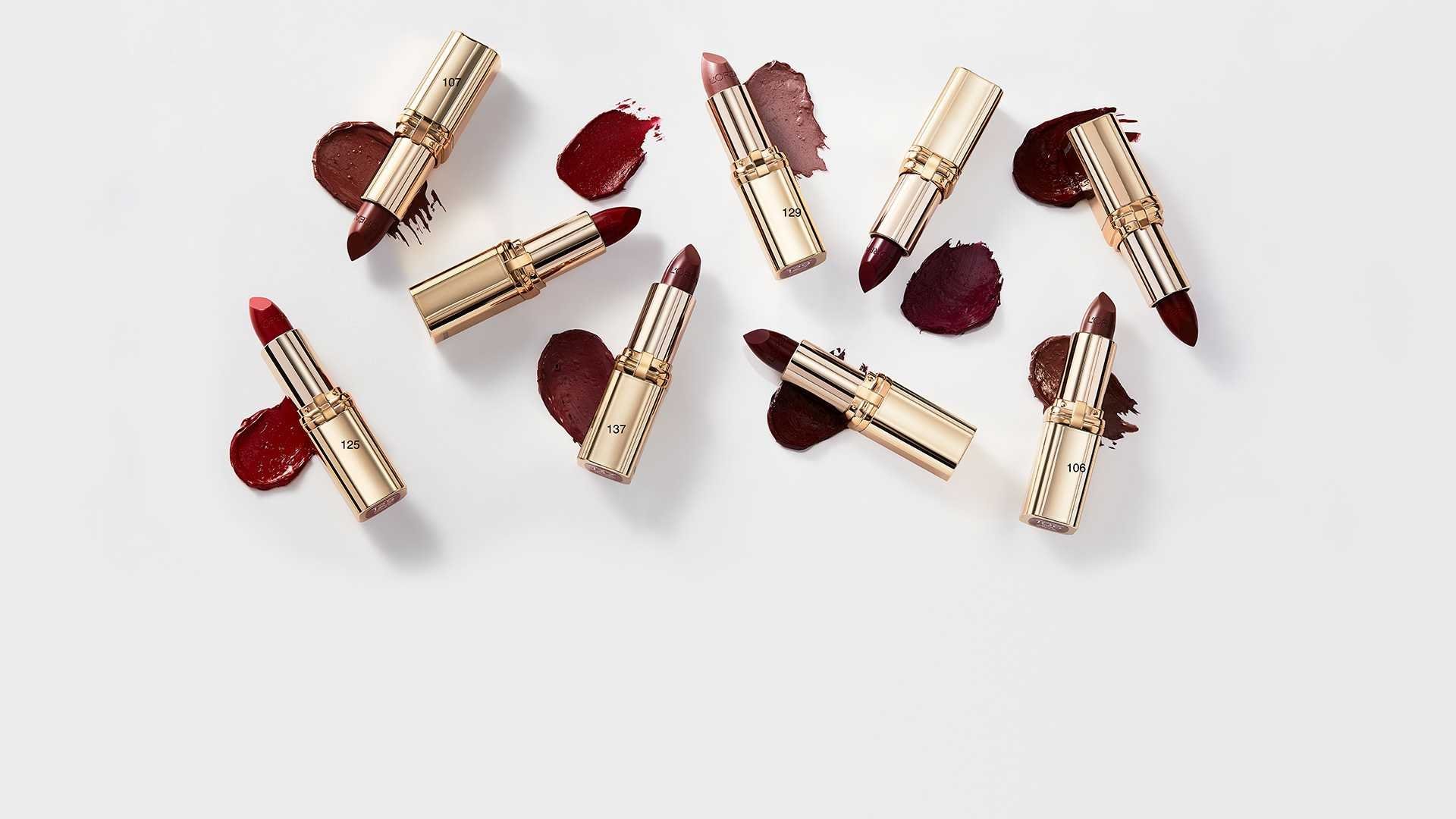 lip makeup
9 L'Oréal Paris Colour Riche Satin Lipstick Swatches You'll Love
We'll be the first ones to admit that staring at any makeup product—be it an eyeshadow or lipstick—in its packaging isn't the best way to choose which shade is right for you. This is especially true on the note of the latter, since many lipsticks only have a sticker on the bottom of their tube to go off of. That's why we're such advocates for swatches, especially when it comes to one of our most popular offerings: the L'Oréal Paris Colour Riche Satin Lipsticks. The line has 52 gorgeous shades, so it's no surprise that choosing one can be overwhelming. To help you narrow down your options, we're sharing the scoop on nine L'Oréal lipstick swatches from the line. Read on to find your favorite.
L'Oréal Paris Colour Riche Satin Lipstick Breakdown
Before we talk swatches, let's go over a little bit about the line in question. Our L'Oréal Paris Colour Riche Satin Lipsticks have a soft and creamy texture. They're also formulated with hydrating ingredients like argan and sesame seed oil so your lips feel soft and moisturized. Like we mentioned, there are 52 shades that fall into four color families: red, berry, pink, and nude. Without further ado, here's our breakdown of nine L'Oréal lipstick swatches, working our way from left to right in a zig-zag fashion.
Swatch #1: Maison Marais
First on our list is Maison Marais, which is located on the bottom left. The color can be described as a true, blue-based red. This shade is ideal for anyone who loves a bold, vibrant lip. It's also an ideal pick for those searching for a lipstick that will help their teeth look whiter, since red lipsticks with cool undertones can help neutralize the appearance of a yellow or off-white smile.
Swatch #2: Seine Sunset
Seine Sunset can be found on the top left. It's part of the nude color family and is a perfect match for those who love a natural lip look. The shade is a soft, light mauve that is universally flattering across skin tones. Thanks to its pink undertones, it also classifies as a gorgeous option for a nude-pink lipstick.
Swatch #3: Berry Parisienne
Berry lips are one of our favorite looks for the winter season. If you're a fan like we are, Berry Parisienne is a shade worth trying. It's a muted purple-meets-pink shade that's ideal for those with fair skin that would like to give the berry trend a try.
Swatch #4: Red Passion
Like Maison Marais, Red Passion is also a blue-based red. What sets the two shades apart is that Red Passion is slightly deeper in tone. It resembles a Hollywood red and is a must for your holiday looks.
Swatch #5: Si'l Vous Plait
If purple lipstick is up your alley, allow us to point you toward Si'l Vous Plait. This shade is the third swatch in the bottom row. It's a true, rich berry color that looks particularly captivating on those with olive and dark skin tones.
Swatch #6: Montmartre
For those that prefer a subtler lip look, Montmartre is a beautiful option. It's a muted, cool-toned pink hue that resembles what comes to mind when we think of ballerina slippers. It's also a perfect pick for a nude-pink lipstick.
Swatch #7: Rouge St. Germain
We already called out two red lipsticks, but Rouge St. Germain is another worth knowing. As you can tell from its swatch, it's the deepest red out of the three on this list. Because of this, it's an ideal match for those with deep complexions.
Swatch #8: Paris.NY
Calling all girly girls: This one's for you. Paris.NY is a muted fuchsia shade that's meant to draw the eye. While it veers toward the deeper side, those with medium skin tones can rock this hue for a standout pop of color and contrast.
Swatch #9: Le Beige
If you consider yourself a minimalist, the last swatch on our list might be just what you need in your collection. Le Beige is a dusty rose shade with hints of brown. It's a beautiful nude lipstick suitable for any skin tone.
Next up: If you want to save this swatch breakdown for future use, consider learning How To Make a DIY Makeup Swatch Book.
Discover more tips & tricks
Keep your skin happy
See all articles
Shop Featured products
Discover More