hair style
How To Get Laid Edges Without Skills Or Hair
Baby hair perfection in seconds.
August 03, 2022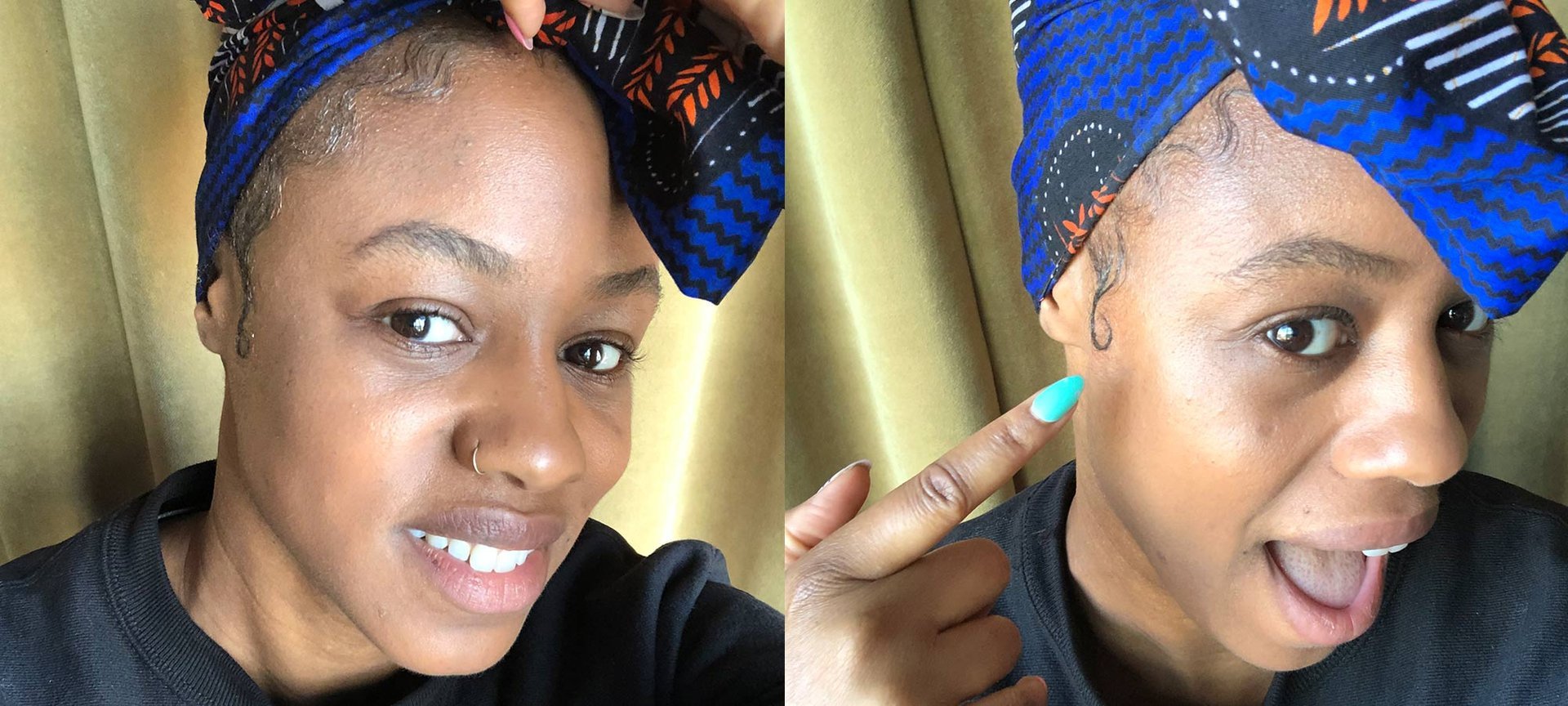 If you remember the baby hairs era of the '90s you were probably delighted when the hairstyle trend made its way back into our lives in the 2010s. Like many trends from the nineties, it's still going strong—of course, with beloved updates over the seasons. In the past few years we've seen laid edges with pearl accents, rhinestones and intricate swirl patterns. And while all those looks are appealing, they're not always easy to do. But what if you could get the look of laid edges without any hairstyling skills? Enter the latest update on baby hairs: water tattoo edges. Yes, you read that right, tattoo edges—but temporary ones. They're not only an easy way to get the look of laid edges, you don't even need to have hair to rock the look. Keep reading to get the scoop on this fun trend, plus different ways to add water tattoo edges to your hairstyle repertoire.

WHAT ARE WATER TATTOO EDGES?
Remember those temporary tattoos you used to get out of the candy machine as a kid? Imagine that instead of a heart or musical note it was a long, swirling pattern that mimicked the enviable edges of your favorite celeb. Well, that's essentially what water tattoo edges—also referred to as instant edges and faux baby hairs (and baby hair tattoo stickers)—are. Just like those childhood water tattoos, all you have to do is line up where you want to place them, apply water using a damp cloth, wait 30 seconds (or the allotted time in the instructions) and then peel away the paper. You should be left with the look of beautifully styled baby hairs.

WHY USE WATER TATTOO EDGES
While this trend is mostly for fun and playing with new hair ideas, it does have some practical use. For one, water tattoo edges make achieving the look of laid baby hairs simple and easy if you just can't get those wispy hairs at your hairline to lay down. With so many different patterns to choose from, you can get creative without any previous know-how. They're also a great alternative if your edges tend to dry out, sweat out, curl up, get frizzy or flake. The baby hair tattoo stickers are also perfect for the girl who has thinning edges and wants them to look fuller. And since they're temporary, you can just remove them with a makeup wipe or astringent if you change your mind.
Editor's Note: Of course if you love the texture and feel of edges using actual hair, all you need is some gel, like the L'Oréal Paris Advanced Hairstyle LOCK IT Extreme Style Gel, an edge brush, and some video tutorials to guide you through the process until you get your desired look.
3 WAYS TO WEAR WATER TATTOO EDGES
Now that you know more, are you ready to jump into the world of water tattoo edges? Here are three simple ways to add the trend to your hairstyle playbook.

1. WITH STRAIGHT BACK CORNROWS
Laid edges and cornrows go together like Thanksgiving and turkey—you can have one without the other, but they shine brightest as a duo. Straight back braids let your water tattoo edges be the star!

2. WITH A PONYTAIL
A sleek ponytail will always be on trend, and adding trendy water tattoo edges to one will simply take your look to another level. You still get to keep hair up and away from your face without sacrificing your desired style.

3. UNDERNEATH A HEADWRAP
Whether you have a clean bald head, long, flowing locks, or anything in between, it's nice to rock a headwrap every now and then. Adding water tattoo edges to the look lets you add some interest and dimension without spending the extra time laying down your baby hairs.
Photo: Shalwah Evans
{ "@context": "https://schema.org/", "@type": "WebPage", "speakable": { "@type": "SpeakableSpecification", "cssSelector": ["speakable-content"] }, "url": "https://www.lorealparisusa.com/beauty-magazine/hair-style/water-tattoo-edges" }
Discover more tips & tricks
See all articles
Improve your routine
Show your new look more love:
makeup
{ "@context": "http://schema.org", "@type": "BreadcrumbList", "itemListElement": [ { "@type":"ListItem", "position": 1, "item": { "@id": "/", "name": "Home" } } , { "@type":"ListItem", "position": 2, "item": { "@id": "https://www.lorealparisusa.com/beauty-magazine", "name": "Beauty Magazine" } } , { "@type":"ListItem", "position": 3, "item": { "@id": "https://www.lorealparisusa.com/beauty-magazine/hair-style", "name": "Find Your Next Hot Look" } } , { "@type":"ListItem", "position": 4, "item": { "@id": "https://www.lorealparisusa.com/beauty-magazine/hair-style/water-tattoo-edges", "name": "water-tattoo-edges" } } ] }