short hairstyles
How to Make Fake Bangs with Your Own Hair
May 08, 2020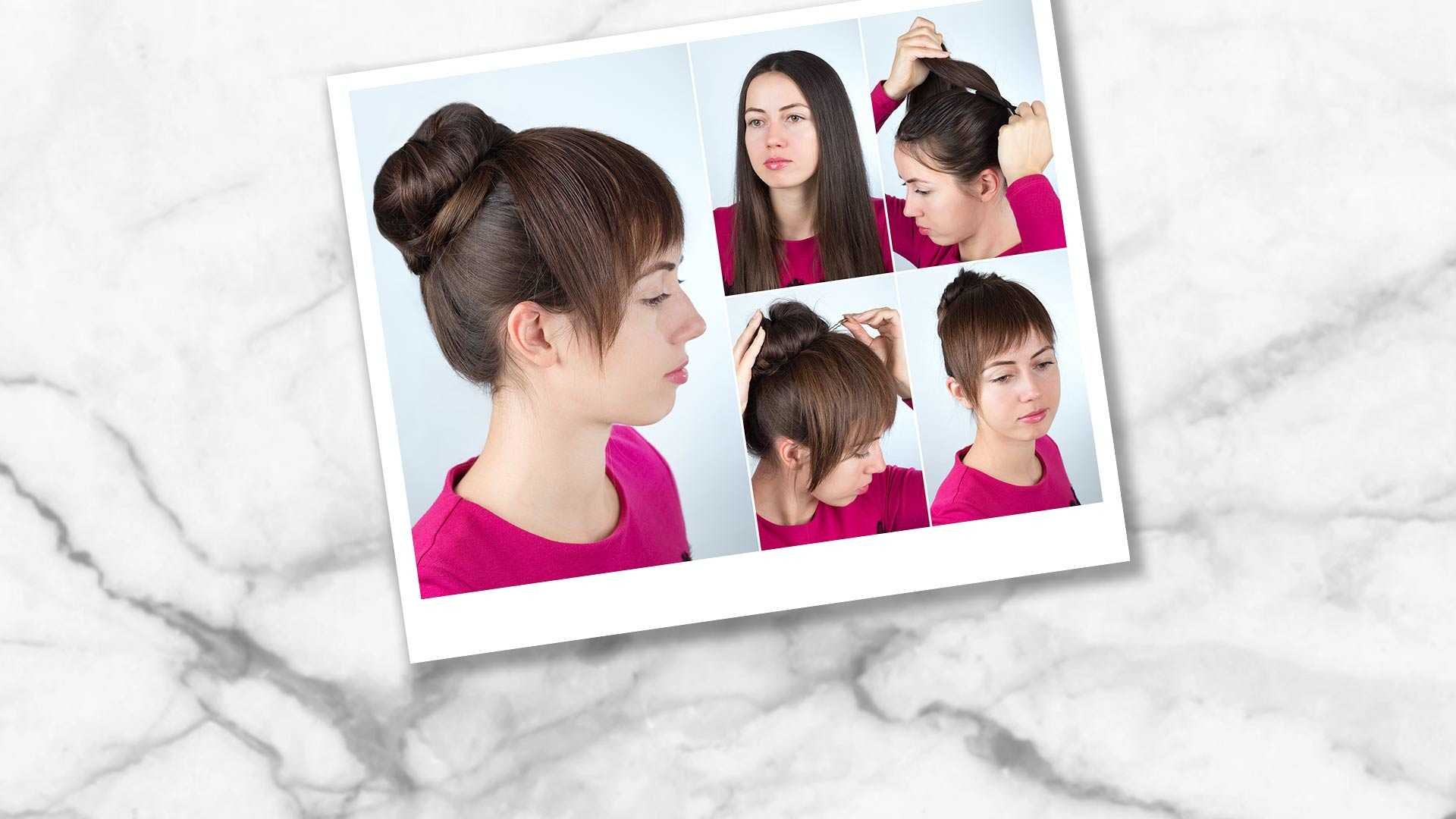 By now, you've probably learned that when it comes to many beauty looks, it's all about faking it until you make it. Whether you're contouring a perfectly chiseled face or getting a faux bronzed glow with self-tanner, the right tips and tricks can easily make your beauty dreams a reality. And if you've ever wondered how to fake bangs—using your own hair—the same is true. Yup, there's no need to cut your own bangs, because you can totally fake the cut with the right hairstyle! Interested in learning how? We thought you might be. Read on for a step-by-step tutorial on how to make fake bangs—don't worry, it'll be our little secret.
HOW TO MAKE FAKE BANGS
As it turns out, there's more than one way to get bangs (temporarily) with your own hair. We're sharing three popular options below!
#1. BUN
Down to rock an updo? You can fake bangs in the process! Here's what to do.
Step #1. Brush your hair. As with any hairstyle, you'll want to start by making sure your hair is free of any knots and tangles. Spritz the L'Oréal Kids Burst of Sweet Pear Tangle Tamer for All Hair Types throughout your mane, then comb through with a fine-tooth comb.
Step #2. Put your hair up. Smooth your strands into a high ponytail. Make sure there aren't any bumps!
Step #3. Section your hair. Pull the length of your ponytail upward, then use the end of your comb to section off the layer closest to the front of your hair. This section should only be about half an inch thick!
Step #4. Position your "bangs." Place the ends of your hair, so they fall over your forehead. Don't worry about positioning them perfectly just yet, but make sure there's enough hair for the look you want, as well as the right length!
Step #5. Pin away. After you've positioned your ends, pin them in place by inserting bobby pins in front of the base of your ponytail.
Step #6. Create your bun. Gather the remaining length of your ponytail and wrap it around its base, concealing where your faux bangs were pinned in the previous step. Secure the bun with more bobby pins.
Step #7. Fix your bangs. Comb through your bangs and play around until you're happy with how they look. If your hair doesn't fall properly, use a flat iron to slightly curve it inward toward your forehead for a natural appearance.
Step #8. Set your look. You know what to do! Mist the L'Oréal Paris Elnett Precious Oil Satin Hairspray over your fake bangs and your entire mane, and you're ready to head out the door.
#2. HALF-UP TOP KNOT
Want some of your hair hanging down? Look no further than the half-up top knot with faux bangs. Follow our tutorial on how to get bangs below.
Step #1. Brush your hair. You know the drill—make sure your hair is free of knots and tangles.
Step #2. Put your hair up. Part your hair from ear to ear, then smooth the top section into a ponytail.
Step #3. Create your top knot. Twist your ponytail around itself, forming a top knot as you usually would. Stop twisting when the ends of your hair are at the front of your head, with just enough length to create your bangs. Secure with a hair elastic.
Step #4. Fix your bangs. Comb and flat iron your bangs as needed until they're styled as you like them. Easy, right?
Step #5. Grab some hairspray. Mist the L'Oréal Paris Advanced Hairstyle LOCK IT Fine Control Hairspray over your mane.
#3. PONYTAIL + BRAID
Last but not least, if you want a bit more detail in your hairstyle, this braided ponytail (with bangs) is the way to go.
Step #1. Brush your hair. You know the drill!
Step #2. Put your hair up. Section your hair from ear to ear. Smooth the top section into a high ponytail.
Step #3. Braid your strands. Moving to the bottom half of your mane, weave your strands into a traditional three-strands braid, leaving about four inches at the ends. Secure with a clear elastic and brush through the tail.
Step #4. Pull through. Gently tug your ponytail so it's slightly loose, moving the hair elastic downward. Then, place your pointer finger at the center of the front of your head and run it back in a straight line toward the base of your ponytail. Point your finger through your hair just above the hair elastic. Then, reach for your braid with your other hand and pull it through the hole you just created.
Step #5. Position your braid—and bangs. Gently tug at the sides of your ponytail to tighten it; this will help hold the braid in place. If you need, bobby pin your braid for extra security. Leave the end of the braid hanging over your forehead, and the ends will be your bangs. Use your flat iron and a comb to style them so that they look like real bangs.
Step #6. Seal your look. Spritz some hairspray over your mane, then show off your fake bangs!
Discover more tips & tricks
Keep your skin happy
See all articles
Shop Featured Hair Care products
Discover More