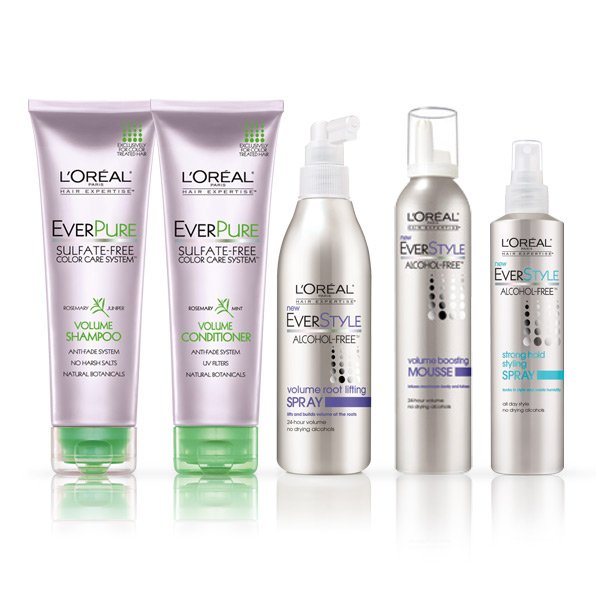 hairstyle trends
Body Building
With the right care and styling, you can create a luscious, full-bodied look even if your hair is fine and limp. Follow these tips to give lackluster locks a big boost.
Wash It In
Start by shampooing your locks with EverPure Volume Shampoo and Conditioner. It'll instantly leave hair soft and full of body. Infused with refreshing rosemary and juniper, this extra gentle, sulfate-free formula is perfect for color-treated hair.
Boost Your Roots
Lift hair with volumizing products while keeping hair soft and shiny. EverStyle Alcohol-Free™ Volume Root Lifting Spray gives hair amplified, high impact volume, while EverStyle Alcohol-Free™ Volume Boosting Mousse provides you with vivacious volume for up to 24 hours. Work the product into your hair when it's still damp, focusing it at your ends. Fine hair gets weighed down easily, so use the proper amount of product for your hair. Volumizing products give you lift at your roots and also help hold your sassy style in place.
The Big Blowout
The key to big, beautiful hair is the blowout. Lift roots with a large round brush. The best is a boar-bristle brush whose softer bristles add body without stretching or pulling out the hair. Situate the brush as close to your scalp as possible and glide the hair straight up from the base of your head to dry the roots in place. Alternate between hot and cold hair to set the style. While you dry out the rest of your hair, direct the nozzle of your blow dryer in the opposite direction of where the strands fall. For even greater body, use jumbo rollers to set your style.
Perfect Finish
Once your locks have cooled, remove the rollers and let your hair sit and relax for a bit. To add movement and define some curl, use a large barrel curling iron for a more natural, smooth effect. Finally, massage your scalp with your fingers to separate your strands and continue to boost your roots. Finish with a styling hairspray to set your look. Try Elnett Satin Hairspray, concentrating on the roots for the perfect shiny hold.
A Cut Above the Rest
Trim fine hair regularly to maintain its overall health and shape. You can also add face-framing layers to your cut to add body and get a chic look.
Discover more tips & tricks
Keep your skin happy
See all articles
Improve your routine
Show your new look more love:
makeup