hair color ideas
Holographic Hues: Trendy Prismatic Hair Colors
February 06, 2020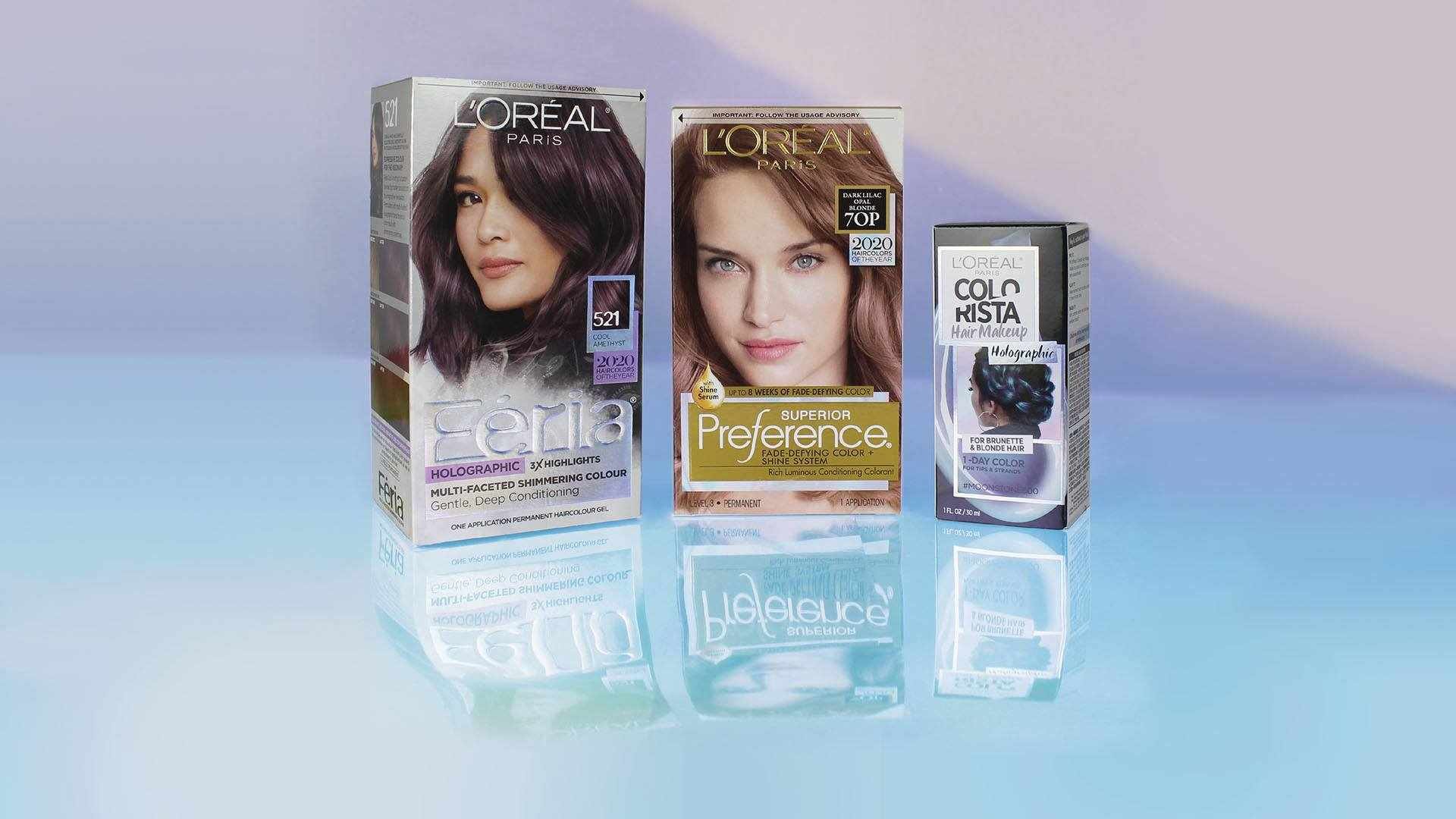 With a beauty scene that's overflowing with hair color trends, it's hard to find one that makes you stop and stare. But with the way it plays with light, that's exactly the reaction holographic hair inspires. Look at holo strands from one angle and then another, and you could seemingly see two totally different manes. It keeps you on your toes and demands attention—no wonder holographic hair is set to be 2020's in-demand hair trend. With gemstone-inspired shades, Superior Preference, Féria, and Colorista provide ways for everyone to embrace prismatic hair at home. Here, influencers Ellen V Lora, Genevieve Rokero, and Jasmine Daniels show you how it's done.
BE BOLD LIKE ELLEN V LORA
Ellen V Lora uses L'Oréal Paris Féria Cool Amethyst to embrace her bolder side, sharing, "Holographic color makes me feel like I have an alter ego. Daring hair makes me feel bolder; it's a statement in itself, something otherworldly, but I do come in peace."
Perfect for all our brunettes out there, this multifaceted shimmering hair color puts a spectrum of violet hues on display. The hair color is not only the intersection of where the purple hair trend meets the holographic craze, but it also can be worn in combination with highlights or ombré hair. Yes, please versatility!
FEEL CONFIDENT LIKE GENEVIEVE ROKERO
Trying a new hair color could be the thing you need to up your confidence. With strands dyed using the L'Oréal Paris Superior Preference Dark Lilac Opal Blonde, that's just what Genevieve Rokero has experienced. She has this to say: "The holographic look has given me a new level of confidence. I've had so many people compliment me on my hair color."
Coloring her hair an impossibly chic, pearlescent shade, the hair dye creates a holographic hair color that blends tones of lilac, silver, and blush pink for a soft effect. Blondes? This one is for you.
HAVE FUN LIKE JASMINE DANIELS
Hair color doesn't have to be serious; just look at how fun Jasmine Daniels' holographic hair is. Achieved with the L'Oréal Paris Colorista Hair Makeup Moonstone, her shade-shifting dye will wash out after just one shampoo. "This is a fun way for me to change my hair without making permanent decisions. It's different and multidimensional, just like my style—always surprising people!'
The holographic trend may be one you want to only commit to for a short time, making temporary hair makeup a prime pick. And good news, it works on all hair colors. This moonstone shade can appear teal, purple, and pink, all depending on your starting shade and how the light bounces off your hair.
Discover more tips & tricks
Keep your skin happy
See all articles
Shop Featured products
Discover More