hair color ideas
How to Let Kids Experiment with Hair Color
April 17, 2020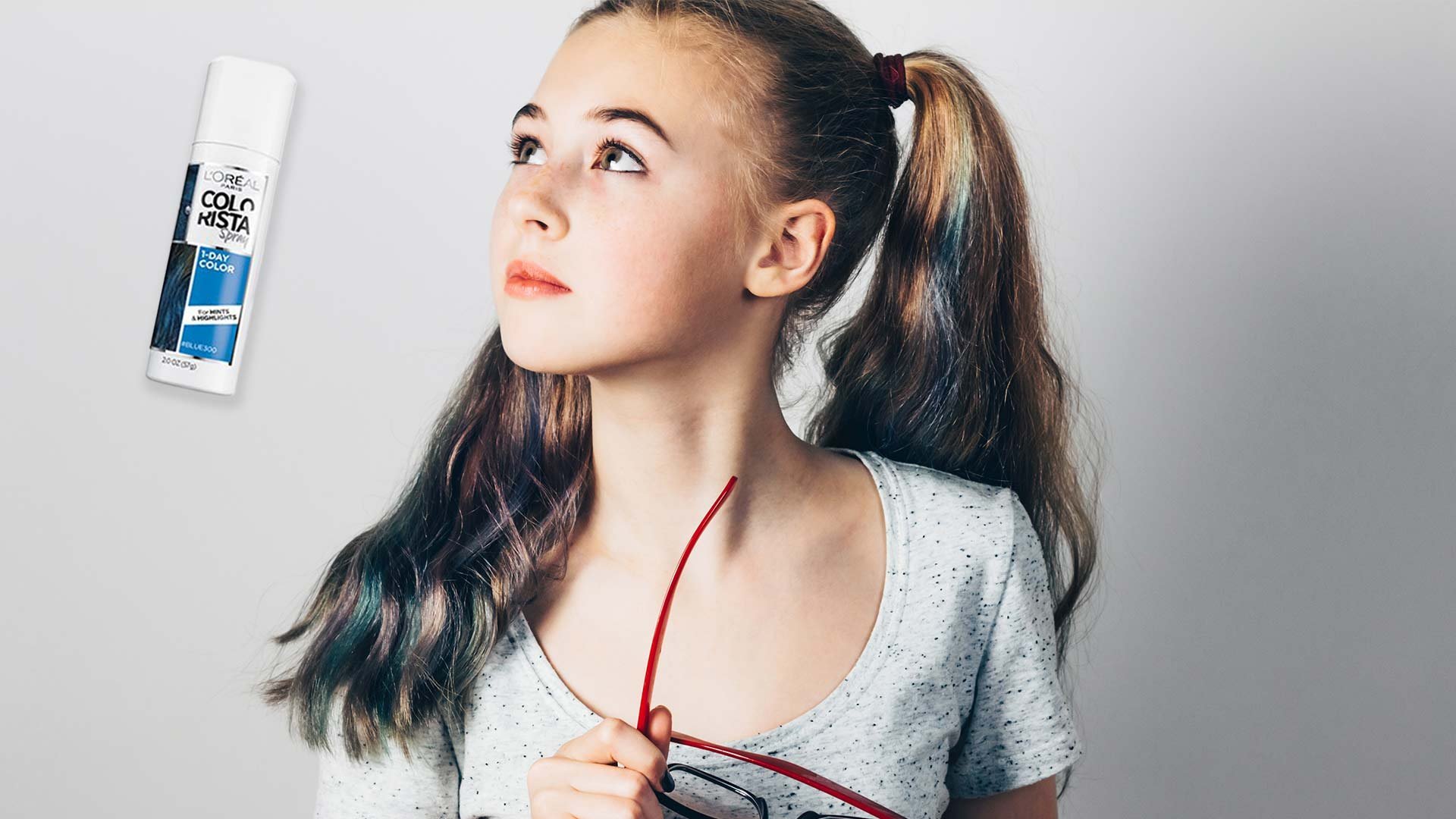 Even the youngest of us want to change our hair color every now and then. But when it comes to your kids, you may not know how to go about helping them achieve their hair dreams. Is it okay to dye a child's hair? Well, know this: Just because your son or daughter wants to switch up their 'do doesn't mean they have to suffer from hair damage. Quite the opposite—there are actually temporary hair dyes and hair colors for kids that you can use to let your child experiment with fun hair hues, without changing their hair permanently. Want to get your family in on the colorful fun? Read on to learn about our best temporary hair colors that kids can use, along with other fun ways to let your kids play with color without permitting a permanent rainbow mane.
THE BEST WAY TO HAVE FUN WITH HAIR COLOR FOR KIDS
Wondering what type of hair color is good for kids? Look no further than temporary hair color products. This type of hair dye washes out in just one shampoo, and there's no need for bleach, so you won't have to worry about damaging their strands. The best part? Your kids can try blue hair one day, wash, then rock pink hair the next—and you don't have to worry about it being a permanent change! Pretty great, right?
If you're ready to introduce your kids to some temporary hair color fun—it can be a great at-home activity—allow us to introduce you to our best temporary hair colors: the L'Oréal Paris Colorista Hair Makeup Temporary 1-Day Hair Color and L'Oréal Paris Colorista Hair Makeup Temporary 1-Day Hair Color Spray. Both lines come in an array of shades that wash out in one shampoo. Your child can rock one, two, or five!
To use hair makeup…place a towel around their shoulders to protect clothing. With your fingertips, apply a dime-sized amount onto a thin, dry, strand of hair—no gloves needed. Comb or brush the hair to distribute the hair makeup. Air dry or blow-dry your child's hair, then style as desired.
To use a hair color spray…shake well before each use. Hold the can four to six inches from dry hair and spray. Wait a few minutes for the color to dry completely. Don't spray too much at once—the color will be more visible as it dries.
Want inspiration for how to apply temporary hair color for kids? While there's no right or wrong option, we happen to love the look of dip-dye ends. Here's How to Dip Dye Your Hair at Home. You can also help your kids apply temporary hair color to get the look of highlights, ombré hair, half and half hair, a peek-a-boo color, or pretty much anything else they can dream up!
3 OTHER OPTIONS FOR LETTING KIDS EXPERIMENT WITH HAIR COLOR
If temporary hair color isn't right for your family, there are a few other ways you can let your children experiment with sporting a colorful mane. Here are three worth considering:
Option #1. Use colorful extensions. If your child wants to add a few colorful strands throughout their mane, you can always purchase a few colorful clip-in extensions. These can be placed in their hair in the morning and removed at night for colored hair sans damage.
Option #2. Play with wigs. Does your child want an all-over color change? Let them try on a colorful wig for the day! Similar to extensions, this will give them a temporary change during the daytime, and the wig can be removed before bed. Wigs are also a great accessory to have on hand for playtime. Keep a few colorful shades on hand to enhance dress-up time and playing make-believe.
Option #3. Spritz on hair glitter. As an alternative to hair color sprays, you can add a bit of color to your child's mane with colorful hair glitter. This type of glitzy hairspray washes out in one shampoo and adds colorful sparkle throughout strands instead of opaque color—perfect for kids who are already all about glamour.
Next up: Want some more hair inspo for your kids? We've got you covered! Have fun with these 50 Hairstyle Ideas for Crazy Hair Day.
Discover more tips & tricks
Keep your skin happy
See all articles
Shop Featured Hair Color products
Discover More