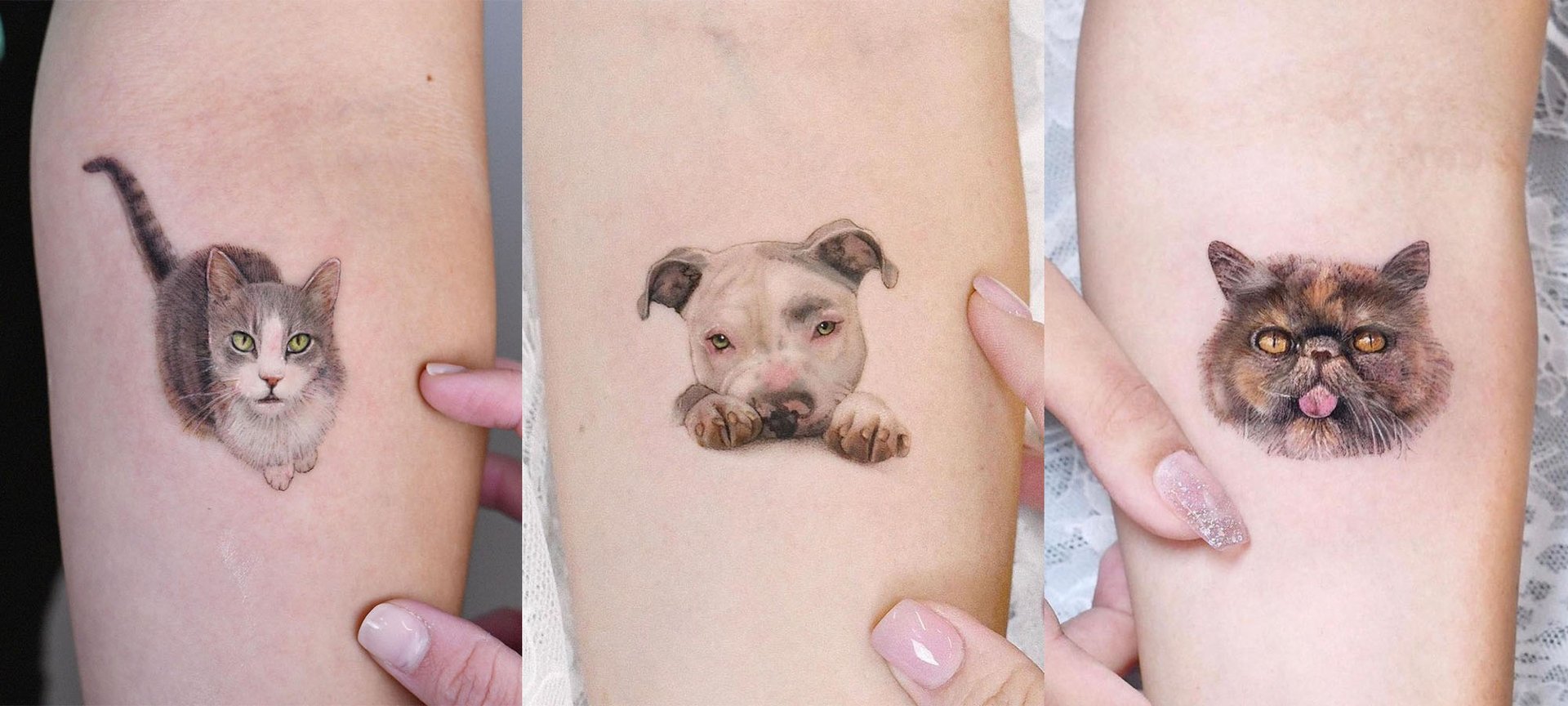 beauty trends
10 Creative Forearm Tattoos To Get In 2022
New year, new ink!
If the arrival of 2022 has you craving a fresh start in the form of a new tattoo, you're not alone. Some people make fitness resolutions, some update their skin care routines, and others opt for more permanent changes like new body art. Forearm tattoos, specifically, are becoming increasingly popular and that means there's a greater demand for more inspo. So if you're planning on adding some permanent ink to your arms, we're sharing 10 trending forearm tattoo ideas for men and women, below.

1. Red Ink
While most monochrome tattoos are done with black ink, red tattoos are becoming increasingly popular. If you're looking to put a unique spin on a solid color tattoo, get your must-have design in red ink.

2. Wrap Around Florals
Floral tattoos are nothing new. They've been incredibly popular for decades, but recently tattoo artists have been creating floral designs that wrap around the forearm. They make for an eye-catching statement while also remaining classic.
3. Butterflies
Butterflies symbolize hope, so it's no surprise that they've been a trending tattoo for a long time 一 but especially in recent years and at the start of a new one. If you're in need of a permanent reminder to hold onto hope, adorn your skin with a majestic butterfly.

4. Realism Designs
If you're anything like us, you're blown away by the talent that many tattoo artists possess. We're seeing incredible artists create designs of figures and objects that look so real, they give the feel (figurative, of course) of portraits and photographs.
5. Mini Tattoos
If an understated look is what you're after, you can't go wrong with mini tattoos. You can opt for just one to make a subtle statement, or you can customize your look by getting multiple mini designs to decorate your arm.

6. Animals
It's fair to say that for some, their love of animals has deep-rooted meaning. Whether you want a portrait of your pet on your skin forever or you're looking to embellish your arm with a meaningful creature, there are so many creative takes on animal ink.
7. Nature Symbols
Nature-inspired tattoos have long been popular, and we're not seeing this trend slowing down any time soon. From intricate florals, to vast mountain ranges and more, there are so many different ways to express your appreciation for nature on your forearm.

8. Geometric Designs
A contrast from the aforementioned design, geometric designs featuring sharp lines and shapes are trending, too. Find a skilled artist and you'll be able to transform just about anything into a geometric design.

9. Cherry Blossoms
Symbolic of rebirth and renewal, it makes sense why cherry blossom tattoos are popular right now. In addition to their special meaning, sakura are incredibly versatile when it comes to utilizing them in tattoos 一 they can be wrapped around the forearm or done as a minimalistic design.
10. Minimalistic Designs
Not all tattoos are meant to make big, visual statements. If you have the desire to get a tattoo that symbolizes something in your life without making a massive mark on your appearance, opt for a minimalistic design like a shape, letter, or a number that holds meaning for you.
Next: 15 Biggest Pinterest Beauty Trends For 2022

Written by: Alyssa Kaplan, Photo Credit: IG/@edit_paints
Discover more tips & tricks
Keep your skin happy
See all articles
Improve your routine
Show your new look more love:
makeup