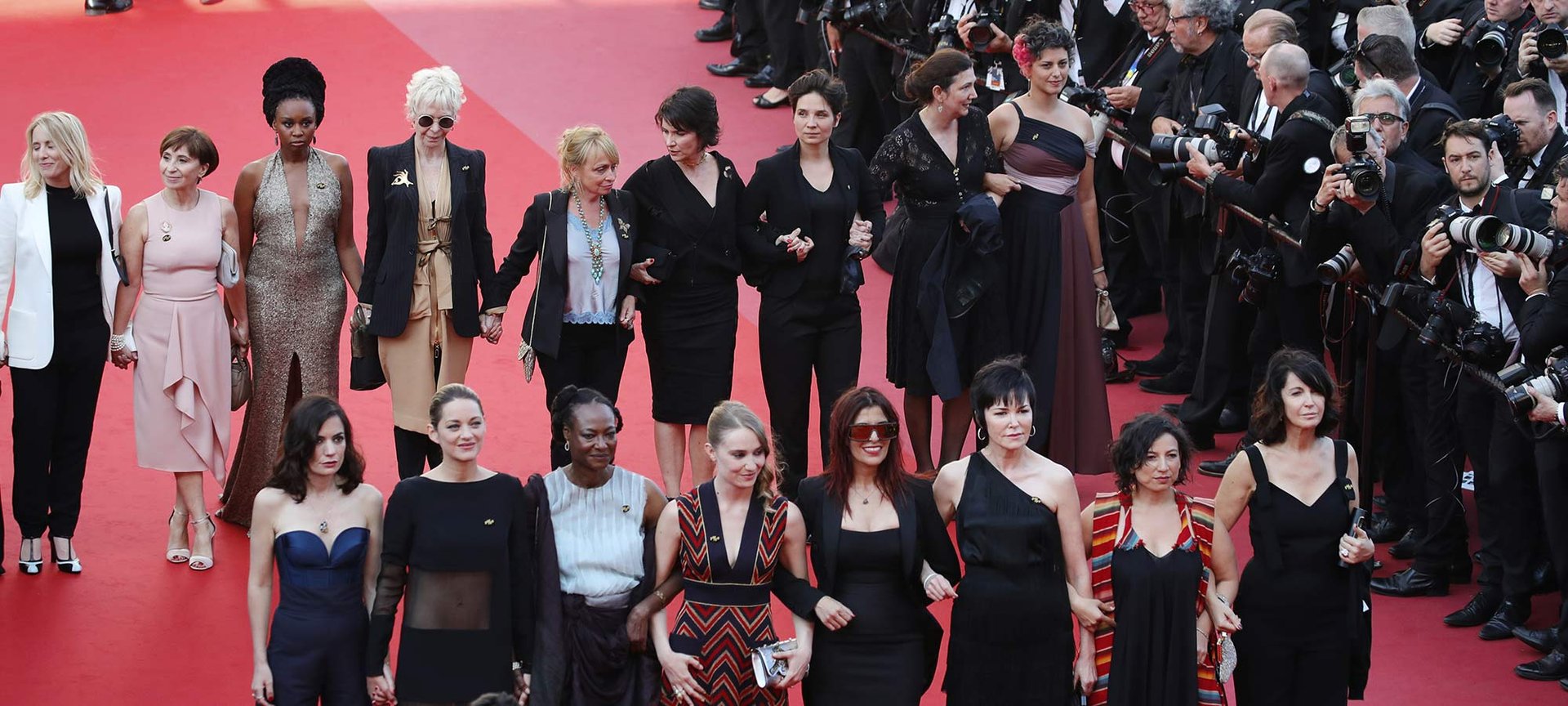 beauty trends
L'Oréal Paris Honors Women Filmmakers With New Cannes Film Festival Award
Because women in film are worth it.
Like many other festivals and awards ceremonies this year, the Cannes Film festival is back in action with a live crowd. And with this transition back into events hosted with real people in attendance (goodbye cardboard cutouts) comes new faces and new awards. It's particularly exciting for L'Oréal Paris which has been an official partner of the festival for more than 24 years and serves as the official makeup artist of the event. But it's not just about creating 300 makeup looks that stun on the red carpet. This year's return also marks the inaugural year of the brand's Lights on Women Award, which honors and highlights the work of women filmmakers.
"Through this new initiative, we are supporting female filmmakers and standing up for women's visibility in the cinema industry—a concrete reflection of our brand's commitment to women," says Delphine Viguier-Hovasse, Global Brand President of L'Oréal Paris. "Through the Lights On Women Award, we hope to highlight the impressive work female filmmakers create and remove barriers, such as lack of funding or mentorship, that often inhibit women from excelling in this male-dominated sphere."
The award will be given to one rising filmmaker in partnership with the Short Films competition of the Cannes Film Festival. The winner will be chosen and announced by Academy Award winner Kate Winslet—the award's first juror, who was recently announced as a L'Oréal Paris Global ambassador this year. Not only does the win mean a cash prize of 30,000 euros for the recipient, but it also offers a platform for increased visibility.
"We intentionally chose to award directors of short films because short films are renowned for reflecting the future of the film industry," Viguier-Hovasse shared. "Because of short films' flexible format and relatively low barrier to entry at the Short Films Competition, this award is open to more nominees, expanding the opportunity for recognition. Our aim is to encourage female directors to fulfill their destinies; as a brand, we want to empower them by using our platform and our voice to make a meaningful contribution.
When it comes to women in film, the numbers behind the cameras are bleak. A recent report published by the Center for the Study of Women in TV & Film showed that in 2020 women only made up 16 percent of the directors working on the top 100 grossing films. In 2019 it was merely 12 percent and the year before that, a gasp-worthy 4 percent. And while there has been incremental increases year-over-year, gender imbalance still continues to be a major issue.
L'Oréal Paris is hoping to confront this underrepresentation, while also empowering women as it seeks to do every day with its products and brand initiatives. In addition to adding new actors to its diverse roster of spokeswomen this year, it's also celebrating the 50th anniversary of its beloved "Because You're Worth It" slogan. Created by Ilon Specht in 1971, the tagline stood out during a time when ads made for women were written from a male perspective. Specht's ad—that featured a woman speaking directly to other women—turned that narrative on its head and developed into a global phenomenon that unites consumers around the world.
"While progress has been made in many countries, women today—no matter where they are from—need to stay vigilant about asserting their place in society," Viguier-Hovasse finished. "'Because We're Worth It' means empowering women, whatever their age, whatever their origin, to believe in their beauty, strength, and sense of worth. It is a strong and inclusive statement that resonates here at Cannes, especially with the launch of the Lights On Women Award."
Photo Courtesy of L'Oréal Paris
Discover more tips & tricks
Keep your skin happy
See all articles
Improve your routine
Show your new look more love:
makeup