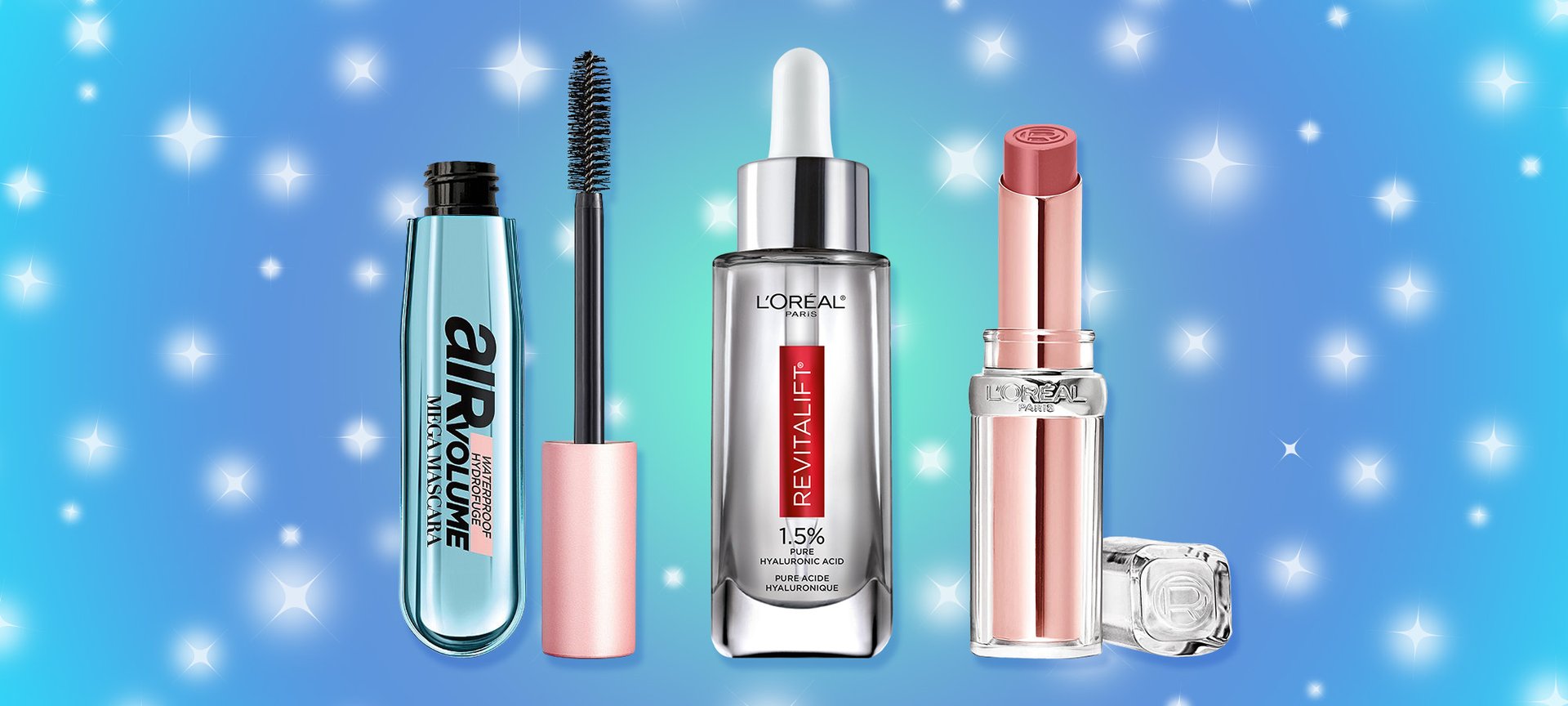 beauty trends
7 Beauty Must-Haves For Your Ski Trip Packing List
Products that will hold up no matter the conditions.
If you're packing your bags and heading to the mountains for a ski trip, you're probably more focused on not forgetting your gloves and warm socks than on what makeup you're going to bring. But just like you'd pack lightweight, glow-supporting products for a beach vacation, carefully selecting your beauty products for a cold weather trip is important. The last thing you want is runny mascara as you're cruising down the slopes, or ultra-dry skin with nothing to soothe it. So we're making it easy for you by sharing these seven essentials you'll need for your next cold weather excursion.
1. Hyaluronic Acid Serum
Spending time in a frigid climate means your skin will need all the hydration it can get. So be sure to pack a hyaluronic acid serum like the L'Oréal Paris Revitalift Derm Intensives 1.5% Pure Hyaluronic Acid Serum. This holy grail hydrating ingredient works to re-plump the skin and lock in moisturize without leaving a sticky residue.

2. Hydrating Moisturizer With SPF
If you've ever returned from what seemed to be a cloudy day of skiing only to remove your helmet and be met with a sunburn, you're not alone. In addition to ensuring that your skin has the hydration it needs while in the extreme temperatures, protecting yourself from sun damage is equally important. Remember, you do need to wear sunscreen in the winter. The L'Oréal Paris Revitalift Triple Power Day Lotion SPF 30 is great because it combines SPF protection with hyaluronic acid in an emollient cream to keep the skin hydrated.

3. Long-Wearing Foundation
If you're heading into après ski festivities straight from the mountain and you want your skin tone to look even, your best bet is to apply a longwearing foundation that will last through your activities. The L'Oréal Paris Infallible 24 Hour Fresh Wear Foundation, Lightweight provides full-coverage with a skin-like finish that's waterproof, transfer-resistant and sweat-proof (for all you adventurers that prefer more jacuzzi action than trips down the slopes —- we're not judging).

4. Hydrating Under-Eye Concealer
Ski days often require early morning wakeup calls, and if darkness under your eyes is a result, then you'll want a concealer to brighten the area. Add in the dryness in the air plus the delicateness of the skin under the eyes and you're left needing a concealer like the L'Oréal Paris True Match Eye Cream in a Concealer, 0.5% hyaluronic acid. It's a makeup and skin care hybrid that provides full coverage of dark circles while keeping the eye area moisturized.

5. Waterproof Mascara
Between the wind and cold air, your eyes are bound to get runny. Be prepared by opting for a waterproof mascara like the L'Oréal Paris Air Volume Mega Mascara Waterproof, Lightweight. It provides your lashes with gorgeous volume and definition with no flaking or smudging or clumping throughout the day.

6. Moisturizing Lip Color
Your lips will thank you for choosing a moisturizing lipstick formula over a potentially drying ultra-matte option. We love the L'Oréal Paris Glow Paradise Balm-in-Lipstick with Pomegranate Extract because it's smooth and creamy on the lips while adding color and hydration. It comes in 10 gorgeous shades that instantly add a pop of fresh color to your look.

7. Hydrating Overnight Cream
Nighttime is about repair and recovery when it comes to skin care and after a day in the snow your skin might be begging for nourishment. Pack a rich moisturizer like the L'Oréal Paris Age Perfect Collagen Expert Night Moisturizer for Face to slather on at night. It contains collagen peptides and niacinamide to rehydrate and firm the skin while you get your beauty rest and re-up your energy for another day on the slopes.
Next: 9 Must-Have Skin Care Products For Winter
Written by: Alyssa Kaplan, Photo Design: Sarah Duvivier
Discover more tips & tricks
Keep your skin happy
See all articles
Shop Featured Skin Care products
Discover More