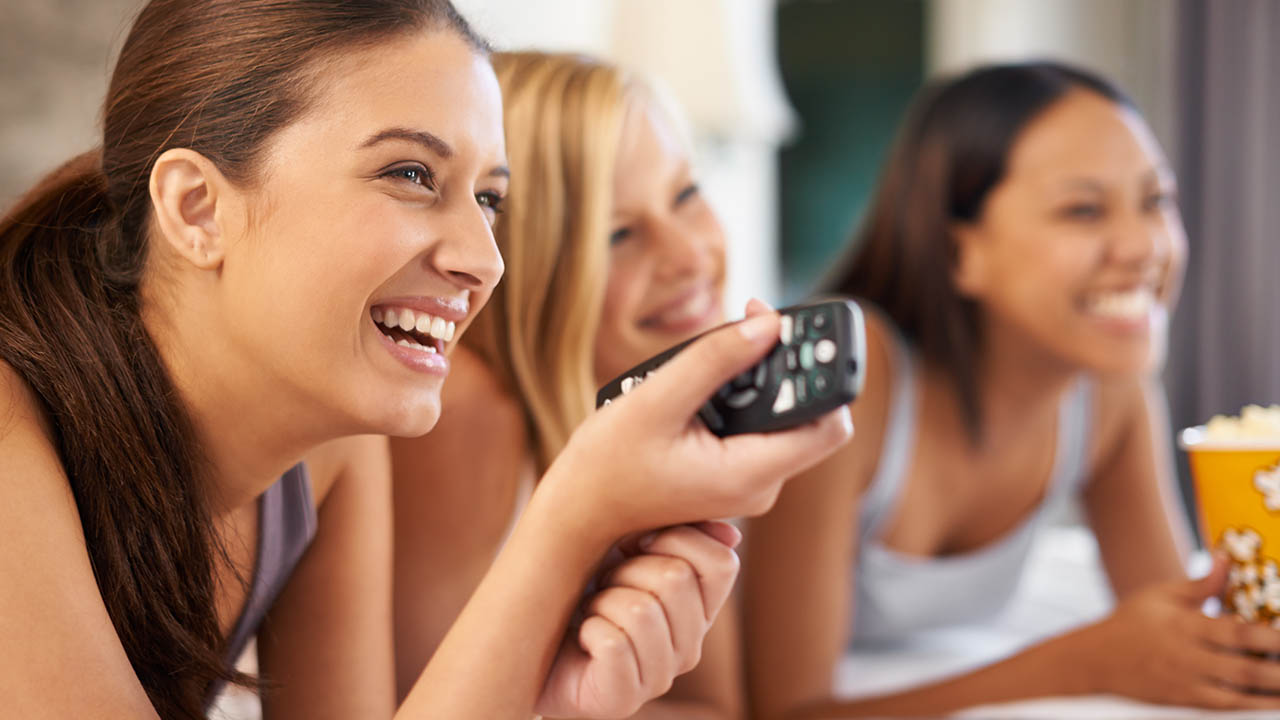 beauty looks
5 Tips for Throwing an Award Show Viewing Party
When it comes to award shows, we're all about getting the gang together to scope out the latest beauty trends. Whether you're gathering inspo for a new haircut, makeup look, or hairstyle to try, there's no denying that award shows boast some serious beauty inspiration. And what better way to indulge than by hosting an award show viewing party with all your best pals? Keep reading to find four tips for throwing a viewing party for your award show of your choice—there are plenty coming up!
Tip #1: Put together glam bags
Of course, there's nothing that will make your guests feel like VIPs more than giving them the VIP treatment one would get at an award show. For your viewing party, treat your BFFs to a DIY glam bag. You can choose some of your favorite beauty products to include—from makeup to skin care—and pop them into a red velvet goodie bag that's reminiscent of the red carpet itself. Below, find a few of our personal favorites goodies to gift guests with.
L'Oréal Paris Elnett Satin Hairspray Extra Strong Hold (Travel Size): When it comes to an award show or red carpet event, you can guarantee that none of the attendees will have a single hair out of place. Ensure your guests have equally flawless manes by popping this travel size hair spray into the glam bag.
L'Oréal Paris Rouge Signature, Lasting Matte Liquid Lipstick: Another red carpet must? A long-lasting red lip! This matte liquid lipstick is highly pigmented, weightless, and totally award show-worthy.
L'Oréal Paris RevitaLift Derm Intensives 10% Pure Vitamin C Serum: Celebrities always have beautiful, glowing skin. Give your friends the chance to recreate that glow with a vitamin C serum. This serum will help restore a healthy radiance and also reduce the appearance of wrinkles.
Tip #2: Mimic your favorite looks
There's no denying that every award show features amazing beauty looks. After watching the red carpet, take some time to recreate a few of your favorite looks. Don't worry—you can do this during the commercial breaks so you don't have to give up any show time. It'll be a fun way to try new trends and put your beauty skills to the test! Just make sure you have some makeup and styling products on-hand to replicate the looks. Save some money by having your friends bring their own makeup bags so everyone can get in on the fun and share products if necessary—excluding mascara, of course.
Editor's note: More interested in the fashion worn on the red carpet? No problem! Consider painting your nails the same color as your favorite dress of the night or giving yourself a super sparkly highlight that rivals some of the amazing jewels that walked the carpet.
Tip #3: Try a trendy hair color for the night
Did we mention award shows highlight some of the latest and greatest hair color trends? Sure, you may notice the makeup and hairstyles at first glance, but there also happen to be some envy-worthy hair hues present on show night. While you may be skeptical about committing to a new hue—even if it's inspired by your favorite celebrity—you and your friends can use wash out hair colors to make a temporary change. Have your pick from any of the shades of the L'Oréal Paris Colorista 1-Day Spray or the L'Oréal Paris Colorista Hair Makeup 1-Day Color.
Tip #4: Multi-mask for paparazzi-ready skin
Behind every gorgeous beauty look is a dedicated skin care routine. While you're watching your favorite actors and directors get their awards, give your skin some extra TLC by multi-masking (talk about multi-tasking). Multi-masking will allow you and your guests to customize your face mask regimen to your skin's individual needs. Have everyone contribute by bringing a mask of their own, that way you can all try something new!
Need to stock up on masks before the party? We love the L'Oréal Paris Pure-Clay Clarify & Smooth Face Mask, L'Oréal Paris Pure-Clay Clear & Comfort Face Mask, L'Oréal Paris Pure-Clay Detox & Brighten Face Mask, L'Oréal Paris Pure-Clay Exfoliate & Refining Face Mask, L'Oréal Paris Pure-Clay Purify & Mattify Face Mask, and the L'Oréal Paris Age Perfect Cell Renewal Rosy Tone Mask.
Tip #5: Predict the night's big winners
It wouldn't be an award show viewing party without making predictions. Don't you want to prove your expertise by guessing all the winners correctly? To turn this party go-to into a game, all you need to do is add a prize into the mix. Whoever guesses the most winners, wins! As for what to use as a prize, we're partial to beauty products. To get a few ideas, check out our article, 6 Classic Beauty Products Everyone Still Loves.
Want to prepare for your own red carpet moment? Head over to our article, 7 Ways to Prep for a Red Carpet Moment.
Discover more tips & tricks
Keep your skin happy
See all articles
Shop Featured Hair Style products
Discover More