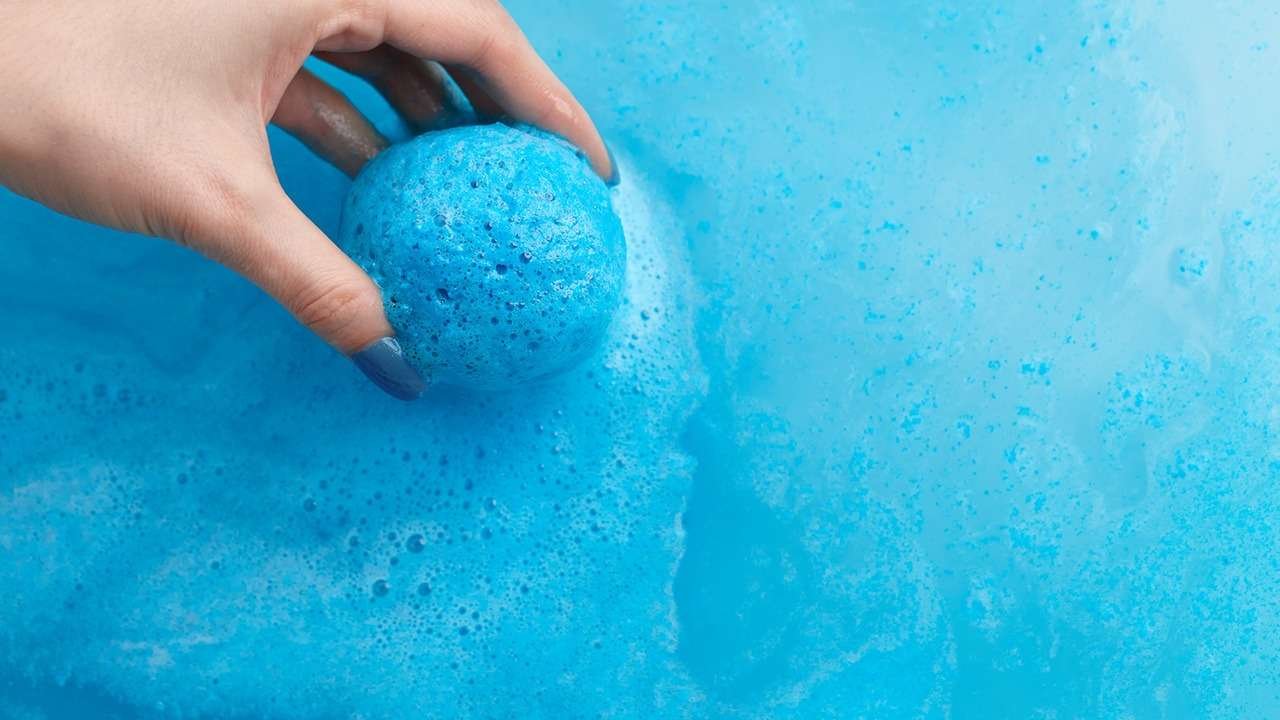 Whether you're in need of a self-care day or just want to unwind after a busy day, nothing sets the mood quite like a calming bath. And when you want to give yourself a little extra TLC, a bath bomb is the perfect way to do so. While you've likely heard all of the praise surrounding this bath essential, do you really know how to use a bath bomb? Sure, you may think it's as easy as filling up your tub and popping a bath bomb in, but there is a bit more that you need to know. Keep reading as we give you all the deets on how to use a bath bomb so that you can soak your cares away.
WHAT IS A BATH BOMB?
First things first, if you aren't super familiar with this bathtime staple—we've only really seen them blow up over the last few years—we need to cover what a bath bomb is. Sometimes also known as bath balls, a bath bomb is a small, ball-shaped product that is filled with colorants, salts, and skin-softening ingredients such as oils and butters.
As the name suggests, once you pop a bath bomb into a tub full of water, the shape breaks apart and releases all of the ingredients. Then you're left with a myriad of colors and scents to soak your body in. Some bath bombs even break apart to release flowers, fizzers, glitter, and other cool surprises. While most bath bombs are small sphere shapes, you can enjoy bath bombs in various shapes and sizes.
HOW TO USE A BATH BOMB
Now it's time for the reason you're here—learning how to use a bath bomb! Follow our step-by-step tutorial below to ensure that your bath bomb experience is a memorable one.
STEP #1: CREATE A CALM VIBE
There is nothing better than enjoying a bath that has the perfect ambiance. Set the stage with a few candles and put your playlist together to help set your mind at ease. Your body will soon follow!
STEP #2: PREP YOUR BATH BOMB
Allow your tub to fill all the way up with water. While you may want to soak your skin in super-hot H2O, we'd advise against it. Hot water can strip your skin of natural oils, leaving your skin feeling dried out, which is the last thing you need. Instead, turn your dial down and fill your tub with lukewarm water.
STEP #3: POP IN YOUR BATH BOMB
While you may be tempted to split your bath bomb in half, it's best to keep it whole. After all, you want to experience the full effect of your bath bomb! Place your bath ball in your tub and watch it break apart and release beautiful colors, fizzers, and gorgeous scents.
Editor's tip: Notice your bath bomb isn't really working? While most will do their thing as soon as they drop into the water, some may work better when held under the running faucet. Give this a try if your tub isn't already transforming before your eyes.
STEP #4: HOP IN THE TUB
Now, it's time to soak your skin! Climb in the bathtub with a good book and prepare to soak your cares away until your skin starts to prune.
STEP #5: CUSTOMIZE YOUR BATH
Want to take your bath experience to the next level? Feel free to customize your bath bomb experience by adding a nourishing bath oil into the mix. Sure, bath bombs already work wonders for softening skin, but there is no harm in giving your skin an extra touch of moisture. Add a few drops of your favorite bath oil to your tub and soak, soak, soak!
STEP #6: LOCK IN MOISTURE
Once you've hopped out of the bathtub, you'll want to make sure that you seal your skin with moisture. Reach for a moisturizing body lotion or body butter and apply it to damp skin for long-lasting hydration.
Next up: Congratulations, you've learned how to use a bath bomb the right way! Now that you're pretty much a bathing expert, why not learn about other self-care tips? Head on over to our article, How to Practice Self-Care with Your Beauty Routine, to upgrade how you unwind.
{ "@context": "https://schema.org/", "@type": "WebPage", "speakable": { "@type": "SpeakableSpecification", "cssSelector": ["speakable-content"] }, "url": "https://www.lorealparisusa.com/beauty-magazine/skin-care/skin-care-essentials/how-to-use-a-bath-bomb" }
Discover more tips & tricks
Keep your skin happy
See all articles
Improve your routine
Show your new look more love:
makeup
{ "@context": "http://schema.org", "@type": "BreadcrumbList", "itemListElement": [ { "@type":"ListItem", "position": 1, "item": { "@id": "/", "name": "Home" } } , { "@type":"ListItem", "position": 2, "item": { "@id": "https://www.lorealparisusa.com/beauty-magazine", "name": "Beauty Magazine" } } , { "@type":"ListItem", "position": 3, "item": { "@id": "https://www.lorealparisusa.com/beauty-magazine/skin-care", "name": "Skin Care For Every Age" } } , { "@type":"ListItem", "position": 4, "item": { "@id": "https://www.lorealparisusa.com/beauty-magazine/skin-care/skin-care-essentials", "name": "Skin Care Essentials" } } , { "@type":"ListItem", "position": 5, "item": { "@id": "https://www.lorealparisusa.com/beauty-magazine/skin-care/skin-care-essentials/how-to-use-a-bath-bomb", "name": "how-to-use-a-bath-bomb" } } ] }