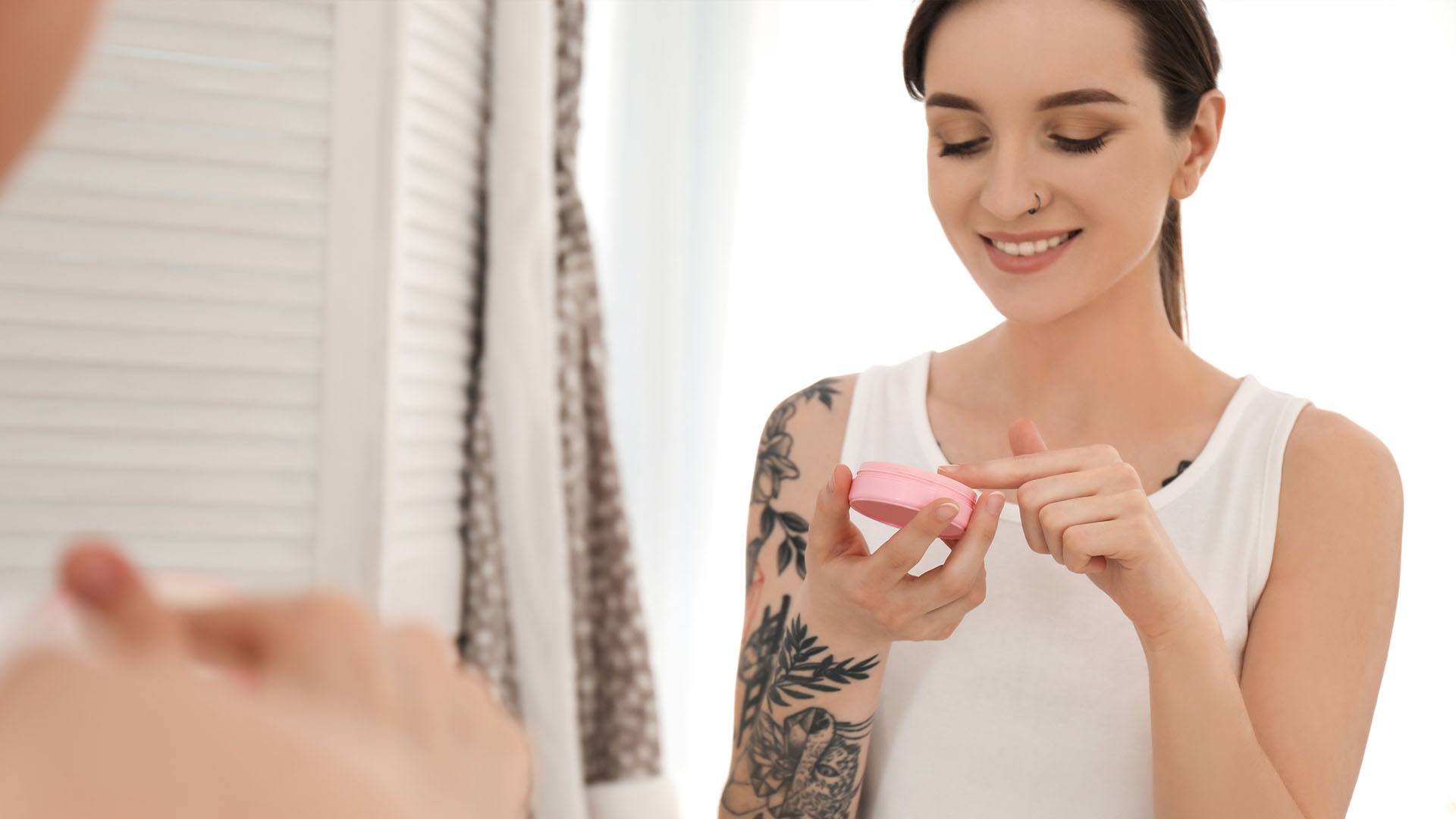 skin care concerns
How to Take Care of Tattooed Skin
There are many ways your beauty look can be used to express yourself—whether that's through a makeup look or a hair color. A more permanent option for expressing yourself? Tattoos! Tattoos are a form of expression, art, and personalization that can be used to reflect who you are as a person. They also look pretty cool! Of course, with tattoos comes a whole new way to take care of skin. And if you're not up to speed on how to take care of a tattoo, you run the risk of ruining your fresh ink. That's why it's a must to do your research on tattoo aftercare. And lucky for you, here, we have all the details on how to care for a tattoo. Keep reading for eight skin care tips for tattooed skin.
TATTOO SKIN CARE TIP #1: KEEP THINGS CLEAN
Just as with your regular skin care routine, you want to make sure you cleanse your tattoo daily to avoid the risk of infection. The Mayo Clinic recommends using plain soap and water to cleanse tattoos, along with a gentle touch. They also advise against allowing direct streams of water to hit newly tattooed skin (aka don't stand directly under the shower's stream) and suggest that you pat, rather than rub when drying off.
TATTOO SKIN CARE TIP #2: CHOOSE THE RIGHT MOISTURIZER
After cleansing, moisturizing your tattooed skin is a must, but you'll want to make sure to choose a moisturizer that won't have a negative effect on your tattoo(s). According to the American Academy of Dermatology (AAD), when your tattooed skin feels dry, apply a water-based lotion or cream rather than petroleum-based products, which can cause the ink to fade.
TATTOO SKIN CARE TIP #3: DITCH THE POOL
The Mayo Clinic states that while your tattoo is healing (we'll get to that later), you should avoid swimming. This means steering clear of pools, hot tubs, rivers, lakes, and other bodies of water for the time being.
TATTOO SKIN CARE TIP #4: USE SUN PROTECTION
You already know sun protection is essential, but did you know sun protection is an important part of tattoo aftercare, too? The AAD states that you should protect your tattoo from the sun as ultraviolet (UV) light can cause some tattoo inks to fade, which is the last thing you need! When you go in the sun, make sure to protect your tattoo with a broad-spectrum, water-resistant sunscreen with an SPF of 30 or more. Apply the sunscreen to your tattoo 15 minutes before sun exposure, and be sure to reapply at least every two hours.
Editor's tip: Since swimming and the sun are a no-no for tattooed skin, you may want to avoid getting a tattoo during the summer when these two things tend to be a lot more difficult to avoid!
TATTOO SKIN CARE TIP #5: ALLOW ENOUGH HEALING TIME
Giving your tattoo enough time to heal is an important tip when learning how to care for a tattoo. According to the Mayo Clinic, you should allow up to two weeks for healing and avoid picking at any scabs during that time since this can increase the risk of infection, damage the design, and lead to scarring.
TATTOO SKIN CARE TIP #6: BE MINDFUL OF YOUR CLOTHING
The Mayo Clinic also states that you should choose your clothing carefully to avoid wearing anything that might stick to the tattoo. So, while your tattoo is healing, trade-in your skinny jeans for loose-fitting palazzos or sweatpants.
TATTOO SKIN CARE TIP #7: SAY NO TO TANNING BEDS
As much as you may love getting a tan, it's essential to steer clear of tanning beds and sun lamps to take care of a tattoo. According to the AAD, these devices can fade the ink in tattoos and can increase your risk for certain skin cancers. The AAD also states that in some people, the UV light can react with the tattoo ink, causing a painful skin reaction. That means if you're looking to get a little color, you're better off reaching for a self-tanner.
TATTOO SKIN CARE TIP #8: VISIT A DERMATOLOGIST IF YOU HAVE A REACTION
Our last piece of advice for tattooed skin? Visit your dermatologist if your skin is having a bad reaction to the tattoo. Per the AAD, your skin can have an adverse reaction immediately after getting a tattoo or years later. A derm will be able to let you know what's what and the correct next steps to take.
Next up: While you probably totally love showing off your tat (and we don't blame you), there may be certain occasions where a temporary cover-up is needed. And with the help of a little makeup, you can have tattoo-free skin for the night! Learn how to cover tattoos with a little help from our article, How To Temporarily Cover Up Tattoos With Makeup: The Complete Tutorial.
Discover more tips & tricks
Keep your skin happy
See all articles
Improve your routine
Show your new look more love:
makeup