skin care concerns
Your Guide To At-Home Waxing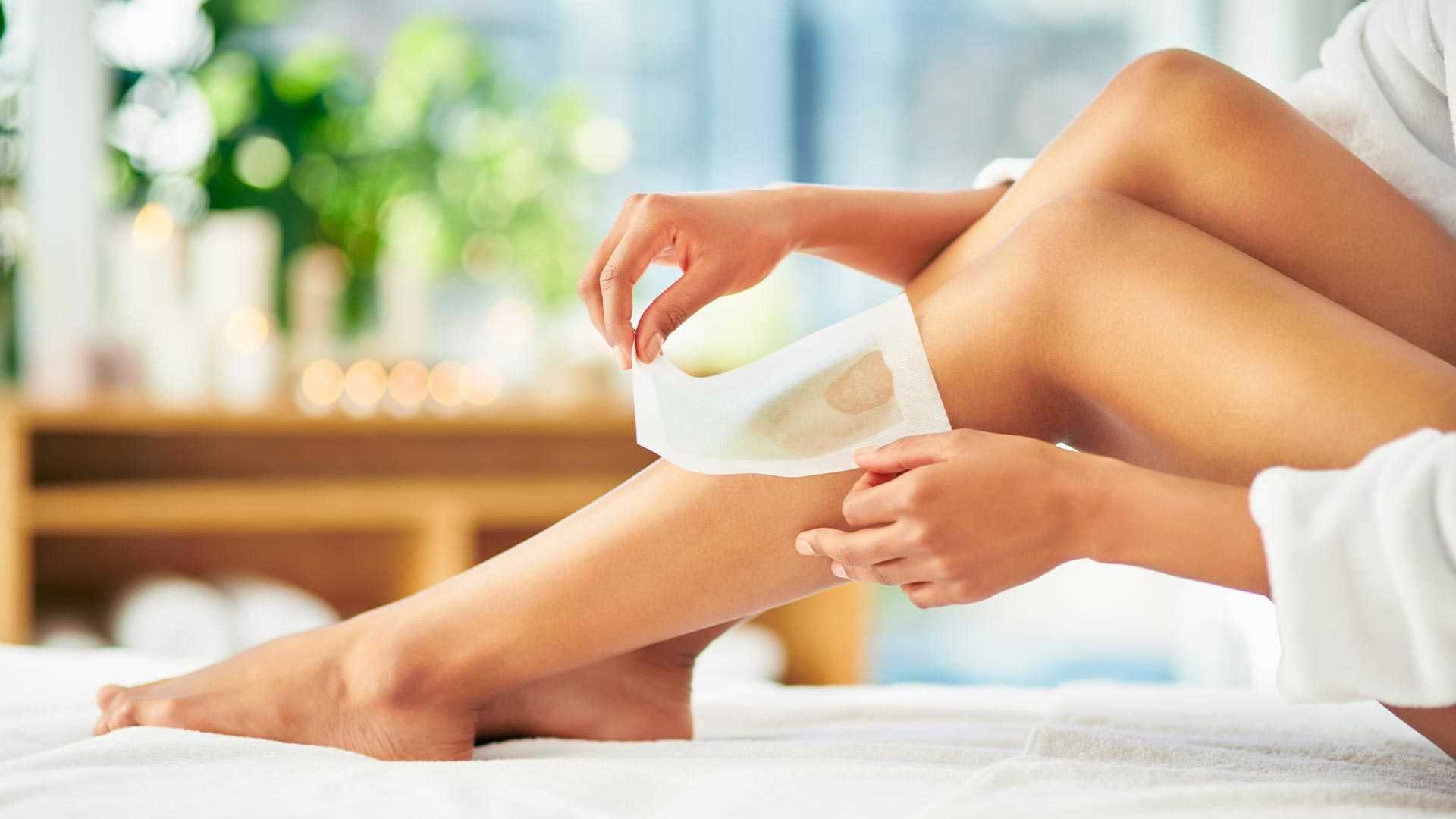 The idea of painfully removing unwanted hair from your skin would leave anyone with reservations. However, waxing is still a top go-to when it comes to achieving smooth skin that goes the distance. While you typically may leave most hair removal techniques to the professionals, the past year has taught us that we can take nearly any beauty routine into our own hands, especially when we can't make it to the salons.
It can be intimidating the first time, but all you need is an at-home waxing kit and a positive spirit to work your way to hairless skin. Just think about all the time and money you'll save along the way. Keep reading to learn the ins and outs of how to wax at home, including brows, with our step-by-step guide below.
HOW TO WAX YOUR BODY
First things first: relax. Shake off the jitters and trust yourself—you've got this!
STEP #1: PREP YOUR SKIN
Before you start waxing, it's important that your skin is clean and refreshed because you don't want dirt, oil, and other impurities getting in the way of your wax. If you're waxing an area on your face, first prep it with the L'Oréal Paris Micellar Cleansing Water Complete Cleanser Waterproof – All Skin Types, which works to purify and hydrate skin. If you're waxing your legs, arms, underarms, or any other area on your body, hop in the shower before your hair removal session.
STEP #2: MAKE SURE HAIR IS THE RIGHT LENGTH
According to the American Academy of Dermatology (AAD), you should always make sure that your hair is between ¼ to ¾ inches long. If the hair is too short, the wax may not be able to adhere to it. You don't want it to be too long either, though. If your hair is on the longer side, it should be trimmed to the recommended length before waxing.
STEP #3: FOLLOW THE INSTRUCTIONS ON THE PACKAGING
When it comes to using an at-home waxing kit, follow the instructions carefully in order to achieve your desired results. Do not remix the rules of the process. Some waxing kits come with ready-to-use strips, and others require that you apply the wax directly to your skin. If you're working with the latter, the AAD shares that the wax should be warm, never hot, when applying it.
STEP #4: REMOVE THE WAX STRIP
If you have ready-to-use wax strips, your application technique is key to achieving the desired results. Smooth them one at a time over the hair as directed, being sure to get rid of any air bubbles. Then, hold your skin taut and use your other hand to remove the strip from your skin quickly. Keep in mind, you should always remove the strip in the opposite direction of your hair growth. If you have to apply cloth strips, start by placing each of the strips over the wax and pressing down firmly. Leave each one on for two to three seconds before removing.
Editor's Tip: When it comes to waxing your armpits, your body positioning is key to getting a taut hold on your skin. Consider stretching your arm in front of you and grabbing something above you to keep it in place.
STEP 5: SOOTHE YOUR SKIN
It's important to soothe the skin after any type of hair removal, but especially after waxing. If your waxing kit comes with an after care solution then apply that to your skin as directed. Or opt for one of your favorite moisturizers (more on that to come).
HOW TO WAX YOUR EYEBROWS
Waxing most spots is pretty similar, but one that requires a little more attention and precision is waxing your eyebrows. The area around your eyes is naturally sensitive, plus you don't want to mess up your wonderful arches. So, it's essential to ensure that you're waxing your brows the right way. Here's how to do it.
STEP #1: BRUSH YOUR BROWS
Using a dry spoolie, brush your brows upward and outward so you can identify your natural brow shape.
STEP #2: MAP OUT YOUR BROW SHAPE
Pick up the L'Oréal Paris Infallible Pro-Last Waterproof, Up to 24 HR Pencil Eyeliner in Black and outline the natural shape of your brows. All of the hair that is sitting outside of your outline is what you'll want to remove.
STEP #3: PREP YOUR WAX
When it comes to waxing your eyebrows at home, we recommend using pre-made wax strips. It makes the process oh-so-easy, and with the right placement, you don't have to worry about removing too much hair. Take a minute to warm up the wax strip in between your hands, and you're ready to roll.
STEP #4: APPLY YOUR WAX STRIP
Place one wax strip beneath the tail of your brows. Press down firmly and let it sit for a few seconds. Next, quickly remove the wax strip, pulling it in the opposite direction of your hair growth. Repeat around your eyebrows until you have your desired shape.
HOW TO TAKE CARE OF SKIN AFTER WAXING
Once you're done with your at-home waxing, the after care process begins. Like we said before, you always want to soothe the skin after any hair removal to keep irritation at bay. Follow our three simple tips below to keep your skin in proper shape post-wax.
TIP #:1 MOISTURIZE
One of the easiest ways to soothe your skin after waxing is to reach for a moisturizer. Of course, you'll want to opt for an offering that won't clog your pores. Try the L'Oréal Paris Hydra Genius Daily Liquid Care – Normal/Oily Skin, L'Oréal Paris Hydra Genius Daily Liquid Care – Normal/Dry Skin, or L'Oréal Paris Hydra Genius Daily Liquid Care – Extra Dry Skin. These water-based offerings are formulated with aloe vera water and hyaluronic acid to give your skin long-lasting hydration. They're especially perfect for the summer when you're likely removing hair the most but also want a moisturizer that's lightweight and soothing.
TIP #2: DON'T TOUCH THE WAXED AREA
While you may be tempted to touch your smooth skin, abort mission! Touching freshly waxed skin can cause dirt, oil, and debris to clog pores and lead to a breakout or infection. Play it safe, and keep your hands to yourself.
TIP#3: WEAR LOOSE CLOTHES
Believe it or not, your skin needs to breathe after beauty waxing. If not, skin irritation and redness can occur. Always wear loose clothing after waxing your body to keep your skin in the clear. And as always, don't forget to put sunscreen on any exposed areas of skin.
Photo: iStock
Discover more tips & tricks
Keep your skin happy
See all articles
Shop Featured Skin Care products
Discover More