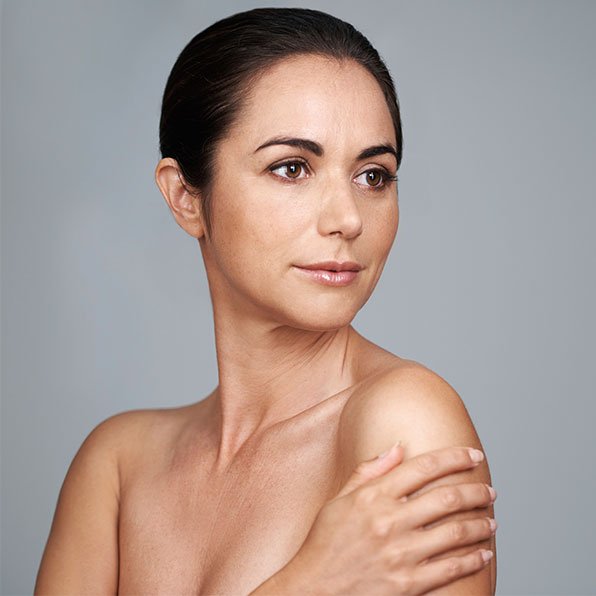 anti aging
4 Skin Care Regimen Tips to Help You Improve the Look of Wrinkles Today
Wrinkles: The common sign of skin of skin aging that can develop as early as when you are in your 20s and will only deepen and become more noticeable over time. The typical skin woe tops the list of most complaints in regards to skin and the toll that the natural passage of time will take on it. Certain lifestyle factors can accelerate the development of lines and wrinkles, but other daily habits as simple as squinting when you read can also contribute to the formation of new creases. While wrinkles may be unavoidable you can address how noticeable they become. Introducing a few skin care products into your routine can help you better address your wrinkles today:
Minimize the look of wrinkles tip #1: Wear SPF every day. Your first line of defense against the worsening of existing wrinkles and the development of new lines is daily SPF broad spectrum protection. While you can't undo the previous damage done by the sun's harmful rays, you can take steps to better protect your skin in the future. Look for a day lotion with SPF, as moisturizing your skin will also help wrinkles appear less noticeable. Age Perfect® Hydra-Nutrition – Day Lotion SPF 30 offers broad spectrum protection and is enriched with five essential oils to keep skin nourished and hydrated. Over time, this ultra-hydrating yet lightweight formula helps skin to feel firmer, more toned and luminous.
Minimize the look of wrinkles tip #2: Try a skin smoother. To be applied after moisturizing, a skin smoothing product can be worn under makeup or by itself. A skin smoothing formula like RevitaLift® Moisture Blur diffuses light on skin for a soft-focus blurring effect while providing all-day hydration. It diminishes the look of fine lines, wrinkles and pores to create a seamless smooth skin surface. This formula is not only equipped with Opti-Blur™ technology to blur lines, wrinkles and pores, but is also infused with Revitalift's proven anti-aging ingredient Pro-Retinol A to visibly reduce the appearance of wrinkles and help improve skin's firmness and elasticity over time. By adding this quick and easy step to your skin care regimen, you can achieve both immediate and long-lasting anti-aging benefits.
Minimize the look of wrinkles tip #3: Retexture your skin's surface. When skin is dry and dull, wrinkles can seem more noticeable. To minimize this effect, in the morning or at night after cleansing, consider using a glycolic acid peel pad, like RevitaLift® Bright Reveal Brightening Peel Pads to immediately produce brighter, clarified and more radiant-looking skin. This derm-inspired anti-wrinkle + brightening treatment is formulated with glycolic acid, to gently yet effectively dissolve dead surface skin cells and reduce the visibility of wrinkles and fine lines. By using these ultra-gentle, pre-soaked, pillow pads to delicately polish skin, glycolic acid can help even out the look of wrinkles on your skin's surface, leaving it to feel softer, smoother and more refined.
Minimize the look of wrinkles tip #4: Refine existing lines. At the end of a long day refine existing lines by applying an exfoliating clay mask like Pure-Clay Mask Exfoliate & Refining Treatment Mask. Formulated with a blend of Kaolin, Montmorillonite and Moroccan Lava Clays and enhanced with Red Algae Extract, this mask works to exfoliate dead skin cells on skin's surface and smooth out the appearance of imperfections. The mineral properties of the different clays help to draw out the build-up of impurities, like dirt and oils, while also unclogging and tightening pores. The clay mask formula works to exfoliate dead skin cells and smooth imperfections. To use, simply apply an even layer of the clay to clean dry skin, avoiding your eye and lip area. Leave it on for 10 to 15 minutes then remove with water in circular motions.
You may not be able to erase your wrinkles, but it's never too late to start addressing existing lines and preventing the development of new wrinkles by taking action today. Tweak your skin care regimen with formulas that work to smooth and refine the surface of your skin.
Discover more tips & tricks
Keep your skin happy
See all articles
Shop Featured Skin Care products
Discover More