lip makeup
L'Oréal Paris Pro Matte Les Macarons Liquid Lipstick Swatches
August 05, 2019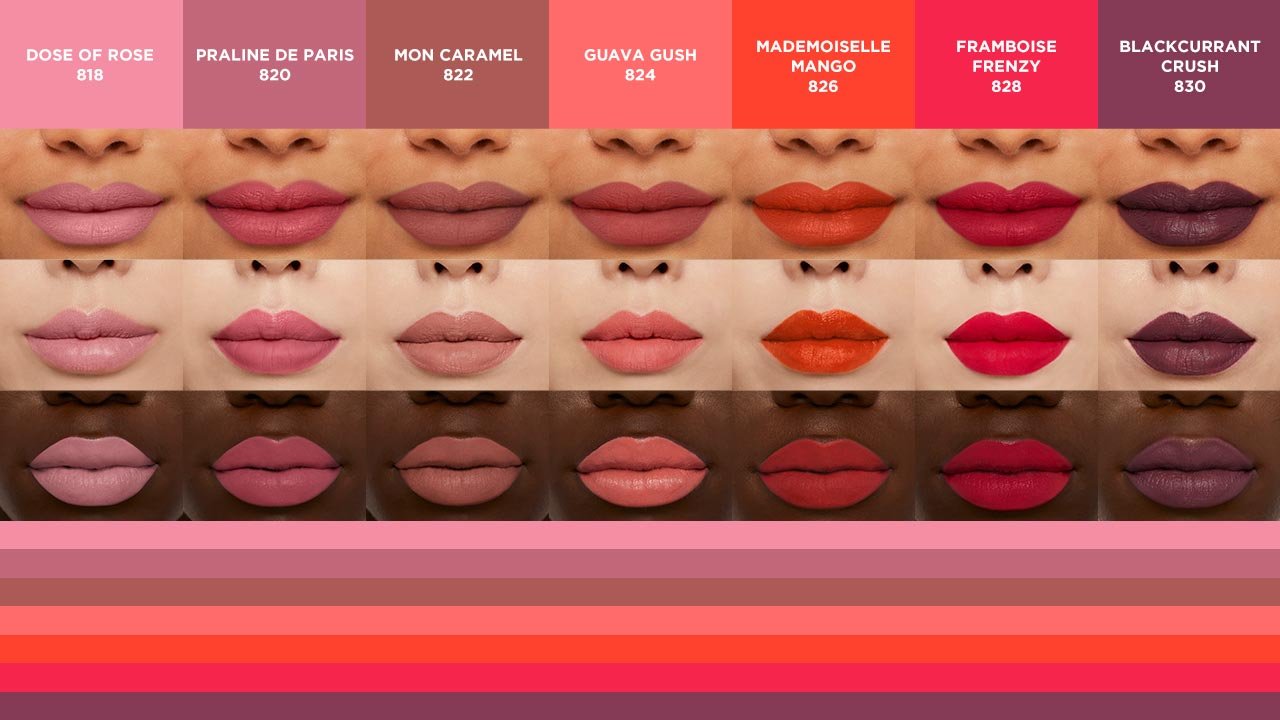 As the saying goes, there's always lipstick. We'll be the first ones to own up to our lipstick addiction. There's just something about adding a new hue to your makeup collection that puts an instant pep in your step—not to mention how it gives your makeup look a total revamp. One lipstick we can't get enough of? The L'Oréal Paris Infallible Pro-Matte Les Macarons Scented Liquid Lipstick. Infused with notes of almond, vanilla, and cream to mimic one of our favorite sweet treats, this matte liquid lipstick is available in seven gorgeous smudge-proof, full-coverage hues. Wondering which shade you should pick up first? Use our swatch guide below to help find your lipstick match.
L'ORÉAL PARIS LES MACARONS LIQUID LIPSTICK SWATCH BREAKDOWN
A swatch says a thousand words—that's what they say, right? Let our Les Macarons swatches, along with the following breakdown, do the talking.
SWATCH #1: DOSE OF ROSE
Soft, baby pink lips will never go out of style. If you don't have a staple light pink lipstick that's suitable for both day and night, Dose of Rose is a must-have for your makeup bag. The blue-based lipstick will be most flattering on those with cool undertones.
SWATCH #2: PRALINE DE PARIS
Prefer a little more color? Take things up a notch with Praline De Paris, a medium pink hue with cool undertones. This hue will be perfect for a night out if you have a fair skin tone, or it makes for the ultimate "your lips but better" shade for olive and deep skin tones.
SWATCH #3: MON CARAMEL
Speaking of a "your lips but better" look, Mon Caramel is a must for anyone looking to enhance their natural pout. The nude shade will color your lips just enough without outshining the rest of your makeup. Paint your lips with this shade to finish off a no makeup, makeup look or pair it with an intense smoky eye to let your eye makeup take center stage.
SWATCH #4: GUAVA GUSH
Coral is in for 2019, and this coral-y pink lipstick is no exception. A softer take on the trendy color, Guava Gush is the perfect way to ease into the coral makeup trend without stepping too far out of your comfort zone.
SWATCH #5: MADEMOISELLE MANGO
Speaking of coral, you can also go all-out by wearing this bright, coral hue on your lips. The vibrant orange-red shade certainly isn't for the faint-hearted, but it is one that will instantly draw the eye to your pout. With its orange base, Mademoiselle Mango will look best on those with warm undertones, particularly those with medium or olive skin tones.
SWATCH #6: FRAMBOISE FRENZY
All about a pink lip? Look no further than Framboise Frenzy! This hot pink shade packs a powerful punch and is best suited for a night out or even a festival. Consider pairing it with a sheer smoky eye, which will tie the look together without overpowering your standout lip color.
SWATCH #7: BLACKCURRANT CRUSH
Last but not least, we highly recommend adding this shade to your collection in time for fall and winter. Blackcurrant Crush is a blue-based shade of deep purple that'll look best on those with cool undertones. So, if your skin is on the cooler side, this one is a must for trying out the purple lip trend.
3 TIPS FOR FINDING YOUR LIPSTICK MATCH
With so many stunning shades, we wouldn't be surprised if you're having trouble finding your best lipstick match. Need help narrowing down your options? Consider the following three tips.
TIP #1: TAKE THE LIGHTING INTO CONSIDERATION
When swatching a lipstick shade, it's best to do so in natural, outdoor lighting. Indoor lighting can impact the shade and leave you with a lipstick match that looked better in stores than it does in real life.
TIP #2: COMPLIMENT YOUR EYE MAKEUP
Think about where you plan to wear your lip color of choice and the eye makeup you plan to wear with it. As a general rule of thumb, opt for a more natural shade when wearing a more intense eye and, alternatively, sport a more vibrant lip with a neutral eye.
TIP #3: KEEP YOUR UNDERTONES IN MIND
As we touched on a few times earlier, your undertones play a big role in which lipstick shades will be most flattering on you. If you have cool undertones, a blue-based lipstick will typically look best on you. If you have warm undertones, look for an orange or red-based lip color. Not sure what your undertones are? Flip your wrists. If your veins are green, you have warm undertones. If they're blue or purple, you have cool undertones.
HOW TO APPLY L'ORÉAL PARIS LES MACARONS SCENTED LIQUID LIPSTICK
Once you've decided on your shade, it's time to apply! Start in the center of your upper lip, then work from the center to outer edges of your lips, following the contour of your mouth. Finish by gliding across the entire bottom lip.
Discover more tips & tricks
Keep your skin happy
See all articles