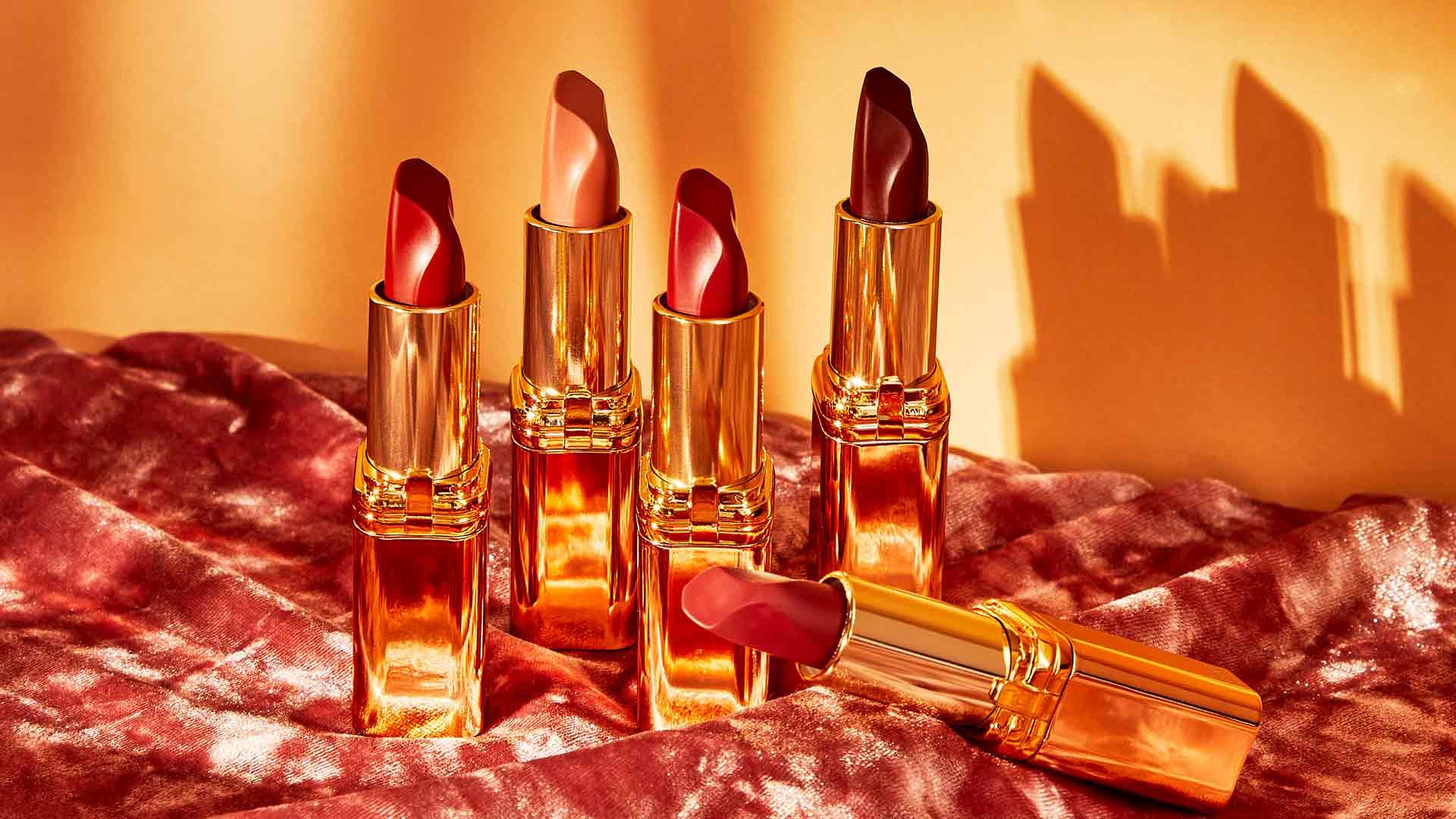 lip makeup
The Best Les Nus Lipsticks for Medium and Olive Skin Tones
Finding the right nude lipstick match can seem like an endless (and exhausting) search. For olive and medium skin tones particularly, reaching for rosy nudes and orange browns will suit you best because your skin's undertones often tend to skew more cool or yellow. Because of this, warm lipstick shades help balance out your complexion. Ahead, we rounded up the very best warm-hued lipsticks from the L'Oréal Paris Le Nus by Colour Riche Intense Nude Lipstick line to help get your nude lippie collection started or to level up their existing.
Nu Artistique is a rich brown with a red undertone that will serve as a gorgeous contrast to your skin tone (a bit unconventional for a nude, but stick with us!). In just one to two swipes, you'll be left with a vivid, oxblood finish that you'll see yourself reaching for, constantly. (Bonus: it's transferproof, so it won't rub off on your protective face mask).
If you prefer a more rosy-toned lip color that will intensify your natural lip shade, try Nu Authentique. This velvety light pinkish-brown hue is perfect to wear if you're going for a more minimalist, natural makeup look but want a flush of color. And if you love a 90's inspired makeup look, this is a must-try.
Every medium to olive complexion could use a peachy nude lipstick in their collection, and Nu Determine has you covered. This apricot lip color is buildable so you can get a more sheer-nude finish with one coat and a richer pigment with two. A fruity hue with lightweight wear—sounds like someone's pout will be pretty pleased.
Love a rich brown lip color? Try Nu Extreme. This pumpkin-brown shade has a nice orange undertone that will instantly warm up your olive complexion. It also pairs well with warm eyeshadows — we're talking oranges, reds, browns and more. We recommend opting for this one if you want to keep it nude, but a little more exciting.
If you're looking for a new everyday go-to lip shade, Nu Decadent is a must-have. It's a warm pink that you'll reach for at any time of the day, whether you're touching up before a virtual meeting or an in-person happy hour. It will pair well with your makeup whether you're rocking just a bit of mascara or full on smokey eyes.
Photography: Matthew Zach, Senior Art Director: Melissa San Vicente-Landestoy, Associate Creative Producer: Becca Solovay
Next: The Best Nude Lipstick for Your Skin Tone
{ "@context": "https://schema.org/", "@type": "WebPage", "speakable": { "@type": "SpeakableSpecification", "cssSelector": ["speakable-content"] }, "url": "https://www.lorealparisusa.com/beauty-magazine/makeup/lip-makeup/best-nude-lipsticks-for-medium-olive-skin-tones" }
Discover more tips & tricks
Keep your skin happy
See all articles
Shop Featured Makeup products
Discover More
{ "@context": "http://schema.org", "@type": "BreadcrumbList", "itemListElement": [ { "@type":"ListItem", "position": 1, "item": { "@id": "/", "name": "Home" } } , { "@type":"ListItem", "position": 2, "item": { "@id": "https://www.lorealparisusa.com/beauty-magazine", "name": "Beauty Magazine" } } , { "@type":"ListItem", "position": 3, "item": { "@id": "https://www.lorealparisusa.com/beauty-magazine/makeup", "name": "Makeup Tips For Every Look" } } , { "@type":"ListItem", "position": 4, "item": { "@id": "https://www.lorealparisusa.com/beauty-magazine/makeup/lip-makeup", "name": "Lip Makeup" } } , { "@type":"ListItem", "position": 5, "item": { "@id": "https://www.lorealparisusa.com/beauty-magazine/makeup/lip-makeup/best-nude-lipsticks-for-medium-olive-skin-tones", "name": "best-nude-lipsticks-for-medium-olive-skin-tones" } } ] }