beauty looks
15 Beauty Products to Pack for Your Next Winter Getaway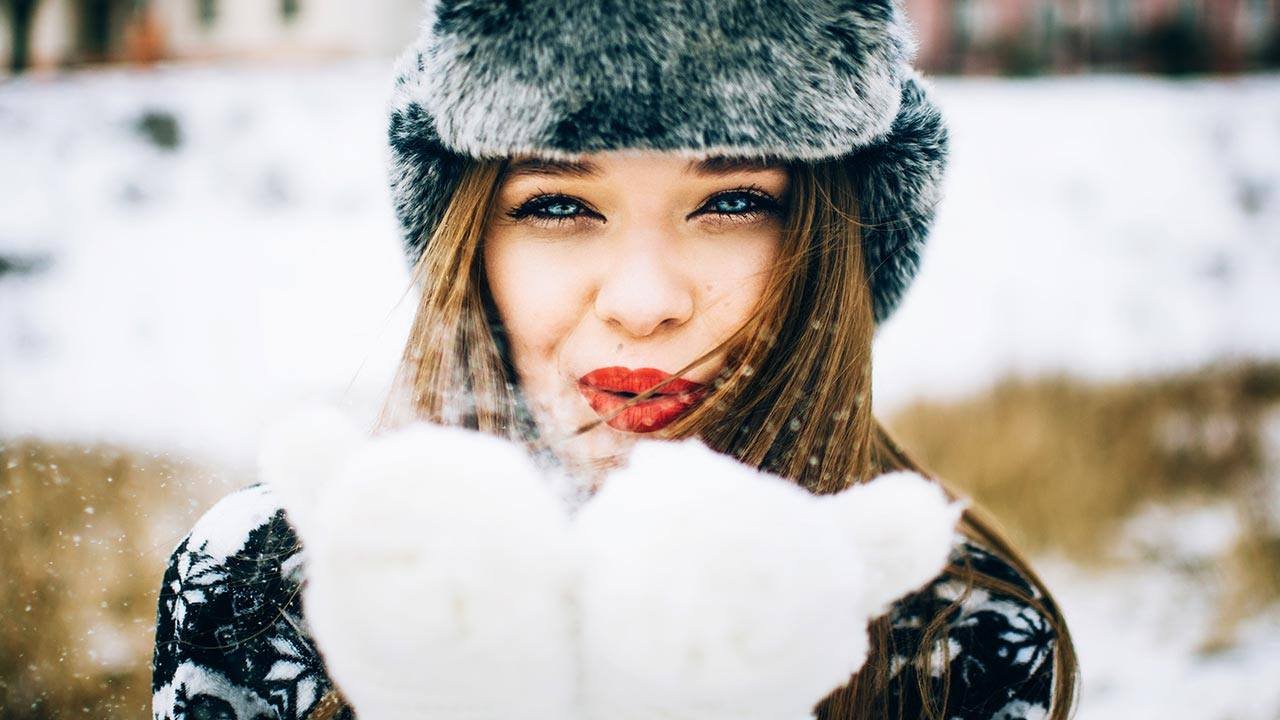 If you're anything like us, then you probably pack way too many things in your suitcase when you're getting ready to travel for vacation. OK, so you might not actually wear 10 pairs of shoes during a three-day trip, but you like to keep your options open! That's because if you're going somewhere for a few days or a week, you want to be prepared for every situation—whether you'll be eating at a fancy restaurant, sipping fruity cocktails by the pool somewhere tropical (lucky you!), or visiting family for the holidays. Just like you pack multiple pairs of heels, sandals, and sneakers, you may think of your beauty products in the same way—stuffing a variety of lipsticks, moisturizers, and hair styling products into your suitcase just in case you need to switch things up depending on your itinerary. If you're headed on a winter getaway, consult our checklist of 15 beauty products (including facial cleanser, charcoal mask, highlighter, and dry shampoo) to consider bringing with you. From skin care products to makeup to hair styling products, we've got you covered.
beauty product #1: Clay facial Cleanser
While going on vacation may be the perfect excuse to take a break from your usual responsibilities, it might not be the best idea to forgo your complete skin care routine. A good skin care routine should start with a facial cleanser. Look for one that transforms from clay to mousse, like the L'Oréal Paris Pure-Clay Purify & Mattify Cleanser, L'Oréal Paris Pure-Clay Exfoliate & Refine Cleanser, or L'Oréal Paris Pure-Clay Detox & Brighten Cleanser. Squeeze your facial cleanser of choice into your hands and add water to transform it from clay to mousse, then gently massage it onto your skin in small circular motions.
BEAUTY PRODUCT #2: face scrub
Give your skin a sweet treat when you travel this season by stashing a sugar scrub in your bag. The L'Oréal Paris Pure-Sugar Smooth & Glow Face Scrub, L'Oréal Paris Pure-Sugar Nourish & Soften Face Scrub, and L'Oréal Paris Pure-Sugar Purify & Unclog Sugar Scrub are formulated with three types of sugar to gently yet effectively exfoliate. Smooth a small amount of one of the face scrubs onto clean, dry skin, then massage it over your face with wet fingers. Rinse with lukewarm water, and use three times a week for best results.
BEAUTY PRODUCT #3: CHARCOAL MASK
If you experience dry skin in winter, you might notice that your complexion is also looking a little dull. So, if you're headed away from home, consider bringing a charcoal mask along with you. The L'Oréal Paris Pure-Clay Detox & Brighten Face Mask can help draw out the buildup of dirt, impurities, and pollution for skin that looks brighter immediately. Apply an even layer to clean, dry skin, leave it on for 10-15 minutes, then rinse off thoroughly with lukewarm water. Use three times a week for best results.
BEAuty PRODUct #4: Anti-Aging Moisturizer
You don't have to abandon your anti-aging skin care routine just because you're traveling. Stow an anti-aging cica cream, like the L'Oréal Paris RevitaLift CicaCream Face Moisturizer Pro-Retinol & Centella Asiatica, in your suitcase. This lightweight, protective cream helps skin feel softer and smoother immediately, while minimizing the appearance of fine lines and wrinkles with continued use over time. Smooth the cica cream onto your face morning and night for best results over time.
beauty product #5: moisturizer with spf
Even if you're hitting the ski slopes, taking sun protection measures is a must. To cut down on the number of skin care products you have to lug around on your winter getaway, reach for a moisturizer formulated with broad-spectrum sunscreen, like the L'Oréal Paris RevitaLift Bright Reveal Brightening Day Moisturizer SPF 30. Apply as directed, and remember to also limit your amount of time in the sun (especially during the sun's peak hours of 10 a.m. to 2 p.m.), seek shade, and cover up exposed areas in long sleeves, pants, a broad-brimmed hat, and UV-blocking sunglasses.
beauty product #6: primer
If you're going to wear makeup while you walk snow-covered streets on your trip, apply a primer first to create a smooth canvas for the rest of your makeup. This season, pick a primer that has a radiant finish, like the L'Oréal Paris Infallible Pro Glow Lock Makeup Primer. Squeeze a small amount of primer onto your fingers and gently massage it onto your skin.
beauty product #7: FOUNDATION
You may not want to spend too much time on your makeup while your sightseeing, but applying a little radiant finish foundation, like the L'Oréal Paris Infallible Pro Glow Foundation,
can get you ready for all those vacation selfies. Just squeeze some foundation onto a makeup blender (don't worry, we've got a pick for one coming up next!) and stipple it onto your skin for a seamless finish.
beauty product #8: MAKEUP BLENDER
Consider this your new go-to makeup application tool. A makeup blender can help you get that flawless finish you've always wanted when it comes to using foundation. Plus, it's so simple to use! Apply foundation with the L'Oréal Paris Infallible Blend Artist Foundation Blender, which has rounded edges that make blending easy. Apply a small amount of foundation onto the makeup blender, then use dabbing and rolling motions to blend foundation onto your skin.
beauty product #9: Highlighter DROPs
One of our favorite makeup trends for winter 2018 has to be a glazed donut-inspired highlight. You can get the look by applying a few highlighter drops, like the L'Oréal Paris True Match™ Lumi Glow Amour Glow Boosting Drops, onto your cheekbones. You can also mix a few drops of highlighter into your foundation or moisturizer for a slightly subtler glow. (Learn How to Apply Highlighter like a pro.)
beauty product #10: MASCARA
Even if you want to take a break from wearing makeup while you're on a relaxing winter getaway, you can easily glam up your look for a night out on the town by applying a coat of mascara. For drama, choose a fiber mascara, like the L'Oréal Paris Voluminous X Fiber Mascara. Start by applying the black primer, then follow up with the fiber mascara on the other end.
beauty product #11: GLOSSY Lipstick
While we'll always love matte lipstick, matte finishes can exacerbate the look of dryness, so think about swapping out these formulas for glossy lipsticks during the winter. The L'Oréal Paris Colour Riche Shine Lipstick line comes in 16 gorgeous shades, so you have plenty of options! Whether you're a red lip, berry lip, or nude lip kind of gal, we have a feeling your find your very own go-to shade.
Beauty Product #12: Shampoo + Conditioner
We didn't forget about your hair! The cold air of winter can be drying, so if you're expecting to wash your hair while you're away, pack a nourishing system of shampoo and conditioner, like the L'Oréal Paris EverCreme Deep Nourish Shampoo and L'Oréal Paris EverCreme Deep Nourish Conditioner. Gently massage the shampoo into wet hair, then rinse and apply the conditioner, leaving it on for 1-2 minutes before rinsing out.
Editor's tip: When you're in the shower, wash your hair with lukewarm water, as super-hot water can strip hair of essential oils, which can make it feel drier.
Beauty Product #13: DRY SHAMPOO
If you're running around on your winter trip without much time to spare, you can refresh your hair without washing it. Spritz a little bit of a dry shampoo, like the L'Oréal Paris Elvive Extraordinary Clay Dry Shampoo onto oily roots and lightly through the rest of your hair, then brush through. Formulated for normal to oily hair, this dry shampoo absorbs excess oil for fresh, lightweight hair with no visible residue. Just make sure to wash your hair when you have the chance! 
Beauty Product #14: Hair Spray
We're all about ease and convenience on vacation. To style your hair without using any heat tools, look for a hair spray that you can use on damp hair to add shape and definition, like the L'Oréal Paris Advanced Hairstyle AIR DRY IT Wave Swept Spray. Apply throughout towel-dried hair, scrunch your hair, then let it air dry. If your hair is straight, put it in a braid after spraying to help create soft waves.
Beauty Product #15: Heat Protectant
Let's say you do want to blow-dry your hair while you're on your winter vacation. That's when it's time to reach for a heat protectant, like the L'Oréal Paris Advanced Hairstyle SLEEK IT Iron Straight Heatspray. Bring one with you so that you can apply it before heat styling your hair.
Want more winter beauty tips? We've got plenty for you! Head on over to our articles, 7 Skin Care Products to Use on Dry Skin in Winter, How to Transition Your Makeup Routine from Fall to Winter, and How to Winter-Proof Your Look.
Discover more tips & tricks
Keep your skin happy
See all articles
Shop Featured Skin Care products
Discover More