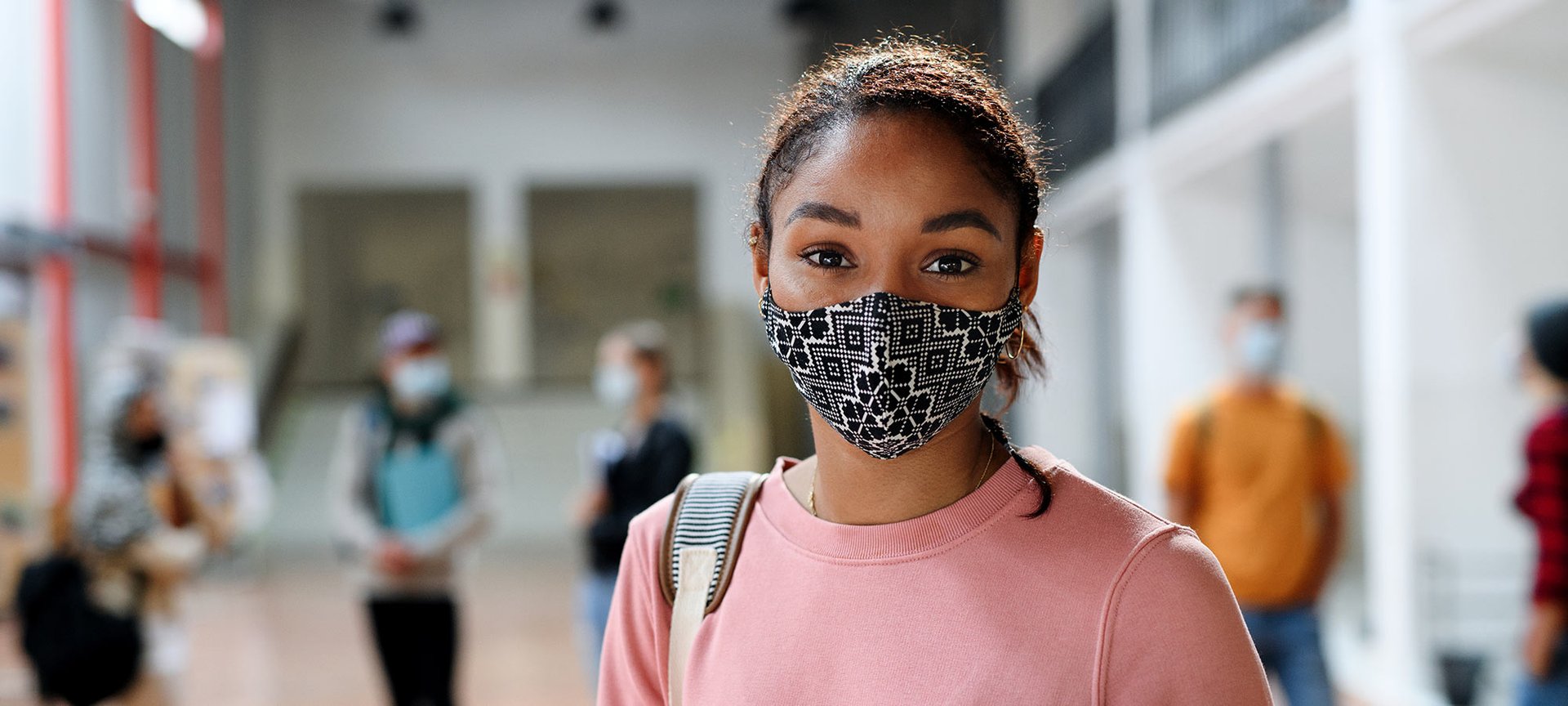 beauty looks
Hollaback! Offers Street Harassment Training For Safe Return To On-Campus Learning
Let's end street harassment once and for all.
Back to school season is often a thrilling time for students and with the return of in-person learning, the excitement is more palpable than ever. Students are anxious to share enjoyable social moments with classmates and friends, sans a screen between them—including their new makeup looks, hairstyles, new fashions and more.
But the return to campus life also means a return to the concerns that come with commuting and walking through spaces where street harassment can be prevalent. A recent IPSOS study conducted across 15 countries (documenting the experiences of more than 15,000 women) revealed that 80 percent of women said they've experienced street harassment in their lifetime. In the past year, 31 percent said they faced street harassment during pandemic-driven shutdowns (for women between 18 and 34 that number jumped to 46 percent), with 72 percent saying they felt harassers were emboldened behind the anonymity of a protective face mask.
So how do we empower men and women to stand up to street harassment so that women and girls feel safe going back to in-person school? In 2020, NGO Hollaback! partnered with L'Oréal Paris to bring to life the Stand Up Against Street Harassment training program to train 1 million people in bystander intervention globally before the end of 2021. They've created tools to help educate and empower those being harassed, as well as bystanders, on how to respond to street harassment. We caught up with Hollaback! co-founder and executive director Emily May to discuss the impact of street harassment on college campuses, and how students can take the training as they prepare to return to on-campus learning.
This fall, many young adults will be heading to college, living on their own for the first time. What can you tell us about the prevalence of harassment on college campuses, that they need to be aware of?
Young people need to know first, that harassment on campus is something they will likely see or experience. Being aware is the first line of defense. In 2012, Hollaback! partnered with an outside consultancy firm to take our understanding of public harassment beyond the street and onto the college campus. We took the data collected and formed three conclusions about on-campus harassment:
1. 67 percent of students experienced harassment on campus.
2. 61 percent of students witnessed another student being harassed on college campus.
3. Only 18 percent of students had not experienced or witnessed harassment on campus.
Can you describe some of the lesser known behaviors that are often not considered street harassment, but can be harmful to an individual?
Street harassment is on a spectrum of gender-based violence and can include things like whistling, glaring, animal noises, comments about your body, following, stalking, and unwanted touching.
What impact might harassment have on students in an educational setting?
Harassment can affect and limit students' ability to learn, lessen the enjoyment of the college experience and can vastly affect participation in day-to-day school activities. We've heard from students who have avoided going to class to avoid harassment, or showed up to class distracted because of the harassment they faced on the way to class.
We live in the era of smartphones and pedestrian "journalism" which can deter people from getting involved in anything that looks like controversy (from fear of being filmed). What would you say to bystanders who are reluctant to help for this reason?
Your safety is the first priority. We don't ever want anyone to get hurt trying to help someone out. Always think about safety and consider possibilities that are unlikely to put yourself or anyone else in harm's way. If you feel it's safe and choose to directly respond to harassers, we have general guidelines designed to help keep you safe—whether you are the target of the harassment or a bystander looking to make a difference.
For many people, stepping in to help others who are being harassed can be challenging in practice. What tools does the training provide for bystander intervention?
Exit polls show that 99% of people we train leave confident they will intervene next time they witness disrespect or harassment. Hollaback! teaches bystander intervention using ourproven 5D's methodology:
1. Distract: Creating a distraction to de-escalate the situation.
2. Delegate: Finding someone else to help.
3. Document: Creating documentation of the incident and then giving it to the person who was harassed.
4. Delay: Checking in on the person who experienced harassment.
5. Direct: Setting a boundary with the person doing the harassing, and then turning your attention to the person being harassed.
What are some of the things that people should not do that they often think is helpful when they witness street harassment?
A few things to consider NOT doing:
1. Getting into a back-and-forth debate with the person doing the harassing. We have found that people actively harassing others are not in their best learning mindset. As a bystander, your priority is on the person being harassed.
2. Sharing recordings or documentation without permission. Always ask the person being harassed first. This is their experience of trauma, and you want to give them their control and power back by letting them decide what they do with it.
3. Calling the authorities. I always ask the person being harassed first. Many communities, including communities of color, trans communities and immigrant communities may not feel comfortable with police presence.
4. Escalating into violence. You want to break the cycle of violence by de-escalating the conflict, even in instances where the person is deeply hateful and/or threatening.
How does ending street harassment on campuses impact street harassment in the rest of the community (as campuses can feel like a bubble)?
College campuses are often the heart of the communities that they are situated in. If colleges are properly addressing street harassment and in effect bringing attention to the issue, by creating and implementing effective policies, processes and programs, they will consequently have a positive impact on the whole community. Unchecked behaviors and the lack of safe, productive ways to handle harassment makes it likely that people who harass others will feel comfortable and continue the behaviors once out of college. To end street harassment, we must change the culture that makes it acceptable to begin with.
Next: This International Women's Day Stand Up To Street Harassment
Photo Credit: iStock
{ "@context": "https://schema.org/", "@type": "WebPage", "speakable": { "@type": "SpeakableSpecification", "cssSelector": ["speakable-content"] }, "url": "https://www.lorealparisusa.com/beauty-magazine/beauty-tips/beauty-looks/stand-up-for-back-to-school" }
Discover more tips & tricks
Keep your skin happy
See all articles
Improve your routine
Show your new look more love:
makeup
{ "@context": "http://schema.org", "@type": "BreadcrumbList", "itemListElement": [ { "@type":"ListItem", "position": 1, "item": { "@id": "/", "name": "Home" } } , { "@type":"ListItem", "position": 2, "item": { "@id": "https://www.lorealparisusa.com/beauty-magazine", "name": "Beauty Magazine" } } , { "@type":"ListItem", "position": 3, "item": { "@id": "https://www.lorealparisusa.com/beauty-magazine/beauty-tips", "name": "Pro Ideas For Your Unique Look" } } , { "@type":"ListItem", "position": 4, "item": { "@id": "https://www.lorealparisusa.com/beauty-magazine/beauty-tips/beauty-looks", "name": "Beauty Looks" } } , { "@type":"ListItem", "position": 5, "item": { "@id": "https://www.lorealparisusa.com/beauty-magazine/beauty-tips/beauty-looks/stand-up-for-back-to-school", "name": "stand-up-for-back-to-school" } } ] }