beauty looks
Post-Workout Beauty: How to Take Your Makeup and Hair from Gym to Drinks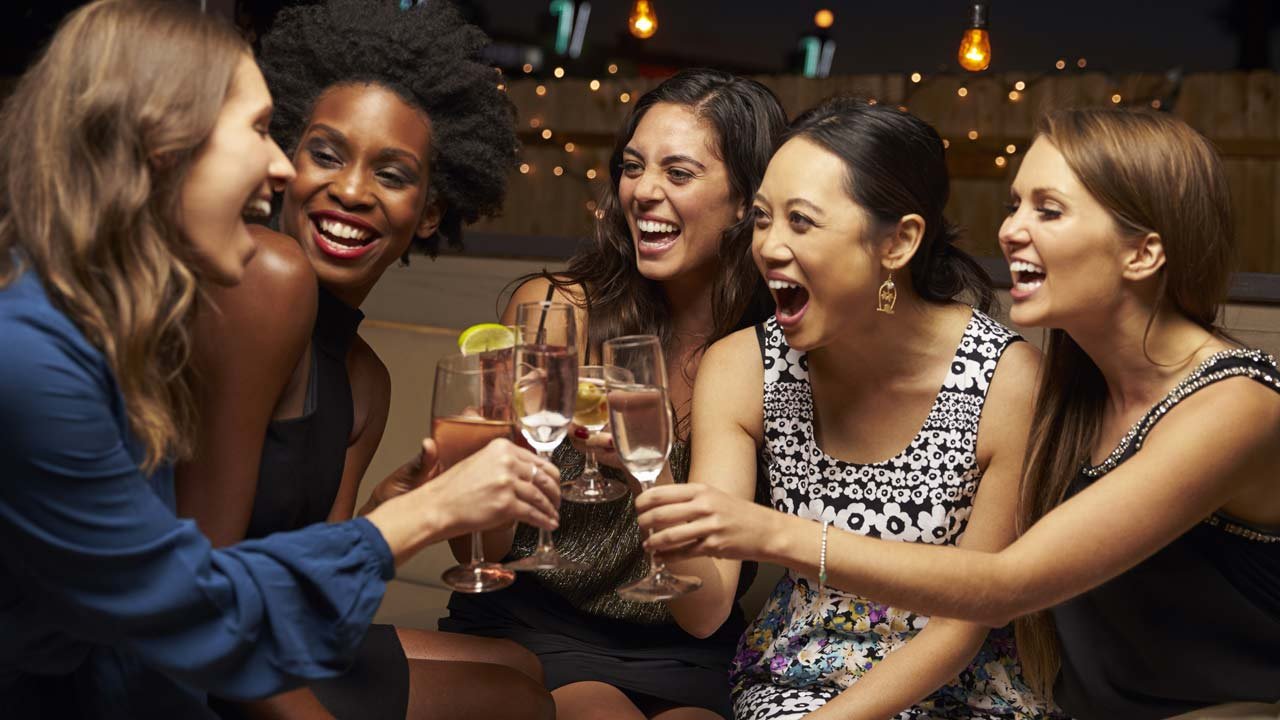 After breaking a sweat at the gym, you should be able to treat yourself to drinks with friends or a hot date. The only problem is finding a way to look presentable before leaving the locker room. When time doesn't permit hopping into the shower and starting fresh, you have to learn how to take your makeup and hair from workout-ready to fit for a night out. Keep reading to learn how to transform your look just in time for happy hour or boozy brunch. (Don't forget about your skin care routine before you leave the gym. Remember to stash a facial cleanser and moisturizer in your bag as well.)
Post-Workout Beauty Tip #1: Rock a Headband
Pulling your hair into a ponytail or a bun while you're getting your sweat on can create creases and crimps in your hair. Unfortunately, the marks from your hair tie may not disappear when you're ready to let your locks down. When you're finished working out, throw on a headband so that you can still feel confident wearing your hair down.
Post-Workout Beauty Tip #2: Freshen Up Your Locks
Dry shampoo can be a serious hairstyle lifesaver, especially after exercising. If your roots look oily post-gym session, spray them with the L'Oréal Paris Hair Expert Extraordinary Clay Dry Shampoo. Formulated with three refining clays, this dry shampoo absorbs excess oil and instantly refreshes hair between shampoos—perfect for days you don't have time to actually use shampoo and conditioner before meeting up with friends.
Post-Workout Beauty Tip #3: Spritz Hair with Texturizing Spray
Let's face it: Hair always looks better with a touch of texture, doesn't it? The standard post-gym struggle is hair that has fallen flat, but you can easily breathe new life into the appearance of your tresses with the help of a texturizing spray. Use a lightweight mist, like the L'Oréal Paris Advanced Hairstyle Boost It Air-Blown Texture Mist, and spray throughout your hair, focusing on your roots. A light spritzing can uplift strands from the crown while adding texture on the lengths for a full-body look.
Post-Workout Beauty Tip #4: Fix Everything with a Braid
When all else fails, go with a braid. Sometimes after a particularly hard exercise, your strands just aren't salvageable enough to wear down. Instead of fighting against nature, pull your hair back into a fishtail or French braid. The braid will look super-chic without taking too much time or exposing anyone to your limp-looking locks. (Read our article, Braiding Basics: How to French Braid Your Hair, for a tutorial.)
Post-Workout Beauty Tip #5: Brush on a Mattifying Powder
It should come as no surprise when your skin is seriously shiny after going to the gym, but that look doesn't exactly suit dinner or drinks. To mattify the appearance of your skin in a pinch, brush on the L'Oréal Paris Infallible Pro-Matte Powder. The oil-free powder offers an air-fine texture and a matte finish that will have you defying shine all night.
Post-Workout Beauty Tip #6: Wear Waterproof Mascara
Most of your makeup, if you wear any, will likely sweat off by the time you're done at the gym. If you don't have time to do your makeup after your workout is over, make sure to use a waterproof mascara beforehand. Coat your lashes with the L'Oréal Paris Voluminous Lash Paradise Waterproof Mascara, which offers the look of voluptuous volume and lush length. (Here's How to Remove Waterproof Makeup at the end of the night.)
Post-Workout Beauty Tip #7: Coat Lips in Color
Your cheeks may be flushed after a tough workout, but your lips may still be in need of color. Swipe on a vibrant red or pink lipstick that can take any look from day to night. Try the L'Oréal Paris Colour Riche Matte Lipstick in 102 Matte-Ly in Love or the L'Oréal Paris Infallible Paints/Lip in Wild Rose 316.
Post-Workout Beauty Tip #8: Contour Those Cheekbones
Is there anyone out there who doesn't desire super-sharp cheekbones? No? That's what we thought. Sculpt, define, and enhance the appearance of your face (including your cheekbones) with the L'Oréal Paris Infallible Pro Contour Palette. Buff the contour color into your skin using a fluffy makeup brush for a blended, natural-looking contour.
Post-Workout Beauty Tip #9: Smoke Out Eyeliner
Drawing on perfectly precise eyeliner can be extremely time consuming, which is why you should opt for a smoky look after hitting up the gym. When you're rushing to make it from the gym to drinks in just about no time flat, quickly line against your lashes using the L'Oréal Paris Infallible Never Fail Eyeliner in Carbon Black, then flip the pencil over and use the smudger to smoke it out. Make even more of a statement by bringing the eyeliner down to your lower lashes, too. There you go—an eye catching look in under a minute!
Post-Workout Beauty Tip #10: Go Bold with Your Brows
Spending a ton of time filling in your eyebrows in the locker room isn't exactly ideal. Leave your pencils and pomades at home and reach for a tinted brow gel instead. Swipe the L'Oréal Paris Brow Stylist Plumper through your brows, combing through to blend and plump. The fiber-infused formula fills and sets for brows that will last.
Now, you're ready to enjoy a night on the town! Next up, read our article, Top Skin Care Concerns After Working Out and What to Do About Them.
Discover more tips & tricks
Keep your skin happy
See all articles
Shop Featured Hair Care products
Discover More