beauty looks
Your Day to Night Travel Beauty Guide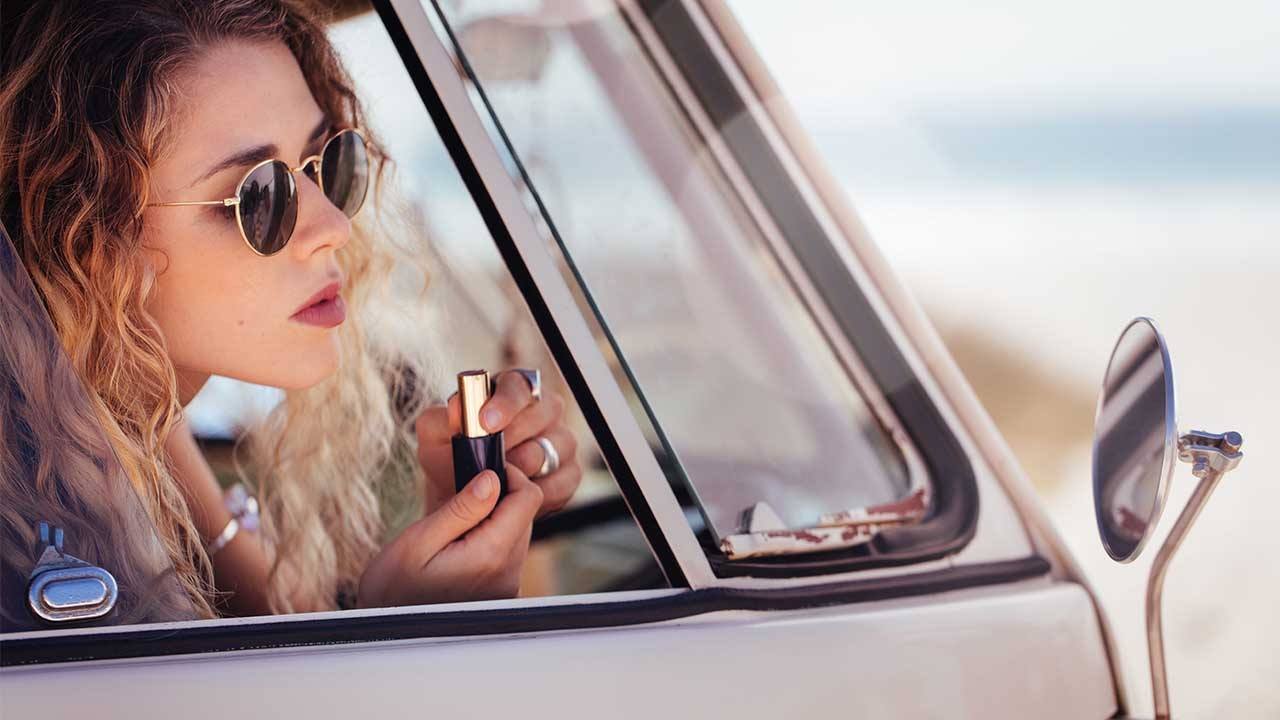 Packing light can be a serious challenge, especially when you need to tote around enough beauty products to create makeup looks that work during the day and at night. The glittery eye shadows you may be tempted to pack for nighttime eye makeup are unlikely to work for your casual daytime outings. That's why you have to pack smart. And if you just can't manage to narrow down your list of necessities, you're in luck. We've streamlined your beauty packing list so it includes only one skin care product and seven makeup products (surprise, surprise, a super-sparkly eye shadow didn't make the cut) that can be used no matter the time of day. Ready to find out what's going in your makeup bag? Here's your day to night travel beauty guide.
1. Buildable Foundation
Do you normally opt for a BB cream during the day, only to switch to a full coverage foundation at night? Well, you aren't alone! Wearing lighter face makeup when the sun's out—and heavier makeup when it isn't—is a popular choice, and one that certainly makes sense. With that said, it might not be right for when you're traveling. We mean, do you really want to find room for both a BB cream and a foundation in your carry-on? To minimize the number of products you're bringing along, limit yourself to one foundation that can work for day and night. You'll need a buildable formula that can be used to achieve a variety of levels of coverage. Try the L'Oréal Paris True Match™ Lumi Cushion Foundation and use the included sponge (bonus points for not having to bring a brush) to apply—one tap for sheer coverage, two for light coverage, or three for medium coverage.
2. Concealer Palette
You may be willing to wear less makeup on vacation but chances are you'll want to have concealer on hand in case of an unexpected breakout. To make the most of what you're packing, don't bring just one concealer. Instead, bring a concealer palette, like the L'Oréal Paris Infallible Total Cover Concealing and Contour Kit, which can be used for multiple purposes. In the morning, you'll put it on to quickly cover up any imperfections. Then, at night, you'll use a darker shade to sculpt your face to perfection. Side note: The palette includes four shades, which is perfect in case you get a tan while traveling.
3. Setting Powder
There's a solid chance you'll be traveling somewhere warm, which means setting your makeup will be a must. If you bring a translucent setting powder, you can sweep a little over your T-zone to minimize shine during the day, and bake your makeup for ultra-long lasting nighttime look. As for which face powder to pack, try the L'Oréal Paris Infallible Pro-Sweep & Lock Loose Setting Face Powder.
4. Blush/Highlighter Duo
As far as face makeup goes, you'll only need one more product. Although, you might say this a bit of a cheat, since the product is actually a duo that serves double-duty. The L'Oréal Paris Visible Lift Radiance Cheek Duo includes a blush shade and a highlighter shade in one compact, to save you a little space in your bag. For daytime, apply both shades with a light hand. At night, you can take it up a notch.
5. Black Eyeliner
You may assume that black eyeliner is reserved for nighttime makeup, but think again. It's all about how you use it. If you have a black pencil eyeliner on hand, you'll be able to easily day your look for day to night. In the morning, use the pencil to tightline your eyes and make your lashes look fuller. When nightfall hits, smudge the eyeliner along your lash line for a smoked-out look.
Editor's tip: To ensure your eyeliner doesn't fade or smear while you're on the go, use a waterproof formula, like the L'Oréal Paris Infallible Pro-Last Waterproof Pencil Eyeliner in Black.
6. Mascara
If you're anything like us, you can't travel without mascara. It doesn't matter if it's morning or night, your lashes need a couple of coats of a lengthening, volumizing formula. Pack the L'Oréal Paris Voluminous Lash Paradise Mascara in Mystic Black and you can sleep soundly knowing your lashes will be in good shape throughout your travels.
7. Red Lipstick
Scaling back and only bringing one lip color is certainly not an easy task—but you can do it. Just think, there's no way you'll end up wearing all the lip glosses and liquid lips you were thinking of tossing in your bag. All you really need is a single, red lipstick. During the day, it will be a fun pop of color. At night, use it to instantly dress up your look. Basically, you can swipe on the L'Oréal Paris Colour Riche Shine Lipstick in Enamel Red at any time of day and be good to go.
8. Micellar Water
You can't talk about travel-friendly products without mentioning micellar water. It's perfect, since you don't have to rinse off after using it to get completely clean. When you wake up, you'll use the L'Oréal Paris Micellar Cleansing Water Complete Cleanser Waterproof – All Skin Types to remove any oil that built-up overnight. At the end of the day, saturate a cotton pad with the same exact facial cleanser to remove every last trace of makeup.
Make sure you're packing all the aforementioned products just right! Here's How to Pack Your Makeup When You Travel to help you avoid products leaking or breaking in your travel bag.
Discover more tips & tricks
Keep your skin happy
See all articles
Shop Featured Makeup products
Discover More