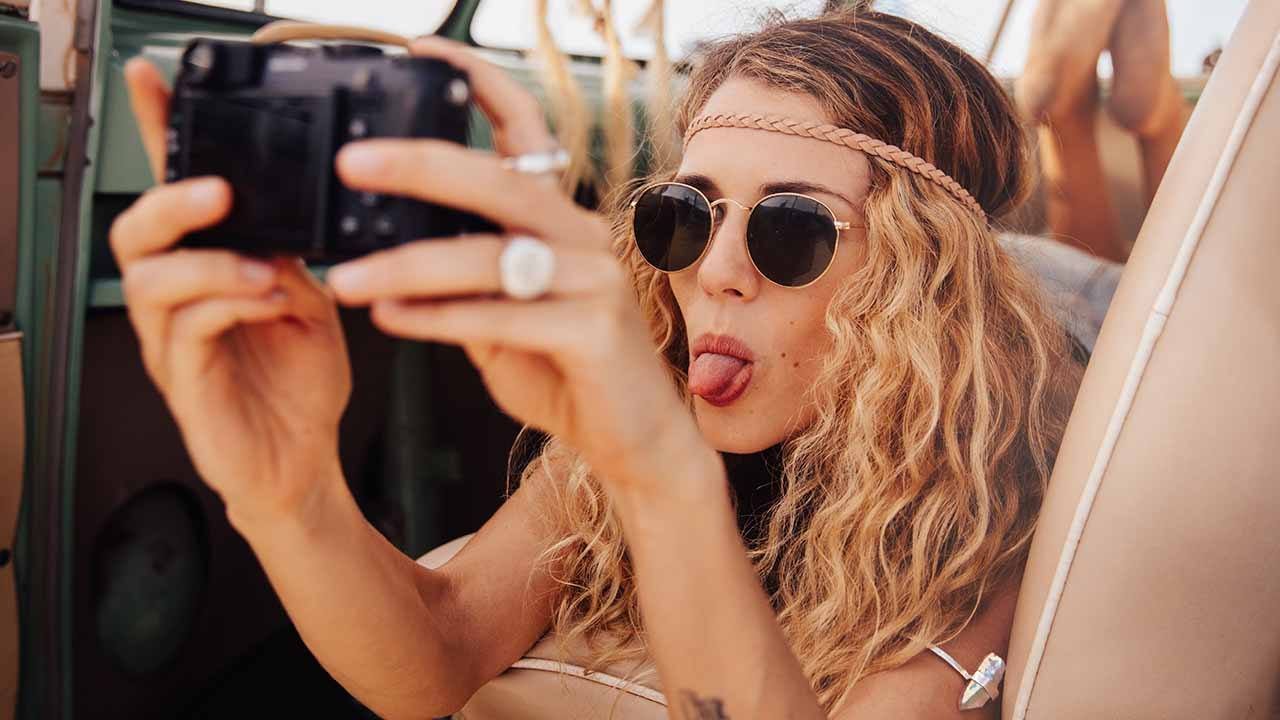 beauty looks
The California Girl's Guide to Beauty
Some things are universal. (For example, you'd be hard-pressed to find a girl who doesn't love a good beachy wave.) But not every beauty routine can be the same. One's skin care routine, go-to makeup look, and hairstyle can all vary greatly depending on skin tone, personal preferences, and even location. That's right, the way someone living in the Midwest takes care of their complexion is likely entirely different from those populating the West Coast. California girls, known for their golden highlights and enviable tans, approach beauty from a practical and safe standpoint—taking environmental and lifestyle factors into account. Of course, you don't have to live in Cali to do the same. If you want to take a California girl-inspired routine for a spin, follow our five Cali beauty tips.
BEAUTY TIP #1: BE SERIOUS ABOUT SUN PROTECTION
Unless you're up for becoming a recluse—in a house without windows—broad-spectrum sunscreen is always a must. It doesn't matter if you live in the sunniest place on Earth or an ultra-chilly locale, you're at risk of sunburns and UV damage either way. That means broad-spectrum sunscreen isn't a unique need for California girls—but it's still worth discussing. Living in California can dramatically increase how often you spend time outdoors, thanks to the beautiful weather year-round, which in turn ups your need for SPF.
Whether a Cali gal is outdoorsy or not, it's recommended to follow the Food & Drug Administration's (FDA) guidelines in regards to sun protection. The FDA's tips include wearing sunglasses and a broad-brimmed hat, limiting time in the sun (especially during peak hours, which are from 10 a.m. to 2 p.m.), wearing broad-spectrum sunscreen with an SPF value of 15 or higher, and reapplying at least every two hours. Need an SPF suggestion that fits the bill? Use your moisturizer as your source of sun protection and try the L'Oréal Paris RevitaLift Bright Reveal Brightening Day Moisturizer SPF 30. Just be sure to toss it in your bag for reapplications!
CALI BEAUTY TIP #2: DON'T BE AFRAID OF A FAUX TAN
When there's a beach or an outdoor pool easily accessible—which there often are in California—it can be all too tempting to slather your skin with tanning oil and lay out with a work of light fiction for a few hours. Unfortunately, while you may be successful in achieving sun-kissed skin, you're also likely to bring about a slew of skin issues. Thankfully, you can avoid those problems while still obtaining a tan—the best of both worlds. Rather than baking under the sun, break out an umbrella for beach (and pool) days. As for your giving your skin some color, use a gradual self-tanner like the L'Oréal Paris Sublime Bronze™ Hydrating Self-Tanning Milk Medium.
CALI BEAUTY TIP #3: PROTECT AGAINST POLLUTION
Living in California has lots of upsides, but it's excellent air quality isn't one of them. That's why, if you're planning a move to the Golden State, your wardrobe isn't the only thing you might need to adjust. You'll also want to update your skin care routine in order to take pollution into consideration. After a day spent out and about, exploring your new home, it's extra important to give your skin a thorough cleansing—with a facial cleanser that's meant for removing pollutants. New inhabitants and California natives alike can rely on the L'Oréal Paris Pure-Clay Detox & Brighten Cleanser, L'Oréal Paris Pure-Clay Exfoliate & Refine Cleanser, or L'Oréal Paris Pure-Clay Purify & Mattify Cleanser, each of which leaves skin purified of dirt, oil, and pollution for a clean, clear look.
CALI BEAUTY TIP #4: GET READY ON THE GO
If you're from California, or have ever met someone who is, you'll know one thing to be true—the traffic can be an absolute nightmare. You never know when you'll be sitting in your car, without moving, for an extended period of time. In order to evade being late due to an unexpected standstill, it's always advised to budget plenty of time to get to your destination. Of course, if you're heading somewhere in the AM, that means you'll have to wake up extra early. That is, unless you rearrange your schedule. If you carpool with a co-worker or friend and plan to be the passenger—not the driver—you can try toting a few of your on-the-go essentials with you. Skip getting ready at home and save yourself time by putting on travel-friendly products in the car instead. Here are a few of our favorite products you can apply with only an in-car mirror at your disposal:
L'Oréal Paris Ideal Clean™ All Skin Types Makeup Removing Towelettes: No sink, no problem. You can get completely clean, in a car, without any water. Just sweep a makeup remover wipe over your face to start fresh.
L'Oréal Paris True Match™ Super-Blendable Multi-Use Concealer: Need to hide an imperfection or two? Use this concealer's built in sponge to dot it on, then blend out with your finger.
L'Oréal Paris True Match™ Lumi Glotion Natural Glow Enhancer: Brighten your complexion by smoothing this illuminating tint all-over—or onto key spots for a highlighted look.
L'Oréal Paris Coloir Riche Lipstick Shine Lipstick: A pop of color can instantly transform any look and you can easily swipe on a layer of lipstick no matter your location.
CALI BEAUTY TIP #5: USE WELLNESS-INSPIRED INGREDIENTS
With juice shops and boutique fitness classes everywhere you turn, California is ahead of the game in terms of wellness. And as you might expect, the passion for wellness that California residents share has quickly translated into their beauty routines. Acai bowls topped with tons of fruit are a California diet staple, and now you can add acai into your skin care routine, too. Formulated with finely ground acai and grapeseed oil, the L'Oréal Pair Pure-Sugar Smooth & Glow Face Scrub, leaves skin feeling baby-soft.
Prefer an east coast approach to beauty? Check out The New York City Girl's Guide to Beauty.
Discover more tips & tricks
Keep your skin happy
See all articles
Shop Featured Skin Care products
Discover More